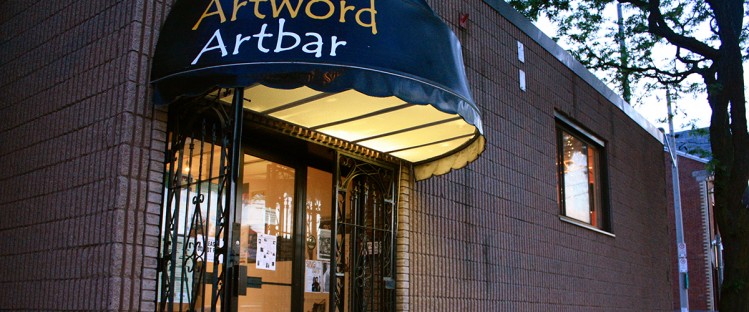 Artword, as a name for what Judith Sandiford and Ron Weihs have always wanted to do, had its roots, as Artword Theatre, in Toronto's King/Portland area – where, as my memory serves, it got overtaken by what gets called progress. So when we were contacted by Chris Ferguson, curator of Hamilton's Steel City Jazz Festival, celebrating its fifth year from October 24 through 29 at Artword Artbar in the rapidly gentrifying James St. N. area of Hamilton, it felt like a good time to reach out to Weihs, for a little bit of looking back and looking ahead.
WN: Are there things in your present location that remind you of what you recognized "back then" starting up at King/Portland?
Ron Weihs: When Artword Theatre started, the King/Portland area was in a very depressed state. We began in what was essentially an abandoned, empty building. The building, and an adjacent building, were bought for a very low price. The new owners encouraged us to stay as tenants and helped us with practical and financial support in developing our theatre. We were also helped greatly by the city's "Two Kings" policy, which encouraged development in King-Parliament and King-Bathurst by removing many of the zoning restrictions. We were surprised that it was easier than we expected to get approvals to do an extensive renovation.
The revitalization of the area went faster than we expected, and we certainly contributed to this! We knew all along we would not be there forever, that the building would be sold when the market went high enough. We were amazed how quickly the area was transformed, though. Our building was sold to a condo developer. We had four months to leave, but it really came down to eight days, because of commitments we had made. We cleared out as much as we could manage and packed it all in a 48-foot trailer.
Although we were sad, we were not resentful. We understood that "Two Kings" was designed to bring real estate investment into the area. The overheated real estate market was inevitable, as was the fact that this prime location would become unaffordable for us. It was that wonderful early revitalization phase when new ideas are springing up, artists are moving in, and people are discovering how much fun urban life can be. It would be lovely if it could stay that way, but it hardly ever does.
What's different this time?
For us personally? When we came to Hamilton, we were determined that this time we would buy a building. Prices were low, and the downtown was in desperate need of revitalization. The city was specifically encouraging development along James Street, formerly the hub of the downtown, but fallen on hard times. Although we looked very hard, we couldn't find a potential theatre, but we did find a lovely sports bar for sale just off James Street, a turn-key operation with everything we needed – glasses, cutlery, fully-equipped kitchen. We decided that Hamilton didn't actually need a theatre, it needed an Artbar! And Artword needed a home, a laboratory, a haven for artists and musicians, and a laboratory to develop and showcase our own theatre work.
Do you end up involuntarily contributing to the gentrification problem the same way all again?
The gentrification of James Street is accelerating just as it did in Toronto. The big question is whether condos will be allowed to take over, or the essential character of the street be maintained. The political and economic battles are being waged. The downtown councillors are good, but amalgamation means that politicians who have no stake in the downtown can determine its fate. Very much like Toronto. We expect to continue to enjoy the same wonderful revitalization phase as in Toronto, for a little while.
When we moved to Hamilton, we knew nothing of its cultural life. We thought that we would be bringing culture to the frontier. We were humbled and delighted to discover how wrong we were. We discovered a firmly established and vibrant cultural scene that has flourished for many years, basically outside that formal support and funding structures. Theatre, visual arts and music all have deep roots and wide participation. In particular, the music scene in Hamilton is remarkable. Hamilton and the Niagara region are home to original musicians in every genre. Mohawk College has a first-rate jazz program, and we were impressed with the calibre of the students. We were happy to provide a place for them to play, and watched them mature into notable musicians.
Does the city of Hamilton understand how easily, in terms of arts and culture, progress could kill the goose that lays the golden eggs? I mean in terms of maintaining affordability for arts workers and their audiences?
The city is making a significant effort to understand the needs of artists, and to provide an encouraging environment in which they can flourish. They are proceeding cautiously, and in consultation with artists. I think this is wise.
And Artword Artbar's role?
Essentially, Artword Artbar is "by artists for artists." We look on Artword Artbar as an oasis where performers, artists and people who appreciate these things can meet together in a respectful environment. We are known as a "listening room." People come to hear the music. There is no television, no clatter, no chatter; just people watching and listening intently to performers communicating to them. It seems odd to us that this is unusual, but it seems that it is.
Advice for others?
Probably not. In creating this kind of place, you have to believe in what you're doing, and stick with it. Don't listen to all the advice you get about programming this, or that. You have to be able to hang in without obsessing about the bottom line every week; it will take longer than you think. It helps to be a "Mom and Pop" operation, so that you can get through the lean times. And keep things simple. You don't have to do everything, just a few things really well.
It was Chris and Linda Ferguson who got in touch with us about Steel City Jazz Festival's relationship with you.
The Steel City Jazz Festival reflects our philosophy. It was started by Chris Ferguson just because he thought Hamilton needed a jazz festival. He did it on a shoestring, largely by himself with a few friends. When we found out what he was creating, and that he didn't have either deep pockets or a support system, we offered Artword Artbar as a venue at no cost. We just sell beer, and the Festival keeps the box office. (This is our policy for musicians as well.) Judith [Sandiford] also offers advice and organizational help. We like the festival because it provides a mix of local and outside musicians, and a variety of flavours of jazz.
Postscript: Steel City Jazz Festival director Chris Ferguson offers this: "Listening to music at Artbar is such a pleasure. The bar has a really classic 'jazz-club' atmosphere, from the packed seating and round cocktail tables to the in-house grand piano. You feel so close to the musicians because you literally are, but this produces some of the most intense musical experiences."
The Steel City Jazz Festival runs from October 24 through October 29, 2017. Most performances will be at Artword Artbar at 15 Colbourne St., in the James St. N. area. Tickets will be available at the venues or online in advance via Bruha and Ticketfly.