Lula Lounge at 1587 Dundas W. in Toronto describes itself as a "music club, venue, bar, restaurant, community centre, ground zero to the exploding world music scene in Toronto ... home to Latin, salsa, jazz, reggae, indie, and more." So when a place like that shuts up shop in the middle of summer, people notice.
We certainly did. So we decided to ask José Ortega, Lula co-founder and artistic director, what was up.
WholeNote: Can you say something about the reno — is it mainly cosmetic or also functional?
Ortega: It's a facelift, for sure: it vastly improves the washrooms and installs a wheelchair accessible washroom on the main floor. The reno will also give us more room in the lobby area, which Lula patrons know can become really crowded on a busy night. But it's more than just a facelift. Making Lula more accessible will let us serve clients and communities better and more safely.
And in terms of your overall Lula mandate and your relationship with the surrounding community?
We do a lot of educational programming for youth and host many public meetings. The barrier free, universal washroom will make it easier for clients of all ages with mobility challenges to enjoy the music and activities presented here. Lula programming is done by the not-for-profit organization Lula Music and Arts Centre, which allowed us to get help from the City of Toronto Culture Build fund as well as from Enabling Accessibility, a national program. It's encouraging because we see both the municipal and federal government stepping up to invest in cultural projects that serve diverse communities.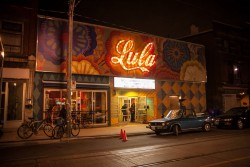 So what can we look forward to when you re-open September 9?
This is the second stage (the first was removing the drop ceiling in 2015 to reveal the true height of the main room) of what we hope will be a multiphase project. Within the next couple of years, we're hoping to open up a enlarged mezzanine area so that we can increase our capacity and can accommodate more music lovers in an even better, more beautiful venue!
I recognize what you say about encouraging support from the city's Culture Build fund and the federal Enabling Accessibility program. But what kind of risk is undertaking something like this at a moment in time when local street level venues in the city seem to be under siege on many fronts?
That's an interesting question. We want to make sure that as leaders at city hall put forth the idea of a music city, that they understand that our city of music includes salsa, reggae, samba, jazz, classical Indian, soca and many other genres. Toronto can be a leader in all of these areas, not just in pop and indie forms. The folks down at the city's music office have been very open to hearing about this but we need to keep delivering this message.
I sometimes get the feeling that various topdown initiatives intent on "making us into a music city" take priority over initiatives to nurture the music city we already are.
We've been very involved with the efforts to look at the challenges facing Toronto music venues and have been working with the Toronto Music Office, TMAC and other venues to see explore how bylaws and enforcement of those bylaws can create almost impossible situations for responsible live music venue operators. We've also been working with Music Canada Live on their Regional Advisory Committee on Toronto Venue Health. We do see a need to recognize what grassroots venues contribute to the culture and economy of our city. It's easy to take this stuff for granted but it takes a huge amount of energy, money and dedication to keep a music venue going.
So you're hopeful?
We've been at this for 15 years and have learned by trial and error how to survive in this market with its challenges and benefits. We're feeling like the model we're working with is supporting our mandate and should allow us to present live music for many years to come.
I noticed, from another story we're following, Lula's name among the organizations signing up for the new Polyphonic Ground collective. What's your take on that?
We're part of the Polyphonic Ground collective, which is currently a pilot project led by Small World Music to see what potential exists for small presenters who are serving diverse audiences and artists, to work together to lobby for resources, share best practices and develop audiences together. We'll see where it goes but it's bringing to light some interesting issues about access within the music industry.
On October 13, we'll be hosting the first of a Polyphonic Ground panel series, which Lula has helped to put together, alongside the City of Toronto, Music Canada Live, Music Canada and Music Ontario. The series builds on a panel talk that we organized back in May and will look and diversity and inequities in the music industry. Ideally the series of conversations will lead to some clear recommendations about how to ensure that the festivals, conferences, funding, etc., better reflect the makeup of Toronto. As I say, we'll see where it goes.