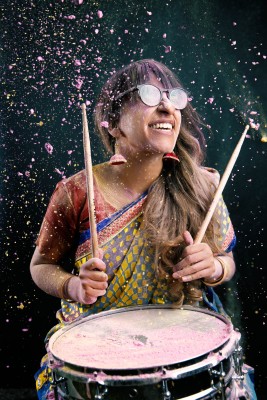 In my column last month, I wrote about the February 7 appearance of the American jazz guitarist Russell Malone at Hugh's Room Live, an unusually high-profile show to occur in the bleak Toronto winter. What looked like an anomaly for the Dundas West venue, however, now seems as though it's part of a growing trend. During the week of March 8, Hugh's Room Live hosts a special event: Drum Week, sponsored by Yamaha. With seven acts taking the stage from Sunday, March 8, to Saturday, March 14, Drum Week will feature leading Canadian and American drummers from multiple generations and stylistic backgrounds.
Starting things off on March 8 is Sarah Thawer, who plays at 2pm. Thawer – who stays busy both locally and internationally as a bandleader, sideperson, and educator – is an exciting, high-energy drummer with a wealth of technique, whose own music incorporates elements of jazz, hip-hop, fusion and other genres. Next up during drum week: the legendary Jimmy Cobb, who, at the age of 91, is the only surviving contributor to the seminal Miles Davis album Kind of Blue, recorded in 1959. Active since the 50s, Cobb has played with a wide range of jazz luminaries in addition to Davis and co., from Dizzy Gillespie, Billie Holiday and Stan Getz, to younger players such as Peter Bernstein, Brad Mehldau and Vincent Herring.
On March 11, Drum Week continues with a doubleheader of two Canadian groups: Lewis.Brown and Mark McLean's Playground. Lewis. Brown is – as the name suggests – a duo of drummer Larnell Lewis and bassist Rich Brown. Both Lewis and Brown are masters of their respective instruments and both bring a deep sense of musicality to their playing that extends far beyond technical accomplishments. Playground, a five-piece ensemble led by McLean on drums, features saxophonist Kelly Jefferson, guitarist Kevin Breit, keyboardist Matt Giffin and bassist Marc Rogers.
While most of Drum Week will feature drummers, the kit-heavy programming will be broken up midweek with a performance by TorQ Percussion Quartet, a classical percussion ensemble made up of Richard Burrows, Adam Campbell, Jamie Drake and Dan Morphy. TorQ has collaborated with major orchestras – including the Buffalo Philharmonic, the Toronto Symphony Orchestra and the Orchestre symphonique de Montréal – has played at numerous festivals and is highly involved in the realm of Canadian music education, performing at many schools and student music festivals, as well as hosting the annual TorQ Percussion Seminar during the summer months.
Next up, drummer Ari Hoenig, who has long been a champion for younger musicians, and has consistently hired new and exciting voices to complement his lyrical playing style. There is something enduringly exciting about the unique creative tension generated between improvising musicians of different generations, which is precisely what Hoenig brings to Hugh's Room Live on March 13, when he appears with the trio of pianist Nitai Hershkovits and bassist Or Bareket. Both Bareket and Hershkovits are in their early 30s, and both, like Hoenig, are based in New York, appearing regularly at Smalls, where Hoenig began a longstanding residency in 2003.
(As an aside, hiring younger musicians and providing them with an on-the-road musical education was once standard within the jazz community. You need look no further than drummer Art Blakey's Jazz Messengers band for a prime example of this tradition; Messengers alumni include the likes of Wayne Shorter, Woody Shaw, Wynton Marsalis, Terence Blanchard and Mulgrew Miller. The practice does not exist to the same extent today, primarily for financial reasons: with fewer gigs to go around, and less remunerative touring opportunities, bandleaders tend to hire their peers and keep groups relatively consistent over longer periods of time. This is not necessarily better or worse; Shorter's current quartet, with pianist Danilo Pérez, drummer Brian Blade and bassist John Patitucci, would be a very different group if its personnel changed every few years.)
Rounding out the week of Drum Fest is a special trio performance by Jeff "Tain" Watts, whose musical output, over the past 40 years, has been amongst the most prodigious of any working jazz drummer. Beginning with the Wynton Marsalis Quartet in 1981, Watts has played with the likes of George Benson, Harry Connick, Jr and McCoy Tyner, has appeared as an actor in Spike Lee's Mo' Better Blues, and recently, in 2017, received a Guggenheim Fellowship for composition. Watts plays with a singular focus and intensity and is a consummate drummer with an extensive command of the jazz tradition.
Women From Space
It is always reassuring to see smaller-scale festivals taking place in Toronto within the jazz/improvised music community; though the TD Toronto Jazz Festival and other large-scale productions play an important role in the well-being of the scene, there is something equally significant in the creation of space for artists and groups who might not otherwise find the representation that they deserve on Toronto's cultural calendar. Artists working in the improvised/creative music realm tend to find themselves in something of a niche in the broader Toronto jazz community to begin with; although there are great organizations who routinely present this music, such as the not-for-profit Somewhere There, there are far fewer opportunities to present an evening of free jazz than there are to present an evening of conventionally played jazz standards. Even within this niche, however, women tend to be programmed less than men, and stereotypes that exist within the broader jazz community about women performers tend to perniciously replicate themselves.
Partly in reply to this issue, the Women From Space Festival, now in its second year, will be taking place from March 5 to 8, with 17 acts taking place over four nights at Burdock and at 918 Bathurst. The festival, which is organized by Bea Labikova and Kayla Milmine, seeks to highlight "visionary women working within and between exploratory musical traditions," with an emphasis on performances by artists whose work falls somewhere at the intersection between jazz, contemporary classical and creative improvised musics. The performances coincide with International Women's Day weekend and will feature Claire Yunjin Lee, Susan Alcorn, Sahara Morimoto, Kris Davis, and Ingrid Laubrock, amongst many others, with affordable ticket prices, including multi-day and student pricing.
MAINLY CLUBS, MOSTLY JAZZ QUICK PICKS
MAR 5, 8PM: Various artists, Women From Space Festival, Burdock. On the first night of the festival, catch Elisa Thorn, Claire Yunjin Lee, Amy Brandon and Susan Alcorn at Burdock (co-presented with Canadian Music Centre and Riparian Acoustics).
MAR 8, 8PM: Various artists, Women From Space Festival, 918 Bathurst. The final night of the Women From Space Festival – and the only one to take place at 918 Bathurst – includes sets by Elizabeth Lima and Meghan Cheng, Kris Davis and Ingrid Laubrock, and many other exciting acts.
MAR 11, 8PM: Lewis.Brown and Mark McLean's Playground, Drum Week, Hugh's Room Live. This double bill features two of Toronto's top drummers – Larnell Lewis and Mark McLean – appearing with some of Toronto's most exciting musicians for Drum Week at Hugh's Room.
MAR 13, 8:30PM: Ari Hoenig Trio, Drum Week, Hugh's Room Live. With pianist Nitai Hershkovits and bassist Or Bareket, leading modern jazz drummer Ari Hoenig comes to Hugh's Room Live for an evening of communicative, high-stakes trio music.
Colin Story is a jazz guitarist, writer and teacher based in Toronto. He can be reached at www.colinstory.com, on Instagram and on Twitter.