The economic ramifications of COVID-19 will play out in the coming months and years, and will have an effect on the artistic community unprecedented in recent memory. But long-term economic effects must, necessarily, be of less concern than the immediate, urgent need to stay inside, to save lives. One of the initial challenges of this period for many of us, no matter how community-conscious we strive to be, was to confront our own natural reaction to view with skepticism any potential changes to our everyday life. The coffee shop where I like to write, the studio space where I like to practise, the grocery store where I like to stop every few days and purchase more cheese than a single man living by himself should have any healthy reason to consume: these communal spaces were the sites at which I experienced the mundane foundational joys of my life. But now, things are different: the studio is closed, the coffee shop is open for takeout and delivery only, and the grocery store, though open, is no longer amenable to the contemplative cheese-counter flâneur.
The weekend of Saturday, March 14, marked the moment at which our current situation became suddenly and inescapably real in Toronto's music community. Following a week of increasingly dire announcements – that public schools would remain closed for at least two weeks after March break, that Ontario had the most confirmed cases in the country, that Canadians abroad were being urged to return home while international travel was still possible – it was apparent that the circumstances of our day-to-day lives would be changing immediately, for an indefinite amount of time. Students cancelled lessons; bandleaders cancelled rehearsals; venues, cautiously optimistic, committed to remaining open while taking enhanced sanitary measures to protect musicians and guests, then promptly closed, as the full scope of the social-distancing mandate became clear. Some venues – such as Burdock, with its in-house brewery and bottle shop – have had success in pivoting to delivery/takeout models of commerce, supplementing lost revenue and providing home-bound Torontonians with a tangible connection to the collective experience of local culture. Other venues, without the same pre-existing alcohol/food programs, have not been so fortunate.
On the week of March 16, I was set to begin recording a new album. I had booked two days of rehearsal and three days of studio time with Mackenzie Longpré, my drummer and co-producer, and Tyler Emond, my bassist. The recording process for this album represented the culmination of over a year's worth of work: a Canada Council grant, a residency at the Banff Centre, countless hours spent writing and rewriting music, thinking through instrumentation and tones and arrangements and production techniques. Following the initial recording session, I was to have had a second session, with Thom Gill, to record keyboards, vocals, guitars and other parts. All of this was put on hold, indefinitely, on March 16. Compared to the life-or-death stakes of the pandemic itself, the experience of postponement is insignificant: recording sessions will be rescheduled, release dates will be adjusted and my project will go on.
The postponement of my recording session, however, marked a growing uncertainty about the nature of my work – and the work of my fellow musicians/writers/artists – during lockdown. When your work is inextricably bound up in your connection to others, how do you proceed at a distance, your every professional interaction now mediated by a screen, by Zoom and Skype and the strength of your Internet connection? In a normal week, my professional time is spent making music, teaching and writing, and I've been lucky that most of these activities have transitioned online, for the time being. Making music with others is still possible, albeit remotely, for those lucky enough to have some kind of home recording set-up, though recording is a pursuit in and of itself, and contains little of the immediacy and interactivity of playing music live with other people. Teaching, too, is made possible via technology, although the same issues are there: how does one communicate the subtleties of tone and time via an iPhone speaker?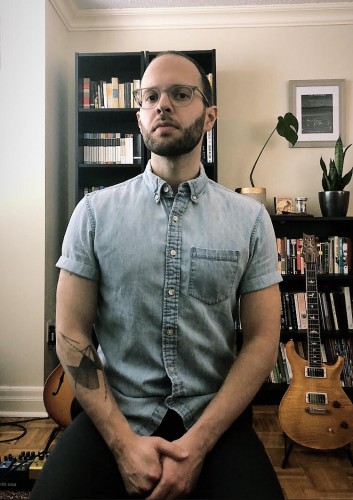 Of my three professional activities, writing is the only one for which solitude is preferable. But one must write about something. The Mainly Clubs, Mostly Jazz column I write for this magazine is, as the name suggests, about upcoming performances in Toronto clubs that program jazz, blues, indie and other genres of music. I write this column in conjunction with the upcoming month's club listings, which provide me with source material; a typical column might feature previews of notable upcoming shows, a profile of a venue, or a profile of a visiting artist. With the suspension of all public gatherings until social distance protocols are lifted, it is no longer possible to write my column as it typically appears. The Toronto Jazz Festival, which I typically cover in a series of articles and interviews published both prior to and during the festival, was officially postponed on March 31, after Toronto cancelled all city-led mass events and third-party permits until June 30.
And so, like so many of us, I am simply living, day by day, counting myself lucky that I am healthy, that I can continue with the majority of my work, and that the many overlapping communities in which I play a role continue to exist. It is tempting to think of our collective isolation from one another as inactivity, as a denial of our individual capacity to grow, as a dissolution of the social body. But, as the nightly cheers remind us – heard, without fail, at 7:30pm in buildings around my neighbourhood – by staying in, we are actively preserving our communities. All of us, at the individual level, are doing something small for the sake of large-scale good, that we all, once this is over, may return to the mundane pleasures of our daily lives.
Colin Story is a jazz guitarist, writer and teacher based in Toronto. He can be reached at www.colinstory.com, on Instagram and on Twitter.