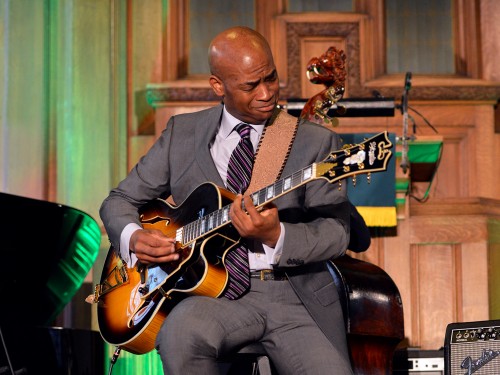 On February 7, the American guitarist Russell Malone plays at Hugh's Room Live. For those unfamiliar with his work, Malone is a swinging, bluesy player, steeped in the hard bop tradition, who has worked with many of jazz's leading names, including bassists Ron Carter, Ray Brown and Christian McBride, keyboardists Benny Green, Jimmy Smith and Monty Alexander, and crossover star vocalists Harry Connick, Jr. and Diana Krall. It is unusual to see someone of Malone's stature playing in Toronto outside of a major festival setting; to see him in a club, as opposed to a soft-seat theatre, is more unusual still, and speaks to the singular nature of this event. Malone favours large, hollow-body guitars, minimal effects and clear, articulate right-hand technique. He is a representative of a jazz guitar tradition that extends back to George Benson, Wes Montgomery and Charlie Christian, and he is an expert interpreter of the Great American Songbook. A highly recommended show, for fans of the guitar generally, Malone specifically and, really, anyone who has an interest in the living history of jazz.
A day before Russell Malone, JV's Boogaloo Squad – a classic-format organ trio led by keyboardist Joel Visentin, with guitarist Adam Beer-Colacino and drummer Jeff Halischuk – plays at Hugh's Room Live. The theme of this particular evening? The Squad "does the Beatles." There is a rich history of jazz musicians playing Beatles repertoire, from Grant Green's 1965 album I Want To Hold Your Hand, with saxophonist Hank Mobley, organist Larry Young and drummer Elvin Jones, to Brad Mehldau's ever-popular 1996 cover of Blackbird, amidst innumerable other examples. Visentin and company have been steadfast in their commitment to the organ trio, a format which – in Canada, at least – remains something of a rarity. Also happening at Hugh's Room Live, on February 24, is "The Sweetest Noise: A Birthday Celebration of Justin Haynes." Haynes, one of Canada's leading avant-garde musicians, passed away early last year at the age of 46. The proceeds from this show will go towards the Parkdale Neighbourhood Land Trust, a resident-led community land trust that seeks to "acquire land and use it to meet the needs of Parkdale by leasing it to non-profit partners who can provide affordable housing, furnish spaces for social enterprises and non-profit organizations," and create a sense of balance for the Parkdale community in the midst of development and gentrification. (Haynes was a longtime Parkdale resident, and lived there at the time of his passing.)
The Rex
At The Rex on February 20 and 21, George Garzone – another preeminent American jazz musician – plays with JabFung. JabFung is an ongoing partnership between Toronto bassist Julian Anderson-Bowes and Toronto-born, LA-based drummer Anthony Fung, that has evolved into one of the city's most interesting collaborative projects. Typically presenting a handful of events each year, the mandate for JabFung is to bring special guest artists into the fold for specific shows, with the constant being the synergy between Anderson-Bowes and Fung. Recent concerts have included a Wayne Shorter tribute, with saxophonist Leland Whitty and pianist Brian Dickinson in December, and a show with vocalist Mingjia Chen, saxophonist Luis Deniz, and guitarist Andrew Marzotto, last April. This month will mark the second time that the group has appeared with Garzone at The Rex; the three musicians played for two nights in July, 2017. Garzone is a masterful tenor player in the post-Coltrane style, with a far-reaching command of harmony, tone, and time, and a penchant for sustained melodic intensity, all of which will likely be on full display in the chordless trio format, in which the saxophonist will have both the extra timbral space afforded by the lack of a comping instrument and the rhythmic support to swing for the fences.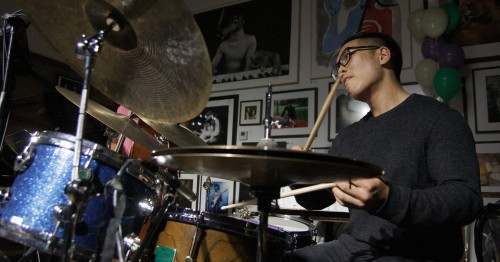 On February 6 and 7, also at The Rex, Mike Murley – another tenor player with chops, vision and a sophisticated harmonic palate – leads his saxtet, which is, in fact a septet. The saxtet features Murley, Tara Davidson, Allison Au and Chris Gale on saxophones, with a rhythm section of pianist Nancy Walker, bassist Jim Vivian and drummer Nick Fraser. Murley is a skilful arranger, and the music that he prepares for this intergenerational ensemble is sure to showcase his sense of musicality, rather than simply being a blowing vehicle for his technically accomplished accomplices. Whenever two or more saxophonists occupy space on the same bandstand, (as anyone who has ever attended a jazz jam session can confirm) there is an undeniable danger of unrestrained virtuosic one-upmanship. The likelihood of this occurring with this particular group of mature, tasteful saxophonists, however, is low. In addition to Murley and Garzone's respective stints, The Rex will be hosting an additional two-night residency in February for bassist Mark Godfrey's album release with his quintet, on February 26 and 27. Godfrey is joined by Au, Fraser, saxophonist Matt Woroshyl and pianist Chris Pruden, all in support of his new album, Square Peg.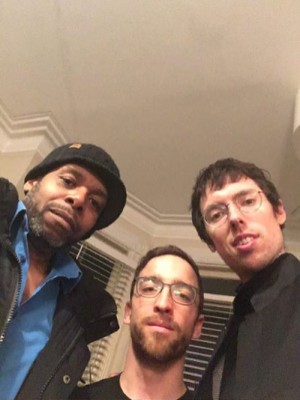 Elsewhere
In other parts of Toronto, February also brings some promising musical events. At Burdock on February 8, keyboardist James Hill leads his new project Local Talent, whose debut album, Higienópolis, is reviewed in this issue of The WholeNote. In addition to Hill, Local Talent features drummer Ian Wright and electric bassist Rich Brown, both of whom possess some of the most exciting voices on the Canadian jazz scene. Burdock will also host the singer/songwriter Danielle Knibbe, an artist whose work, while falling broadly under the genre of folk, intelligently incorporates sophisticated elements of jazz, pop and other musical styles in a cross-pollinatory practice that is representative of a welcome trend in Canadian music.
I would be remiss if I didn't mention at least one holiday-specific event in February; for those who wish to venture bravely forth on Valentine's Day, June Garber and Stu Mac will be singing at Jazz Bistro that evening. Whether you yearn to publicly display your affection for your significant other, to have a night out with friends in active protest to the day's romantic mandate, or to make the grave mistake of presuming that your Tinder date "will honestly, like, really enjoy jazz," Jazz Bistro's red piano, elaborate crystal chandeliers and neo-Jazz-Age atmosphere should provide the perfect backdrop for your Valentine's Day venture.
MAINLY CLUBS, MOSTLY JAZZ QUICK PICKS
FEB 7, 8PM: Russell Malone, Hugh's Room Live. American jazz guitarist Russell Malone, whose collaborators have included Ray Brown, Ron Carter, Benny Green and Diana Krall, makes a rare appearance in a club setting in Toronto.
FEB 8, 9:30PM: James Hill's Local Talent, Burdock. Local Talent celebrates the release of their debut album, Higienópolis, at Burdock, with Hill on keyboards, Rich Brown on bass and Ian Wright on drums.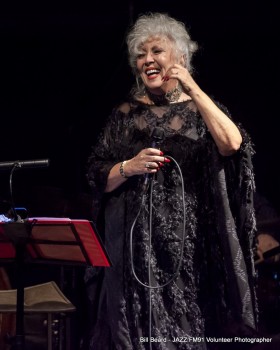 FEB 14, 9PM: June Garber and Stu Mac, Jazz Bistro. Head to Jazz Bistro on Valentine's Day if you crave classic standards, full dinner service, and the knowledge that you, at least, did everything that you could to save your marriage.
FEB 20 & 21, 9:45PM: JabFung with George Garzone, The Rex. Leading American saxophonist George Garzone, whose unique approach to harmony and linear improvisation has cemented his place in modern jazz history, plays at The Rex with Julian Anderson-Bowes and Anthony Fung.
Colin Story is a jazz guitarist, writer and teacher based in Toronto. He can be reached at www.colinstory.com, on Instagram and on Twitter.