Reading a survey of "The History of Classical Music" is an experience similar to reading the Toronto Transit Commission subway map. Broken down into its basic elements, our subterranean transit system is a series of independent and direct lines with clear paths and destinations that intersect at a relatively small number of major junctions. These junctions are occasionally chaotic (think Bloor Station at 8:30am, with an obligatory delay or two) and often confusing, with the uninitiated and unfamiliar wondering just how to get from that yellow line to that green line without being trampled by a stampeding horde of commuters.
Our conventional understanding of the history of classical music is, much like our system of underground transport, often considered in linear terms – take the Yonge line to Bloor, Bloor line to Bathurst – directional, but reading more like the first chapter of the Gospel of Matthew: Abraham begat Isaac; and Isaac begat Jacob; and Jacob begat Judas and his brethren… or, Buxtehude begat J.S. Bach; and J.S. Bach begat C.P.E. Bach; and C.P.E. Bach begat Mozart... These linear streams of music history intersect, like our Bloor and Yonge lines, relatively rarely (once every 150 years or so) often landmarked by a creative supernova: the masterworks of J.S. Bach; the creation and subsequent development of sonata form by Scarlatti, Haydn, Mozart and Beethoven; the operas of Wagner; the invention of Schoenberg's dodecaphony. These are the junctions which, we are told, changed the course of history and introduced the world to the Baroque, Classical, Romantic and modern eras, respectively.
Nothing, however, is as simple as it seems. Once we reach the surface and take a bird's-eye view of these systems, we find that they are infinitely more complex and intertwined than we initially thought. Anyone who has been redirected out of Toronto's subways (Line One is closed from Lawrence to Bloor this weekend) and forced to take shuttle buses, streetcars, or any other form of surface transportation, immediately realizes, in addition to the linear and direct lines which run underneath the city, there is an entire network of surface routing which connects our city in much more complex, thorough and occasionally hard-to-navigate ways. This is what real-life music history looks like, the apparently direct connections and creative supernovae actually consisting of myriad local and international interactions, increasing in fascinating complexity until our historical concept of "begotten-ness" is replaced by the understanding that everything is connected in one way or another
Once these connections are drawn and acknowledged, we see that it is no longer possible to parcel the history of classical music into comfortable categorizations. National musical schools, for example – Lully the Frenchman, Purcell the Englishman, Monteverdi the Italian, Bach the German – are no longer satisfactory criteria, for we often see that the country of one's birth is significantly different from the country (or countries) responsible for one's artistic development and inspiration. With a little bit of insight, broad categorizations, scholastically practical and academically satisfying though they are, are replaced by fascinating tales of professional musicians who worked, travelled, learned and borrowed from other countries and cultures, preserved and passed down through both musical and historical artifacts, such as Bach's transcriptions of works by Vivaldi or the documented success of composers such as Zelenka and Heinichen, Bohemian composers who thrived within the courts of Dresden.
It is from this perspective that music, particularly the music of the Baroque, comes to life, the world of 17th-century Europe drawing from within itself to produce works of unbelievable creativity and breadth while simultaneously echoing a sentiment written by the Sherman brothers for Walt Disney 250 years later: "It's a small world after all!"
Continental Contacts
This February is a wonderful month for fans of Baroque music – with the passing of December's overwhelming musical offerings, the start of a new year gives ensembles time to rehearse, prepare and produce new and exciting programs. There's something for everyone this month, but remember: whether you prefer your music with a touch of French grace, Italian joviality, German complexity, or English propriety, it's all connected!
Rezonance: Last year Toronto's newly-formed Rezonance Baroque Ensemble presented a fascinating concert which put the spotlight on partimenti, the study of improvisation in the Baroque era, drawing parallels between modern jazz and 17th-century classical music. The group is back on stage February 3 with "Versailles Confidential," a multidisciplinary presentation featuring actress Ariana Marquis as the Marquise de Sévigné. With music by some of the French Baroque's most esteemed composers including Rebel, D'Anglebert, Couperin and Jean-Baptiste Lully, official court composer of Louis XIV, this performance should be a delightful exploration of life in Baroque France.
Melos: For those further east in Ontario, Melos Choir and Period Instruments ensemble performs in Kingston on February 9. Their concert, "A Venetian Carnevale," puts the spotlight on period vocal and instrumental music, theatre and dance from the time of Carnevale celebrations of Baroque Europe. Featured composers include Gabrieli, Lassus and Telemann, a musical kaleidoscope coloured by some fascinating bits of history. The Gabrielis were a dominant musical force in Venice and bridged the transition period between Renaissance and Baroque eras. Giovanni Gabrieli studied with Orlando di Lasso (Lassus) in Munich and subsequently taught the German composers Hans Leo Hassler and Heinrich Schütz, who brought Gabrieli's works to Germany and ultimately influenced the music of later composers such as Bach and Telemann. An innovator of the highest calibre, Gabrieli is attributed with being the first to use specified dynamics (forte, piano, etc.) in his compositions, as well as introducing the concept of instrumentation!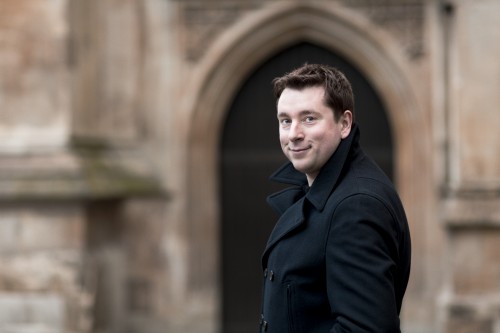 Alexander's Feast: George Frederic Handel is another composer whose influence on later generations of composers cannot be understated, his oratorios and operas crafting a path for the development of an entire genre of dramatic expression. Handel was an international artist himself, German by birth but writing enormously successful works in English such as Messiah, and Italian operas including Giulio Caesare. This month (February 22 to 25), Tafelmusik's orchestra and chorus unite to perform Handel's Alexander's Feast, or The Power of Music with soprano soloist Amanda Forsythe, tenor Thomas Hobbs and baritone Alexander Dobson. In addition to his concert appearances, Hobbs will host a masterclass on February 24 at Jeanne Lamon Hall, where he will work with advanced students and professional musicians on Baroque vocal repertoire as part of Tafelmusik's Guest Artist Masterclass Series. Masterclasses are fine opportunities for the public to see how much care, attention and preparation it takes to put together even the smallest amount of musical material at a professional level, a rarely seen peek behind the curtain.
St. Matthew: The works of Johann Sebastian Bach are, perhaps, the pinnacle of an individual's internal musical synthesis, the product of an encyclopedic knowledge of musical styles coupled with a tremendous intellect and prodigious propensity for high-quality compositional output. One of Bach's most immense, profound, and legendary masterpieces is his St. Matthew Passion, which will be performed by Chorus Niagara and the Talisker Players on March 3 in St. Catharines. If we look beyond the staggering creativity displayed within this work, it is, furthermore, incredible to think that Bach wrote such a staggering piece to be played within the context of a church service, surrounded by all the additional elements of Lutheran liturgical ritual (including a proper Protestant sermon)!
QUICK PICKS: Choir and Organ Music from Canada and Beyond
While on the topic of church music, there are two concerts taking place this month that focus on music written by legendary church musicians, one highlighting works by Healey Willan, the "Dean of Canadian Composers," the other the inimitable organ music of J.S. Bach: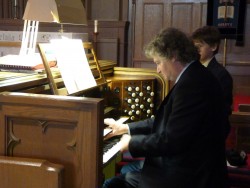 On February 16 at 8pm, the Church of St. Mary Magdalene hosts "Willan 50," a concert commemorating the 50th anniversary of the Willan's death. With the combined forces of St. Thomas's Anglican Church, the Church of St. Mary Magdalene and organists Matthew Larkin, Simon Walker and Andrew Adair, this is bound to be a heartfelt, musical and moving tribute to one of Canada's most renowned and influential compositional characters who considered himself "English by birth; Canadian by adoption; Irish by extraction; Scotch by absorption."
Two days later, on February 18 at 4:30pm, fans of Bach's organ music will be treated to an appearance by British organist David Briggs at St. Thomas' Anglican Church in Belleville. Briggs, former artist-in-residence at St. James Cathedral in Toronto and a renowned performer and improviser, will play Bach's Prelude and Fugue in G BWV541, Pièce d'orgue BWV572, Passacaglia BWV582 and more, as well as an improvisation. If you missed the chance to hear Briggs in concert as part of the "Splendours of Notre Dame" concert at St. James Cathedral last month, take advantage of this opportunity; he is a delightfully skillful player!
As always, I encourage you to explore the full range of listings in this issue of The WholeNote – in addition to these few highlights, there are a great many fine concerts and events taking place in our city this month! Your feedback is always welcome, either in person or, if you prefer to spend the month of February in solitary hibernation, emerging only when the trees are budding, send me a note at
earlymusic@thewholenote.com.
Matthew Whitfield is a Toronto-based harpsichordist and organist.