Auditions are terrifying experiences for any musician. An important job, an academic scholarship, the future of one's career, any and all of these can depend on a few nerve-wracking moments in front of a jury or audition panel. Johann Sebastian Bach was no stranger to auditions, applying for a number of positions, titles and designations throughout his career, in constant pursuit of the next level of 18th-century professional development.
In 1733, at the age of 48, Bach sought a court title from Friedrich August II, the newly appointed Elector of Saxony, by presenting a Kyrie and Gloria, submitted as a "trifling product" and gift to the Elector. These two movements constitute the opening of what would become the Mass in B Minor, a monumental (and decidedly Catholic) essay in the Latin rite. A fascinating piece of auto-plagiarism and self-adaptation, the Mass was completed by Bach reusing a Sanctus from the Christmas of 1724 with only minor adjustments and drawing much of the material for the Gloria and Credo from existing works, including a cantata or two. Despite the incredible beauty, complexity and ingenuity displayed throughout its hundreds of pages, there are no records of a performance from Bach's lifetime and it is assumed that he died before hearing the Mass in B Minor in its entirety.
Bach's Mass, much like Beethoven's equally majestic and complex Missa Solemnis, is far too long for any practical liturgical use, but we are fortunate that it is performed in concert relatively often, somewhere between the frequency of the St. John Passion and the rarity of the St. Matthew Passion. We are even more fortunate this month as there are three large Bach-themed performances in March, two of which feature the Mass in B Minor.
Bach... in B Minor and Beyond
The first performance of the Mass in B Minor takes place at the end of March at Metropolitan United Church on Good Friday. A longtime annual tradition featuring the Metropolitan Festival Choir and Orchestra, this is a modern-scale performance featuring a relatively large chorus and modern-instrument ensemble, led by Dr. Patricia Wright. Bach's music, loaded with Affekt, expressive gestures and profound spirituality, provides an ideal musical backdrop for Good Friday, solemn yet hopeful, with hints of the joy to come on Easter Day.
Tafelmusik's orchestra and chorus focus their attention on Bach's Mass in B Minor just a week later, April 7, approaching the work with their trademark historically informed outlook. Led by Ivars Taurins and featuring a stellar lineup of soloists including soprano Dorothee Mields, mezzo-soprano Laura Pudwell, tenor Charles Daniels and baritone Tyler Duncan, this performance will, as Tafelmusik writes on their website, "captivate your heart and soul from the very opening notes of the Kyrie to the majestic close of the Dona nobis pacem." Tafelmusik's previous Mass in B Minor was my first concerted introduction to the beauty of Bach's choral music, and it remains one of my favourite and most emotionally moving live musical experiences.
The third Bach performance taking place this month is not religious in theme, is unrelated to Lent and Easter and does not involve orchestra or chorus. On March 11 in Mazzoleni Hall, pianist and harpsichordist David Louie presents Book I of Bach's Well-Tempered Clavier, a two-volume collection of preludes and fugues in all major and minor keys that rivals the Mass in B Minor in monumentality, creativity and ingenuity. Louie will play the first set on a two-manual harpsichord designed and modelled after an instrument built by the French harpsichord and piano maker Pascal Taskin (1723-1793).
Taskin's instruments are fine examples of the French school of harpsichord building, featuring a wide range, well-distributed pitch divisions (two eight-foot ranks and a four-foot rank) and a warm and rich tone well-suited for the contrapuntal complexity of late Baroque repertoire, both German (Bach's partitas, suites and fugues, for example) and French (the masterpieces of Rameau, Couperin and Lully). Not only worthwhile for the repertoire being performed, Louie's use of a period-inspired instrument will illuminate Bach's contrapuntal genius in a different light than we hear on a piano, while showcasing Louie's own technical facility on an instrument with its own unique demands and limitations.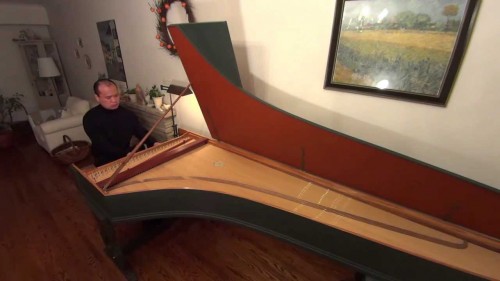 Eine Kleine Lentmusik
The season of Lent, commonly associated with ashes, sackcloth and penitential abstinence ("What are you giving up for Lent this year?") abounds with music that, although appropriately dark and dour, is nonetheless beautiful and worth hearing. Here are some notable performances taking place this month:
On March 3 the Toronto Chamber Choir presents "Bach's Foundations," with works by Johannes Bach, Johann Christian Bach and Johann Michael Bach. Focusing on musically influential members of J.S. Bach's extended family, this concert will be a fascinating look at the people and pedigree responsible for producing one of music's greatest minds. I look forward to hearing the similarities and differences in their works and listening for the influence of their great precursor, around whom the entire Bach galaxy revolves.
Cor Unum Ensemble, one of Toronto's up-and-coming Baroque ensembles, presents Pergolesi's Stabat Mater on March 10 and 11. The text of the Stabat Mater is a popular one – a Catholic prayer to the grieving mother of Christ as she witnesses her son carrying his cross to Calvary – set throughout the centuries by composers including Rheinberger, Dvořák and Rossini. Pergolesi's Stabat Mater takes the form of a duet for soprano and alto with obbligato instruments, a simple and straightforward setting relative to the massively Romantic settings penned by later composers (which can also be inappropriately cheeky and jovial – I'm looking at you, Rossini…). In addition to music by Pergolesi, Cor Unum will also perform Bach's Cantata 170 "Vergnügte Ruh" for solo alto and a suite by Lully. Taking place in the visually appealing and acoustically superior Trinity College Chapel, this concert is definitely worth exploring.
March is shaping up to be the Month of Bach, both directly and by association! On March 24 the Musicians in Ordinary and St. Michael's Schola Cantorum present Dieterich Buxtehude's Jesu Membra Nostri, a set of cantatas focusing on the varied corporal sufferings experienced by Christ over the course of his trial and crucifixion. Buxtehude was a significant influence on J.S. Bach, the young protege travelling hundreds of miles to Lübeck to study the master's organ music. (By foot, the story in Bach's obituary goes, though John Eliot Gardiner finds this a bit melodramatic, likening it to an old man "padding his resume," recounting stories of his youth after a pint or two.) Buxtehude and the North German style of organ playing was indeed influential on the young Bach and provided a model for his early organ works, particularly from the Weimar years. Buxtehude's Jesu Membra Nostri cantatas are written in an older style and often incorporate modal writing with hints of a conventional tonal system, a style quite similar to the stile antico moments found in the Credo and Gloria of Bach's Mass in B Minor.
Lent and Easter are extraordinarily rich musical seasons and this year's concert calendar is an embarrassment of riches. Not only are there numerous performances of some of Bach's finest works but also explorations of Bach's familial and national musical influences, as well as a Bach cantata presented by the exciting and fresh Cor Unum Ensemble. If Bach's insurmountable genius and erudite musicality is not your personal preference however, check out this magazine for other concerts and events taking place and support Toronto's vibrant arts scene – there's something out there for everyone!
Matthew Whitfield is a Toronto-based harpsichordist and organist.