The act of musical transcription has existed as long as notation has, used over the past millennium to facilitate artistic cross-pollination and the exchange of ideas across international borders. Utilized in centuries past as equal parts pedagogical tool, musical tribute and vehicle for musical propagation, transcriptions exist from some of music's greatest figures, including Johann Sebastian Bach.
Historically, transcribing involves some element of copying, whether for pedagogy, plagiarism, or practicality, such as copying performing parts from a full score, a task for which Bach received much help, often from his wife and children. It is often from these copies that a work is passed down through centuries. According to the late-18th-century German musicologist Johann Rochlitz, even the Thomaskirche did not possess the full score for Bach's motet Singet dem Herrn, but only the vocal parts which were preserved "as if they were a saint's relics."
Bach's use of transcriptions extends throughout his lifetime, from his student days copying forbidden scores by candlelight to his organ tablature transcriptions of music by Reincken and Buxtehude, as well as his transcriptions for organ of Vivaldi concerti and his own Schübler Chorale Preludes. In fact, a well-documented theory postulates that Bach's most famous organ work, the Toccata and Fugue in D Minor, wasn't written for organ at all, but was an organ transcription of an earlier work for violin.
In its modern conventional use, the term transcription refers to two similar but distinct actions: notating a piece or a sound which was previously unwritten, such as Bartók's folk song transcriptions or Messiaen's notations of birdsong; and rewriting a piece of music, either solo or ensemble, for another instrument or other instruments than those for which it was originally intended, including Liszt's piano versions of the Beethoven symphonies.
Transcription in the latter sense is often conflated with arrangement. In theory, transcriptions are faithful adaptations, whereas arrangements change significant aspects of the original piece. In practice, though, there are many works which fit equally well into either category. Consider, for example, Ravel's orchestration of Mussorgsky's Pictures at an Exhibition or Mahler's re-orchestrations of Beethoven and Schumann symphonies. There is an equal amount of faithful adaptation and significant change in each of these examples, which ride the line between transcription and arrangement.
The act of transcribing is, at first glance, an uncomplicated one – nothing needs to be changed in a work's notes or rhythms – the piece simply needs to be re-notated for a different instrument. It is in this adaptation, however, that the art and craft of the transcriber is made apparent, for each instrument contains its own idiosyncrasies, technical challenges and limitations, particularly if the music being transcribed and the instrument being transcribed for have their origins centuries apart – Hildegard von Bingen for saxophone and theremin, for example!
Better by the Dozen
One of the relatively recent instruments for which old music is regularly arranged is the modern classical guitar, designed in the 19th century after earlier classical models. Although not in existence during Bach's time, a great deal of J.S. Bach's music has been transcribed for the modern guitar, including preludes, fugues, sonatas, partitas, cello and orchestral suites, as well as lute, keyboard and ensemble music by other Baroque composers. One of the most interesting facets of these arrangements is the constant accommodation and adaptation being made by the transcriber and performer, particularly in fugues, where it is nearly impossible for all three or four voices to be as distinctly present on a guitar as they would be on a keyboard. This adjustment creates another arranging/transcribing hybrid, for Bach's original counterpoint must be compromised to be played, often resulting in a work that is familiar yet new when heard in performance.
While many of us are acquainted with the classical guitar, April brings a supersized surprise to fans of the instrument. On April 15, the Quebec-based ensemble Forestare makes their Toronto debut in Mooredale Concerts' 2017/18 season finale. What makes this program unusually interesting is the instrumental makeup of Forestare, consisting of 12 guitars and two basses. According to their media release, "Since its 2002 inception, Forestare has participated in the creation of 50 original works and adapted nearly another 100 for its unique configuration – as a result creating the largest repertoire for guitar orchestra in the world."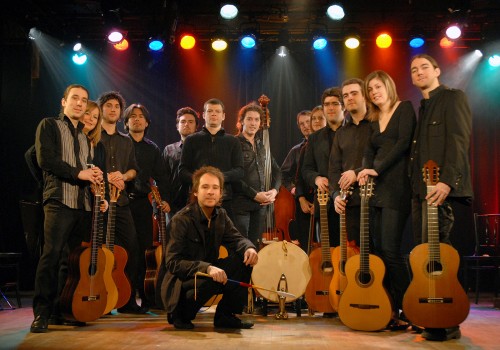 For their April Toronto debut, Forestare's program is comprised entirely of arrangements made by David Pilon (also Forestare's conductor), David Ratelle and Jürg Kindle, taken from their Baroque album. Works including Lully's Le bourgeouis gentilhomme, Vivaldi's Trio Sonata (La folia) and numerous works by Bach, including Brandenburg Concerto No. 3, ensure a mixture of familiar earworms and less-familiar discoveries. This concert presents a rare and unique opportunity to experience something that is, for many of us, entirely new: well-known works transcribed for an extraordinary and novel combination of instruments.
Looking Ahead
Scaramella, April 7: In addition to the new and exciting debut of the Forestare guitar orchestra, Toronto hosts a number of other worthwhile early music events this month, including Scaramella's "Boccherini and Friends," a survey of Boccherini's music in the context of his contemporaries, on April 7. With works by Boccherini, Michael Haydn (brother of Franz Josef), Leopold Mozart (father of Wolfgang) and Johann Georg Albrechtsberger, this dip into the late 18th century features those who were lost in the transition between the Baroque and Classical periods, as popular tastes shifted and changed, and many worthwhile and successful composers faded into premature obscurity. According to the late-18th-century author Jean-Baptiste Cartier, "If God wanted to speak to men through music, He would do it with the works of Haydn, but if He wanted to listen to music, He would choose Boccherini." But don't take Cartier's word for it – check out this concert and decide for yourself.
Music @ Met, April 22: Last month's issue of The WholeNote featured an interview with Dr. Patricia Wright, Metropolitan United Church's Minister of Music. In her interview Dr. Wright explained that for decades Metropolitan United has hosted a successful and ongoing series of concerts, recently rebranded as the Music at Metropolitan (Music @ Met) program. The next performance in the Music @ Met calendar features Musicians on the Edge and Rezonance Baroque Ensemble in "Mystery of the Unfinished Concerto" on April 22. With music by Corelli, Vivaldi and others, as well as new compositions created on the spot, this presentation continues Rezonance's exploration of partimenti and Baroque improvisational technique, in both the context of written and unwritten music.
Cantemus, May 5 and 6: Looking ahead to early May, Cantemus Singers present what should be a sublime concert of works from the early Tudor period on May 5 and 6. Although written in social, political, and religious conditions that were decidedly less than ideal, the music produced by such composers as Tallis, Sheppard and Mundy overcame the limitations of their time and began the progression towards what is now considered the English Cathedral style of music. With a rich historical background full of fascinating tales and anecdotes, this performance is ideal for fans of Renaissance music and history buffs alike.
As winter departs, the days grow longer, and the mercury rises, take advantage of a beautiful spring evening or two and explore a concert. If nothing in this month's column strikes an interest, explore this magazine for hundreds more shows, recitals and presentations – all happening within the area – and find the music that's right for you. Your feedback is always welcome: send me a note at earlymusic@thewholenote.com or say "Hi" in person; either way, don't let April showers keep you indoors.
Matthew Whitfield is a Toronto-based harpsichordist and organist.