Discussing early music is similar to discussing winter in Canada, particularly here in Toronto. We know where each is supposed to begin and end: early music covers everything from the Medieval era to the end of the Baroque, widely considered to be 1750 (the year of J.S. Bach's death); winter begins with the winter solstice near the end of December and lasts until the spring equinox in March. This year, though, Toronto was treated to an intense April ice storm, causing almost 1,500 car accidents over a single weekend, wreaking havoc on property, and instilling regret in those who switched over their vehicle's winter tires too soon. The Farmer's Almanac may have told us one thing, but as we well know, real life scenarios rarely match our neat-and-tidy theoretical assumptions.
When attempting to categorize early music, we encounter many of the same practical and theoretical conflicts we face when discussing the weather. As time moves forward, formerly avant-garde composers such as Cage, Messiaen and Berio become part of music's history, relics from the past century, while the greats of long ago, including Mozart, Beethoven and Brahms, move even further into the distant past. When this happens, we realize that this inevitable progression of time pushes composers and their works further and further back in history, thereby blurring our outdated and neatly conceived 19th- and 20th-century categorizations of classical music's epochs.
The continually expanding exploration and development of performance practice in music mirrors this passing of time. The Historically Informed Performance (HIP) movement, for example, was started 60-or-so years ago, when Leonhardt, Rilling and Harnoncourt began recording the complete Bach cantatas, and has since grown to encompass Mozart, Beethoven, Brahms and even Mahler. As what we consider contemporary continues to move ahead and composers continue to utilize technology and digital media as compositional techniques to be included along with live performers, we look back at the music of the past through a constantly-changing lens.
Is this to say that we should consistently take the pruning shears to Western music, judiciously weeding out repertoire that no longer serves a purpose or that seems too old or outdated? Probably not – we wouldn't want to cause a riot, after all, by acknowledging the inherent clunkiness of some of Beethoven's compositions or the influence of Leopold Mozart on young Mozart's symphonies and concerti, or echo Pierre Boulez's critiques of Schoenberg's structural schizophrenia. Instead, we should look at music as a whole, do away with our naïve categorizations and acknowledge the ancient nature of this music and its place in history.
By taking a large-scale look at individual repertoire in its historical context – as a progression of musical lineage and development that bridges the enormous gulf between the beginning of medieval staff notation and monophony to the monstrous complexity of Ferneyhough and Finnissy, ultimately ending up with the products of today's composers – we see that everything is connected. If we acknowledge the innate interconnectedness between Schütz and Scelsi, Fasch and Ferneyhough, we can throw away the idea of narrow-minded specialization in music and increase our own awareness of the greatness of all musics, and then pass on this awareness to our audiences. As Robert Heinlein writes: "specialization is for insects."
Toronto Bach Festival
The month of May provides many interesting opportunities to see presenters straddle the lines more frequently, offering concerts of music taken from different eras and showing the progression of musical history over time, whether in shorter segments or over large, epoch-spanning periods. The third annual Toronto Bach Festival, which takes place from May 11 to 13, explores Bach's influences, the musical figures from the Renaissance and early Baroque that combined and incubated to result in one of classical music's primary figures. Featuring three concerts and a lecture by professor Michael Marissen, this year's Bach Festival, curated by artistic director (and Tafelmusik oboist) John Abberger, focuses on the music of Bach and Heinrich Schütz, regarded as the most important German composer before Bach and an influence on later composers such as Brahms and Webern. The opening concert includes Bach's Brandenburg Concertos No.2 and 4, Concerto for Oboe d'amore and Orchestral Suite No.4, with Abberger (as oboist and director), Baroque violinist Julia Wedman, and natural horn player Scott Wevers among the orchestra's 14 players.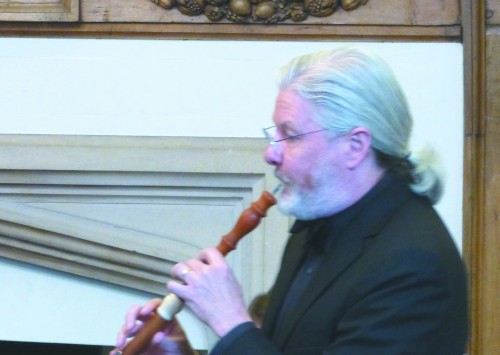 British composer Brian Eno recently spoke of our contemporary cult of genius, stating that "although great new ideas are usually articulated by individuals, they're nearly always generated by communities." Through performances of Bach's orchestral music, including two Brandenburg Concerti, Schütz's stunning Johannes Passion and an organ recital by Rachel Mahon featuring works by Dieterich Buxtehude, this year's Toronto Bach Festival will paint a large-scale picture of Bach in relation to his peers and predecessors, an engaging portrait that removes Bach from his isolated, elevated pedestal of genius and contextualizes his works within his musical community.
21C Music Festival
Continuing the theme of multi-era concerts, The Royal Conservatory's 21C Music Festival presents pianist Simone Dinnerstein with chamber orchestra A Far Cry, in what looks to be a magnificent juxtaposition of the complex counterpoint of Bach's Keyboard Concerto in G Minor with the deceptively simple minimalism of Philip Glass's Piano Concerto No. 3. While Bach uses counterpoint to create an overall effect greater than the sum of the parts, Glass' counterpoint sounds less complex than it actually is, with characteristically repetitive themes and gradually evolving, large-scale processes combining to create works that bring to mind Michael Caine's quote on the duck: calm on the surface, but always paddling like the dickens underneath.
Lest one say that Glass' music is "light" or "superficial," it is helpful to remember that Glass received the same intensive training as many of his compositional contemporaries, even studying for two years with Nadia Boulanger, the legendary French pedagogue. Glass' music, particularly his large-scale works, contains moments of distinct compositional ingenuity, thematic developments sharing similarities with the age-old fugue, and ideas that are combined, contrasted and displayed in virtuosic versatility. This ingenuity correlates perfectly with Bach's own ideas on counterpoint, and this unexpected combination of old and new works not only provides a vehicle for virtuosity that spans the centuries, but also contains a consistent set of underlying principles, albeit within distinctly different soundscapes.
Tafelmusik plays Beethoven
Tafelmusik's Beethoven collaborations with conductor Bruno Weil, culminating in a recently-released set of the complete symphonies, expand the repertoire conventionally assumed as suitable for a Baroque orchestra. This May, the Tafel/Weil duo reunites to perform Beethoven's Symphony No. 6, "Pastoral" and his magnificent Violin Concerto, with Jeanne Lamon as concertmaster and Elisa Citterio as soloist. Many are familiar with Romantic interpretations of this symphony – think Furtwängler and later – rife with pictorial depictions of rolling hills, birdsong and the inevitable storm. By performing this work on period instruments – thereby reducing the kaleidoscopic range of expression typically available on modern instruments – the characteristically caricatured interpretation we have come to expect may be tempered somewhat. It will be worthwhile to hear this work in the context of its time, rather than as a scene-painting predecessor to Wagnerian drama!
There are many other fantastic concerts happening in the early music world this month, too many to
mention here, and I hope that you'll do some exploring, both in this magazine and in the Toronto arts scene as a whole. With the last blast of winter hopefully behind us, take some time this spring to get outside and take in some music. Not only will you be able to walk around in something other than a parka and boots, you will also have the opportunity to hear marvellous music from all eras performed by some of the city's most talented artists.
I hope to see you at some of this month's musical events. As always, feel free to get in touch at earlymusic@thewholenote.com.
Matthew Whitfield is a Toronto-based harpsichordist and organist.