November is a month when many concert series have their season openers — a good chance for me to talk about some of my favourite groups.
Definitely in this category is Toronto Masque Theatre (TMT). This company is touched by magic — the magic of the masque, both ancient and contemporary, which they present in myriad entertaining productions that fuse different aspects of the performing arts; since 2003 they've staged close to 25 critically acclaimed multimedia productions ranging in repertoire from the late Renaissance to the modern day.
Their upcoming show, "Fairest Isle," showcases the wealth and breadth of Purcell's genius with pieces drawn from his semi-operas: The Fairy-Queen, Dido and Aeneas, King Arthur and The Indian Queen, along with music he composed for the Church and Court. TMT's press release promises that it will be "an exhilarating combination of dance, theatre, orchestral music and song: a chance for audiences to glimpse the baroque splendour of the work Purcell created for London's theatre of the time."
Henry Purcell is obviously dear to the heart of TMT. In an ambitious five-year program, they've produced all of Purcell's major theatre works, culminating in performances of, and a symposium on, King Arthur in 2009 to mark the 350th anniversary of the composer's birth. Artistic director Larry Beckwith comments enthusiastically: "Purcell's music is full of genius, craft, warmth and humour. He was so adept at supporting the meaning of the great — and sometimes not so great! — texts he worked with. The tunes are memorable and moving, the instrumental writing is first-rate, and the overall thrust of his work is lively and full of humanity."
There's a real treat in store if you go to see them! Performances are on November 16 and 17 at the Al Green Theatre. Pre-show chats featuring Beckwith and special guests take place 45 minutes before each show.
A look at the package in which Scaramella's 2012-2013 season is wrapped will give you an idea of the artistry, ingenuity and care poured into each of their concerts. Go to the opening page of the brochure or the website, and you're spun inside on the fronds of an exquisite spiral — actually a photograph of a staircase inside the lighthouse in Eckmuhl, Brittany (reminiscent of the scroll of a musical instrument, muses artistic director Joëlle Morton). Once landed, you'll find your eye alighting on a set of particularly attractive images, each of which points in some way to the overall theme of this season: innovation and technology — a theme that takes on a variety of guises.
A photo of Salvador Dali engaged in serious discussion with a rhino gives some idea of what's in store for their first concert. It's all about animals and the ways that have been found to depict their sounds on musical instruments. As Morton says, "Our multi-talented musicians will be called upon to conjure cows, horses, ducks, frogs, geese, pigs, chickens, dogs, doves, frogs, bees, sheep, a stag, a snake, cicadas and cats." They'll do this in a multitude of pieces, from composers such as Biber, Bach, Handel and Copland to Elton John, George Harrison, Loudon Wainwright and traditional tunes. And who are these multi-talented performers? They include Elyssa Lefurgey-Smith (baroque violin), Katherine Hill (soprano), Joëlle Morton (violas da gamba), Sara-Anne Churchill (harpsichord) and Kirk Elliott (aptly dubbed "one-man-band"). "Lions and Tigers and Bears, O My!" takes place at Victoria College Chapel on December 1.
Two violinists in Toronto on the same weekend approach the performance of early music from different perspectives. November 7 to 11, one of the foremost international baroque violinists appears with Tafelmusik: Gottfried von der Goltz began his career as a "modern" player but decided to switch to the baroque style; in so doing, he found everything he needed to build an international career. Now violinist and director of the Freiburg Baroque Orchestra, he is Tafelmusik's guest in "Mozart's World," as soloist in the Mozart Violin Concerto in A and as director in works by Haydn, Franz Beck and Josef Kraus.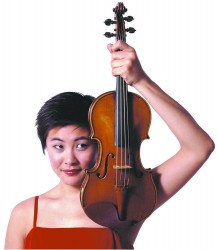 Also on November 11, a violinist you may have heard last June in Toronto's Luminato Festival performing the solo violin role of Einstein in Philip Glass' opera Einstein on the Beach, appears in recital at RCM's Mazzoleni Hall. Jennifer Koh is a consummate and very thoughtful artist who believes strongly that connections exist in all music from early to modern, since music reflects humanity's common experiences in every society and every age. This conviction has led to the evolution of her project "Bach and Beyond" — a set of three recitals that seeks to reveal the connections in solo violin repertoire, from Bach's six Sonatas and Partitas through to newly commissioned works. Her recital in Toronto is the second of these. She'll perform two solo works by Bach, plus the Bartók Solo Sonata and a world premiere: Kline's Partita for Solo Violin, written for her.
Others
November 17 at the Kitchener-Waterloo Chamber Music Society: Canadian pianist Shoshana Telner has enjoyed a flourishing career as soloist, chamber musician and teacher and currently teaches in the music faculty of McMaster University. In this concert she performs Bach's Six Keyboard Partitas — music (described by one listener) that puts you "within that holy moment."
November 17 and 18 (Toronto), November 24 (Hamilton): Capella Intima was founded in 2008 by the talented tenor and baroque guitarist, Bud Roach, expressly to present vocal chamber music of the 17th century. Roach has recently been immersed in research into the lost art of the self-accompanied singer, work that's resulted in a beautiful recording of secular arias by Grandi. (Go to Capella Intima's website to hear excerpts and find out more about the project.) Some of this music will be presented in the three upcoming performances: intimate arias by Grandi, Sances and Strossi, featuring soprano Emily Klassen and tenor Bud Roach, who also accompanies the songs on baroque guitar.
November 18: Organist Philip Fournier came to Toronto from the USA in 2007, bringing with him an impressive history of scholarship and experience in the fields of organ performance and choral directorship. He gives a recital, "Organ Music of the 17th Century," on the magnificent three-manual mechanical action organ at The Oratory, Holy Family Church — music by Praetorius, Sweelinck, Scheidt, Frescobaldi, Byrd and Bach.
November 18: The Windermere String Quartet on period instruments continue their journey through the "Golden Age" of string quartets with a performance dedicated to youthful works. In "Young Blood" they play works by Mozart, Schubert and Arriaga — musical geniuses who, by the age of 19, had already displayed their mastery of the form. Lucky for us that they were so precocious because they had not much time to develop: they all died tragically young.
November 27 also at the Kitchener-Waterloo Chamber Music Society: Lovers of the viol should flock to this concert given by the internationally renowned bass viol duo Les Voix Humaines. Their concert titled "The Sun Queen" refers to King Louis XIV's favourite instrument, the viola da gamba, and includes original compositions and arrangements of French chamber music of the 17th century. This is music which (in their words) "reflects the growing taste for private pleasures, making use of a language which is at once moving and discreet, evoking a world where freedom and intimacy go hand in hand."
Choral concerts involving early music are well represented; here are a few of them: Cantemus Singers: "Make We Merry!" (November 17 and 18); Georgetown Bach Chorale: Handel's Messiah (November 17 in Goderich, November 18 in Brampton, November 23 and 25 in Georgetown); Melos Choir and Chamber Orchestra: "Celebrating the Diamond Jubilee of Her Majesty Queen Elizabeth II" with Handel's Coronation Anthems (November 18 in Kingston); Larkin Singers: "Bach Motets" (November 24); Elmer Iseler Singers: Handel's Messiah (November 30); Tafelmusik: "French Baroque Christmas" (December 5, 6, 7, 8, 9); U of T Schola Cantorum: Handel's Coronation Anthems (December 7).
For details of all these and more, please see The WholeNote's daily listings. 
Simone Desilets is a long-time contributor to The WholeNote in several capacities who plays the viola da gamba. She can be contacted at earlymusic@thewholenote.com.