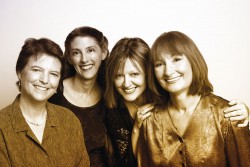 Of course we know we are not the only ones to stand aghast at the magnitude of the heavens, to question our role in the scheme of things, to revel in our youth, be lovestruck and devious and wicked, to worship our Creator. Medieval Man did all this too; but how to fathom the point of view of ancient cultures from our vantage point, so far removed from theirs? Much of the knowledge and thought existing in the Middle Ages has filtered down to the present day through music; and we're very fortunate that people of tremendous scholarship and talent are continuing to bring this music to life. Three of this month's concerts give fascinating insights into several aspects of the music and philosophy of medieval times.
First to appear, inviting us to enter a deeply devotional realm expressed in music both ancient and modern, is Anonymous 4, the truly remarkable women's vocal quartet, who celebrate their 25th anniversary with the concert program "Anthology 25" at Koerner Hall on April 11. Renowned for both their historical scholarship and the sheer liquid silver beauty of their vocal blend, they're currently touring a program that in a way sums up the work they've done over the past quarter century, for it presents offerings from 20 (if I counted right) of their recordings — including everything from 12th-century chant and polyphony to 15th-century carols to early American folk hymns to recently composed works, and more. They research, write about and perform their music with such meticulousness, yet with such joy; it's no wonder they've developed a huge and enthusiastic audience over a quarter century.
As in the present day, when we are increasingly awestruck by the vastness of the cosmos, so in medieval times people sought explanations to questions arising from the phenomena they observed. They found answers in ancient philosophy, in which music and astronomy were closely linked — the harmonious proportions of sound were believed to echo the harmonious movements of the planets and stars. Metaphors based on astronomy permeated medieval religious and philosophical expression. Some of the wealth of music that reflects this, including music by Dunstable (the English composer, astronomer and mathematician) and Landini (the blind Italian composer, philosopher and astrologist) will be presented by Sine Nomine Ensemble in their concert, "Music of the Spheres: The stars moving in concert," which takes place on April 27 at St. Thomas's Church.
In the collection of 13th- and 14th-century songs known as the Carmina Burana — the Songs of Benediktbeuren — we're shown a colourful diversity of medieval life. These are lyrical poems in Latin, medieval German and French, some 300 in all, gathered probably by wandering scholars. Some celebrate springtime and love, or gambling and drinking; some are satirical or moralistic, or set forth religious feeling; and to borrow the words of one writer, "the pagan spirit inspiring most of the poems reminds us that the rough, intense world of medieval Europe was anything but a Sunday School picnic." Though some indications exist of how they were to be sung, bringing them to life takes some imagination. Eminently equipped for this task, the musicians of the Toronto Consort will set their voices, fiddle, recorder, hurdy-gurdy, lute and harp to their performance in a trio of concerts, titled "The Original Carmina Burana," April 27 to 29 at Trinity-St. Paul's Centre.
String Quartets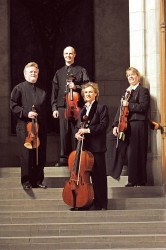 Fast forwarding to the 18th and even the 19th century, we find concerts this month by no less than three string quartets devoted to period performance:
On April 22 the Eybler Quartet shouts "Hey, I'm Mozart, too!" — and in reading the biographies of the three composers represented alongside Wolfgang Amadeus we find out why: Joseph Martin Kraus (1756–1792), sometimes called "the Swedish Mozart," Juan Crisóstomo Arriaga (1806–1826), dubbed "the Spanish Mozart," and Joseph Boulogne, le Chevalier du Saint-George (1745–1799), "le Mozart noir," all were precocious classical composers who had very short lives. Uncannily also, Kraus was born in the same year as Mozart; and Arriaga was born on what would have been Mozart's 50th birthday.
On April 28, in a presentation of the Academy Concert Series, the Lumière Quartet commemorates "Schubert's Final Journey" — his creative journey to his own imminent death — performing his "Death and the Maiden" String Quartet in D Minor, and the glorious, posthumous two-cello String Quintet in C Major, the last piece of chamber music he wrote.
On April 29, the Windermere String Quartet, on period instruments, conclude their seventh season with "Turning Points," featuring works that exemplify pivotal moments in history and in music — by Joseph Boulogne (le Chevalier du Saint-George), Beethoven and Schubert (again, his two-cello quintet — the same work as will be heard the at the Academy Concert Series the night before; but, like the finest wine, it's delicious enough to be sampled twice in two days!).
As if all these weren't enough, there's lots more this month to tempt you:
• April 7: Fairest Isle, all isles excelling, that gave us the genius of both Henry Purcell and the Beatles! But did you know that the two are linked artistically? Scaramella reveals the truth in this, illustrating some of the many parallels between the two famous English entities with lovely and beguiling music by both, in their last concert of the season, "Imagine." Gambist/artistic director Joëlle Morton is joined by Brazilian guests, Paulo Mestre, countertenor, and Silvana Scarinci theorbo, as well as multi-instrumentalist Kirk Eliott, sitar, bouzouki and accordion.
• April 13: Once again, I FURIOSI is in an uproar — this time it's about families. Of course in Baroque days, even while bursting with creative musical genius, they could be as unruly as ever. Join the furor of "I FURIOSI's Family Jewels" as guests Jed Wentz, flauto traverso, and Olivier Fortin, harpsichord, come for the I FURIOSI dysfunctional family reunion.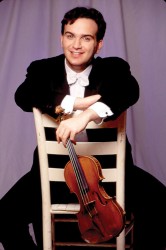 • April 21: In his Koerner Hall debut, Israeli-American violinist Gil Shaham plays an all-Bach solo recital —the partitas in e major and d minor, and the Sonata for Solo Violin in C Major. One of today's most engaging classical artists, he's been described by The New York Times as "a virtuoso and a player of deeply intense sincerity."
• April 29: Toronto's own Community Baroque Orchestra gives its "Spring Concert," performing music by Handel, Biber, Leclair and Vivaldi. Violinist Elyssa Lefurgey-Smith leads the group, and the soloists in Vivaldi's Concerto in C Major for two flutes are Roseen Giles and Gregory Kirczenow.
• May 2 to 6: A description of the artistry of British violinist Rachel Podger runs: "(She) is known for her highly accurate, virtuosic playing, outstanding musicianship and understanding of period style, and a cheerful, warm and decidedly non-stuffy stage presence." All very good reasons to check out her guest appearances with Tafelmusik in their five concerts titled Bach and the Violin. Podger has held positions as leader with the English Concert, the Orchestra of the Age of Enlightenment and the Academy of Ancient Music, among other groups; she'll perform with Tafelmusik as director and soloist in works by Bach, Vivaldi and Telemann.
• May 3 and 5: Aradia's "The Grain of the Voice" features two groups of very different vocal "grains": the choir and orchestra of Aradia who will perform motets by Monteverdi and Gesualdo, and guests, the Toronto-based Georgian choir Darbazi who will present traditional Georgian repertoire (a uniquely beautiful polyphony). Artistic director Kevin Mallon unites the two with a new composition of his own. (May 3 is a free noonhour concert presented by the COC; May 5 is at the Glenn Gould Studio.)
• May 5: In its final concert of the season, the Tallis Choir presents "The Glory of the English Anthem," tracing the a cappella anthem's 500-year presence in the Chapel Royal, cathedrals and colleges of England. Tallis' Lamentations of Jeremiah and Byrd's Sing Joyfully, as well as 20th-century works, will be performed.
For full details of all these, and more, please peruse The WholeNote's daily listings.
Simone Desilets is a long-time contributor to The WholeNote inseveral capacities who plays the viola da gambaShe can be contacted at earlymusic@thewholenote.com.