June is a month of transitions, the waning concert season having mostly drawn to a close, the summer festivals having barely emerged. Fortunately though, there are still several very interesting events happening that showcase the "early" side of music, enough to keep you going throughout the month.
There's a strong interest in chant at Toronto's Church of St. Mary Magdalene. In this "oasis in the city for contemplative music," you can hear chant, or chant-influenced music, throughout the liturgical year. There's even a chant club, open to anyone, in which participants learn about chant through both singing and instruction in its history, theory and technique. For more about this, go to their website: www.stmarymagdalene.ca.
If chant is of special interest to you, you might want to take advantage of a full day of chant-focused workshops, presentations and rehearsals offered on June 9, with Schola Magdalena and the SMM Ritual Choir. The day is surrounded by concerts: on Friday June 8, Schola Magdalena women's ensemble for medieval music performs masterpieces of the School of Notre Dame de Paris, including Sederunt by the 13th-century Perotinus; on June 9, workshop participants and singers from SMM present an evening of Gregorian chant, Marian anthems by Lassus, and music by Hildegard von Bingen.
The above two concerts occur also as part of the Concerts Spirituels 2012 series, presented at St. Mary Magdalene on Friday evenings in June (the June 9 Saturday concert being the one exception). Others in order of appearance are: American organist, Rich Spotts, and the SMM Ritual Choir, perform the Gregorian chant-based music of Tournemire, June 1; a program of chamber music including works by Vivaldi, June 15; and the SMM Gallery Choir performs Lasso's Missa Entre Vous Filles, the Buxtehude Magnificat, and music by Willan, June 22.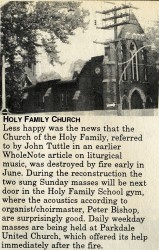 One of the joys of working at The WholeNote is discovering connections, hidden in the musical kaleidoscope and just waiting to be uncovered. In preparing to write about Philip Fournier's organ recital at The Oratory, Holy Family Church, I was led back to the 20th issue of our magazine — July/August 1997— where, on page 31, a short lament was written on the destruction by fire of Holy Family Church (did I take the accompanying photo?). Well, in the intervening 15 years this west-end Toronto church has now been rebuilt and the organ replaced with a magnificent Gabriel Kney/Halbert Gober tracker organ which Fournier says "is easily one of the finest instruments in Toronto. The unusually reverberant nave it speaks into further limits its circle of peers."
The organist, Philip Fournier, has the credentials to be a very good judge of organs. His bio is impressive; organists among us especially will recognize names that figure significantly in his background. For example, he studied Gregorian chant at Solesmes, France, with the famed Dom Saulnier; he was the first Organ Scholar at the College of the Holy Cross, Worcester USA, and was subsequently named a Fenwick Scholar, the highest academic honour given by the College. He won the Historical Organ in America competition in 1992 and performed at Arizona State University on the Paul Fritts organ, and was awarded a recital on the Flemtrop instrument at Duke University. Now organist and director of music at St. Vincent de Paul in Toronto, he gives recitals regularly at the Oratory. He is also guest organist of the Toronto Tallis Choir, artistic director and continuo player of the St. Vincent's Baroque Soloists, and is active as a composer.
Fournier's recital on the Kney/Gober organ is designed to show off the capabilities of this instrument, with music by Sweelinck, Buxtehude, Weckmann and Bach. It takes place at the newly rebuilt Holy Family Church on June 10.
Spadina Museum holds their outdoor concert series, Music in the Orchard, every spring, with four concerts coming up. On June 17, you can hear a concert of "live outdoor audible acoustic music" (by his own affirmation) by Mike Franklin— he's a versatile multi-instrumentalist and singer who specializes in European medieval, renaissance and traditional music, and I can attest that he always presents a very imaginative program.
And if you happen to be in the vicinity of the Church of the Holy Trinity (behind the Eaton Centre) at noon on Equinox or Solstice days, you can catch Mike creating a sonic landscape at the outdoor labyrinth there (this year, the Summer Solstice occurs on June 20). One late-September day, I heard him cast a cloak of sombre magic over the labyrinth and those who chose to walk it, with a hurdy-gurdy and with a most otherworldly shawm.
The Cardinal Consort of Viols and a special guest perform in the Toronto Early Music Centre's Musically Speaking series on June 17. "Music for Queen Elizabeth I" pays tribute to not only the first Queen Elizabeth but also the second, in celebration of her majesty's Diamond Jubilee; and the music of course is English— Byrd, Gibbons, Dowland, Holborne and Bull. As for the special guest— well, he's an accomplished countertenor whom we don't get to hear enough these days: Frank Nakashima (who counts eight years as The WholeNote's Early Music columnist among his many artistic ventures). The concert takes place in a setting that is proving to be just right for intimate music-making: St. David's Church, Donlands and Danforth.
Surely one of the most exquisite concert settings around is Sharon Temple in the municipality of East Gwillimbury. Music has resounded within the walls of this stunningly beautiful edifice ever since it was built by the Children of Peace in 1831. The concert series Music at Sharon, whose co-artistic directors are Larry Beckwith and Rick Phillips, makes its home there every year in June. Of the four concerts, two involve music of the 18th and 17th centuries (respectively): on June 10, "Zelenka Plays Bach" features three of the Bach solo cello suites (nos. 1, 3 and 6) played by cellist Winona Zelenka— one of the most compelling cellists around, whose recording of Bach's six suites for unaccompanied cello won her a 2011 JUNO Award nomination in the small ensemble/solo classical category; and on June 17, a concert version of Purcell's opera Dido and Aeneas will be presented, with soprano Meredith Hall as Dido, baritone Todd Delaney as Aeneas, and the Toronto Masque Theatre.
Publicity for Music at Sharon urges you to "Plan to arrive early to picnic on the beautiful park-like grounds and tour the site's unique heritage buildings, before moving inside the Sharon Temple for the pre-concert chat at 1:15pm followed by the 2pm concert." Sounds like a plan for a wonderful afternoon!
Readers may recall June 2011's Early Music column, which covered Tafelmusik Baroque Summer Institute's yearly program in some depth in many of its aspects: instrumental, vocal and conductor/director studies; lectures, masterclasses, workshops and more. (You can find this column on The WholeNote's website at thewhole­note.com— go to "About Us" and click on "Previous Issues.") It's a very successful format which is repeated this June at the University of Toronto from the 3rd to the 16th of the month. Four concerts are spawned during its run: June 4, "Delightfully Baroque," with music performed by the Tafelmusik Baroque Orchestra and Chamber Choir; June 9, "Musical Interlude," a casual noon-hour concert of baroque chamber music by TBSI faculty; June 13, "The TBSI Orchestras and Choirs," directed by Jeanne Lamon and Ivars Taurins and featuring Institute participants; and June 16, "The Grand Finale," a baroque extravaganza in which participants and faculty perform together. A lively baroque experience in a bustling city!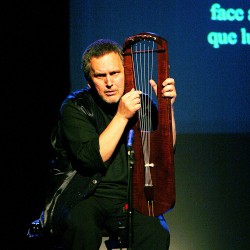 Speaking of "lively baroque experiences" in bustling cities, June 21 to 24 is a festive time to be in Montreal because the tenth anniversary of the Montreal Baroque Festival is happening; and though their theme this year is "The Apocalypse," this is qualified by the subtext "Transformations, Revelations" — with the implied meaning that wonderful things are about to occur. Of this there can be no doubt: a look at their schedule reveals four days packed with events, from rendez-vous in a café to a "Parade for the Apocalypse," to many concerts with terrific performers. You can witness a horse ballet presented at Louis XIII's engagement in 1612, with horses from the Equimagie stables and music later transcribed by Lully. There is a dramatic monologue on the ancient epic story of Beowulf, the young hero slain by a dragon, formidably delivered by Benjamin Bagby (medieval specialist, singer and co-founder of the medieval vocal and instrumental ensemble Sequentia) who accompanies himself on the harp and has presented it to great acclaim over the past 20 years. There's music by Hildegard von Bingen, Biber, Bach and others, including Telemann's great sacred oratorio Der Tag des Gerichts (The Last Judgment). Performers include virtuoso natural trumpeters Jean-François Madeuf from France, and Graham Nicholson from Holland, as well as an array of top-notch musicians and ensembles whom audiences, especially in Quebec, are lucky enough to hear regularly. I hope you'll be able to join them.
Simone Desilets is a long-time contributor to The WholeNote in several capacities who plays the viola da gamba. She can be contacted at earlymusic@thewholenote.com.