The next time you're at an orchestra concert, take a close look at the musicians sitting at the back. Notice the looks on their faces as they play. If you have to, squint hard. Hear the brass section at full volume during an orchestral tutti, or the lutenist strumming away? Good. They're working hard, they're happy (or at least feeling professionally fulfilled for these few moments), and they'll be glad you noticed them. But pay even closer attention when they're sitting through a tacet and looking out over the orchestra with a blank look on their faces. They have nothing to do but sit and observe their co-workers, and I'm willing to bet you they've had a few hours to sit back and do nothing when the orchestra was rehearsing this week. They might seem idle, but this particular form of enforced idleness has great rewards.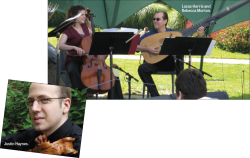 While their colleagues on stage are working, the musicians at the back, from their vantage point, can observe their every move. They watch stand partners glare daggers at each other through page turns, they watch the conductor wince as the flutist mangles an exposed passage and they can see everyone roll their eyes in unison as the soprano brings the entire piece to a halt to flirt with the world-famous tenor who just flew in from Milan (these are all hypotheticals, but you get the point): the backbenchers, more so than the soloists or even the artistic director are the people who really know what's going on in an orchestra, and if you treat them right, they'll give you all the inside info on the group that you need. Plus they return your phone calls faster.
I decided to ask Toronto's top continuo players what they know about their respective groups and find out what concerts I should make a point of seeing (or missing) in the upcoming concert season. One continuo player who is privy to all kinds of inside information is Alison Mackay. As a bass player for Tafelmusik, she knows this year is going to be a momentous one for Toronto's biggest baroque band. "We're really excited that we're going to have a brand new concert hall," Mackay says, referring to the major renovation to Trinity-St.Paul's. "We used to have to build the stage for every concert series and take it apart for the church services ... The new concert stage is going to make a huge difference to Tafelmusik's sound."
Better acoustics for any orchestra is a marvellous change, but this year is also a seminal one for Tafelmusik for another reason. This is Jeanne Lamon's final year with the orchestra and this season's guest conductors could be considered as potential candidates to lead the group one day. Tafelmusik will also be celebrating Lamon's legacy as artistic director and lead violinist with the orchestra and will be taking suggestions from the audience for pieces to play in a concert featuring Lamon in a series May 8to 14.
Despite a flurry of activity behind the scenes, Tafelmusik will also be putting on several ambitious and innovative concerts, including two which were designed by Mackay and are now an international success. The first, "The Four Seasons: A Cycle of the Sun," is a re-envisioning of Vivaldi's Four Seasons, which he composed in 1725, and includes music from around the world that would have been heard the same year, such as pipa music from China, a raga to celebrate the monsoon and interactive performances by Inuit throat singers. It also features a re-imagining of Vivaldi's "Winter" by Oscar-winning Canadian composer Mychael Danna. (Mackay's other program, "The Galileo Project," will tour Japan and Korea, but Toronto audiences won't hear that here this year.) Finally, Tafelmusik will release a DVD based on another concert of Mackay's, "House of Dreams," which features music and paintings from famous art patrons in Baroque Europe.
"Some of these paintings were part of private collections that were acquired by public galleries and haven't been seen in their original locations for centuries," Mackay explains. "We filmed performances in places like Handel's house in London and the house of one of Bach's close friends in Leipzig. The movie takes you all over Europe and gives you a sense of what it must have been like to experience that music back in the 18th century." That movie will be commercially available in a few months, and Mackay hopes it will get a public premiere some time in November.
Another continuo insider I talked to was lutenist Lucas Harris. Besides providing a solid foundation to groups like Tafelmusik and the Toronto Consort, Harris makes up one-third of the Vesuvius Ensemble, a chamber group dedicated to Italian folk music. "We had a very successful concert program based on music from Naples, so we're going to tour that to Port Hope, Cambridge and Ottawa," Harris says. Toronto audiences will be able hear Vesuvius on November 2 when they open for Michael Occhipinti's Sicilian Jazz Project at Koerner Hall. Harris will also have centre stage earlier that day when he conducts his final Masters recital in choral conducting at the Church of the Redeemer in a program that includes works by Arvo Pärt, Lili Boulanger and Clara Schumann. While the concert won't be a straight early music performance, Harris will use the occasion to show off a repertoire he's passionate about — the Austrian sacred music of the mid-17th century. "No one has really explored this repertoire before, and it's really amazing music," he says. "On the one hand, you have beautiful counterpoint descended from Schutz, and on the other, this incredible virtuosity from Italian music from that period."
While choral and folk music fans will be keen to catch Harris' shows, viol player Justin Haynes' exploits will be of particular interest to lovers of chamber and orchestral music. Haynes' main group, Elixir Baroque, is already slated to play as soloists with the Community Baroque Orchestra of Toronto (CBOT) November 9. "We get a really good sense of energy playing with CBOT," Haynes says. "They're amateur musicians with a deep love of baroque music. It's great to feel that sense of passion ... sometimes professional musicians get a bit jaded."
Besides his main gig with Elixir, which will take him to Oakville and Brampton this September, Haynes has plans for a concert that will feature some of Telemann's Paris Quartets later this fall with Allison Melville and Kathleen Kajioka. Though perhaps under-appreciated, the quartets are exceptional chamber pieces and are a fitting example of Telemann's musical rivalry with J. S. Bach.
And as if Haynes wasn't busying himself enough, he also has plans to step out from behind the band and perform as a soloist with an all-Forqueray concert of his own in December. "I love French repertoire and Forqueray wrote amazing music for gamba. It's a good chance to show off," he says.
The end of August is still early in the classical concert season. For many of Toronto's music groups, halls still need to be booked, guest performers flown in, concert dates confirmed. But the rank-and-file players one sees in Toronto are more than just orchestral employees; they're increasingly turning out to be budding impresarios, conductors and soloists, sometimes even ending up exploring music that has nothing to do with what they're playing that night. So the next time you find yourself at a concert, pay a bit more attention to the guys at the back. Next time you might find them running the show — or with a band of their own. Here's to ambition. 
David Podgorski is a Toronto-based harpsichordist, music
teacher and a founding member of Rezonance.
He can be contacted at earlymusic@thewholenote.com.