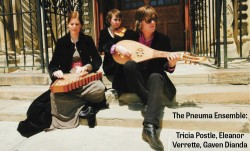 It's a bit of a shame that, with all the marketing behind Christmas, no one ever remembers – let alone observes – Advent anymore. The pre-Christmas season has a rich repertoire of music behind it that often gets ignored in favour of Messiahs, Nutcrackers and Christmas carols, but a few Toronto-based artists are mining this hard-to-market season for interesting music that will keep audiences entertained throughout the month of December.
Musicians in Ordinary have been mentioned in this column before as a group that's known for doing interesting programs of a seasonal nature throughout the year, and I'm pleased to say they'll be doing just that this month. On December 9 at 7:30pm, the group will bring a concert of Monteverdi, Gibbons and Byrd to St. Basil's Church. They'll also be joined by the Pneuma Ensemble, a new group specializing in medieval music, for some Advent tunes from 13th-century Portugal. Besides being seasonally appropriate (especially if, like many people out there, you're already sick of hearing Christmas music by the time December rolls around), it's a concert that won't be done by any other groups in town any time soon. There's scarcely any chance to hear any pre-Renaissance music in Toronto, and medieval music is hardly heard anywhere, so I'll be very interested to hear what the Pneuma Ensemble can bring to the music scene. If you're looking for a chamber concert in early December, the Musicians in Ordinary and Pneuma sounds like an excellent choice.
The Oratory: If you're not particularly into medieval or chamber music, there's another Advent-themed concert worth checking out before Christmas. The Oratory at Holy Family has a regular series of concerts of vocal and chamber music, but this December, the venue has decided to feature a soloist who is one of the music scene's best-kept secrets. Toronto-based organist Phillip Fournier brings a distinctly Lutheran flavour to Holy Family Church on December 7 at 8pm with a solo concert that includes Buxtehude, Bach and Scheidt. Fournier is a great organist and improviser who plays Bach particularly well, and hearing him play solo is positively delightful.
For some actual Christmas music over the Christmas season, consider a few groups that are willing to explore somewhat less-played music for the holidays:
The Toronto Consort will be putting on an interesting program devoted entirely to Christmas music from the Middle Ages that will feature the work of two notable women from the period. The posthumous legacy of the German abbess, writer, composer and mystic Hildegard of Bingen has already been revived with a slew of CD recordings from the mid-90s onward. Judging from the fact that most of the albums had titles like Canticles of Ecstasy, Heavenly Revelations, and Vision, the artists and record labels were trading on the mystic aspect of Hildegard's life as much as the music she wrote. One wonders what the undoubtedly erudite and pious 12th-century nun would make of the new age marketing of her records, but no matter. The music remains extraordinary. Less well-known than Hildegard is a later mystic and nun, Anna of Cologne, who, as a 16th-century compiler of hymns and songs from a non-cloistered community, collected songs in both Latin and Middle German by other composers, who, with some very rare exceptions, remain completely unknown to us. The result is a uniquely spiritual take on the Christmas holidays, and where other musical groups emphasize the festive side of the holidays, Hildegard's and Anna's music shows us a more somber side of the darkest days of the year. Check out the Consort at Trinity-St. Paul's Centre, December 9 through 11.
Cantemus: Still, there's nothing wrong with wanting to celebrate, and if you'd rather listen to a choral ensemble for a dose of holiday cheer, consider going to a concert by the Cantemus Singers in December. Their concert, "In Dulci Jubilo," will be a lively and joyful celebration of the music of Praetorius, Hassler, Schütz and Bach. Cantemus is an a cappella group devoted to Renaissance madrigals and chansons, and they will do a fine job with repertoire that's upbeat and festive. Catch them in two performances, at the Church of the Holy Trinity on December 3 at 7:30pm, and at St. Aidan's Anglican Church on December 4 at 3pm.
Haydn Operatic Gem in Concert: Among the Classical composers, it's generally agreed that Mozart is the father of modern opera and Haydn the founder of the instrumental music we enjoy today. But besides composing on an exhausting schedule that included symphonies, chamber music and solo performances specifically tailored to the tastes of one Prince Nikolaus Esterházy, one of the most powerful aristocrats in the Austro-Hungarian Empire, Haydn was also responsible for managing an opera troupe for the amusement of his employer. In addition to two concerts a week of instrumental music, Haydn was contractually obliged to put on a different opera every week at the Esterházy palace. And although there was no way Haydn could have composed 52 operas a year, he did manage to write about 15 (that we know of) while employed by the prince, although unfortunately, none of them are performed more than occasionally. But on February 5 at the St. Lawrence Centre for the Arts at 2:30pm, Opera in Concert and the Aradia Ensemble will be presenting one of these forgotten gems by the founding father of the Classical canon.
L'Isola disabitata was an opera written by Haydn in 1779 based on a libretto by Metastasio and is an excellent example of the mature style of a prolific composer whose works were just starting to circulate around Europe. Although we don't associate Haydn with opera today, he was more than capable of writing great vocal music, and Aradia and Opera in Concert will give this work the level of excitement and interpretive insight it needs. Get to this concert if you possibly can.
Beauséjour in Belleville: Outside the city, Belleville audiences can look forward to hearing a gifted solo musician in the new year. The talented Quebecois harpsichordist Luc Beauséjour has an encyclopedic catalogue of albums behind him and will be coming to play in St. Thomas's Church in Belleville for a pay-what-you-can concert. No word yet on the program, but Beauséjour is a veteran of solo Baroque keyboard music and a technically flawless musician. If you're in the Belleville area, you should definitely try to make it to his show on January 15 at 4:30pm.
Taylor's TEM: Closer to the city, countertenor Daniel Taylor has made a name for himself as a soloist and opera singer, but lately his choir and chamber music performances have been gaining both notice and acclaim. Led by Taylor, the Choir of the Theatre of Early Music is made up mainly of younger Montreal-based singers. January 21 at 8pm, St. Jude's Celebration of the Arts presents the group in a concert of contemporary and Renaissance a cappella vocal works by some great English choral composers, including Thomas Tallis, William Byrd and John Tavener. Taylor is a gifted singer with a glorious voice who has a fine ear for young talent, and the TEM choir is an exceptional group of voices.
David Podgorski is a Toronto-based harpsichordist, music teacher and a founding member of Rezonance. He can be contacted at earlymusic@thewholenote.com.