Here we are just past the top of the year, and it seems to this writer to be snowing composers — so many are represented in this month's concerts. Some are not generally well known, so here's a bit about five of them that I hope may whet your appetite to hear their music.
Pérotin: A man whose life is almost totally obscured by time, Pérotin is believed to have composed for the newly constructed Notre-Dame Cathedral in the late 12th and early 13th centuries. He must have been hugely affected by the spiritual power of this magnificent edifice, for he wrote monumental works in three- and four-part polyphony the likes of which had never been heard before. One of these, the complex and luminous Sederunt principes, is on Schola Magdalena's upcoming program on February 8 at Toronto's Church of Saint Mary Magdalene, along with music by Hildegard, plainchant, and newly-composed pieces. This six-voice women's ensemble will also be performing at Waterloo's NUMUS Concerts on February 7.
Cavalli: Think of a little boy with a good soprano voice, mentored by a Venetian nobleman who took him to Venice to sing in the cappella at St. Mark's Basilica. His life was forever shaped by this early turn of events. He worked under the direction of the great Monteverdi, eventually became organist at St. Mark's, composed sacred music and also branched out to write for the stage — 41 operas in all — becoming the most influential composer in the genre of opera in mid-17th century Venice. This was Francesco Cavalli, and his music is featured in two presentations this month: February 15 and 16, the Toronto Consort performs as an opera in concert The Loves of Apollo and Daphne; February 24, tenor Bud Roach and guests perform sacred motets by Cavalli and others as part of TEMC's Musically Speaking series.
Taverner: Scaramella's "Hartes Ease" (February 9) and Cantemus Singers' "The Virgin Queen" (March 2 and 3) don't appear at first glance to have much similarity, but they do have common elements. One of these is the 16th century composer John Taverner. Lincolnshire-born-and -buried, not much else is known about his life except that he held the position of organist and Master of the Choristers at Christ Church, Oxford; also he is alleged to have been an agent of Cromwell, assisting in Henry VIII's suppression of the monasteries. But he is forever revered as the one who brought English choral polyphony of the period to its pinnacle. Viol players also regard him as rather notorious, for a particular sequence of notes on the words "In Nomine Domini" (excerpted from his mass Gloria Tibi Trinitas) that has forever installed itself in viol consort repertoire. You can hear one "In Nomine" by him in Scaramella's showcasing of four antique English viols, which brings together four marvellous musicians to play them, in a diversity of music both early and modern. Taverner's Sanctus and Benedictus from the Missa "Westron Wynde" is featured in the 16-voice Cantemus Singers' performance, along with many madrigals and church motets.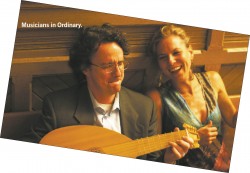 Vincenzo Galilei was the father of the astronomer Galileo. In his own right he was an important musical figure of the late Renaissance, a lutenist, theorist and composer. He seems to have displayed an interesting mix of progressive thought and backward-looking sentiments: On the one hand, he made substantial discoveries in acoustics, reportedly involving his son in his experiments and encouraging him to approach scientific research in a practical as well as a theoretical way (who knows how the invention of the telescope would have played out without the counsel of Galileo the father?). On the other hand though, Vincenzo condemned modern music and championed the revival of the monodic (single melody) singing style of ancient Greece. He is one of several composers featured in the Musicians In Ordinary's concert "You Who Hear In These Scattered Rhymes." Soprano Hallie Fishel and lutenist John Edwards perform baroque settings of great Italian renaissance poetry on March 2.
"The greatest composer you've never heard of" is the Windermere String Quartet's description of Georges Onslow, whose string quintet they'll be presenting. Onslow was a contemporary of Beethoven and Schubert, coming from an aristocratic British family but actually born in France. He "did not mean to become an artist, even less a composer" states a website devoted to him — but obviously he was meant to be one, writing operas, symphonies and much chamber music and becoming a highly regarded composer in his time. His music is extremely beautiful and full of inspiration but, alas, has virtually disappeared from modern view. On March 3 you can hear a lovely example of his work in the Windermere String Quartet's "The Power of Five." Played on period instruments, with guest violist Emily Eng, this is a concert of early 19th century viola quintets — a special, dark sound that only two violas can bring.
Others
February 7 to 9: Feeling lately that you'd like to forsake the Canadian cold for a delightful evening in Paris? Well just around the corner, there's a cabaret happening with the gaity and sophistication of Parisian life from medieval times right to the present day. Toronto Masque Theatre presents "Les Roses de la Vie: A Parisian Soirée," with music by Marais, Couperin and more recent composers, also poetry, movement and film. Among the featured performers is acclaimed corporeal mime artist Giuseppe Condello.
February 9: The Academy Concert Seriespresents "Bach's Blessings," in the form of music for solo cello and solo harpsichord, a violin sonata, cantata arias and the complete Wedding Cantata. This concert features four artists well versed in the art of historically informed interpretations: soprano Nathalie Paulin, violinist Emily Eng, cellist Kerri McGonigle and harpsichordist Lysiane Boulva.
February 9, 12 and 16: The Velvet Curtain Ensemble with director Douglas Rice, orchestra and guest artists presents Purcell's opera Dido and Aeneas. Among the stated values of this group is "to believe in our potential to shape the future of our diverse cultures and civilization by bringing strength and confidence to future generations who will endeavor to define humanity through the arts."
February 10: In Kitchener, a celebration of food — for the ear and for the palate, as Nota Bene Baroque presents "If Music Be the Food of Love..." with food-related music by Schmelzer, Legrenzi, Bernier and others, and guest soprano Stephanie Kramer.
February 12: The Musicians In Ordinary are busy people — not only do they present their regular concert series at Heliconian Hall (March 2, mentioned above) but they are also ensemble-in-residence at U of T's St. Michael's College. In this capacity they present "Hail Bishop Valentine!" performing love songs from the time of the wedding of Princess Elizabeth, daughter of James I, to Frederick, Elector Palatine. Guest reader is David Klausner.
February 21 to 24: "Shrouded in mystery and speculation since Mozart's death, the Requiem is a masterpiece for all time ..." begins Tafelmusik's press release for their next concerts. Mozart's Requiem features four wonderful soloists: soprano Nathalie Paulin, mezzo Laura Pudwell, tenor Lawrence Wiliford and baritone Nathaniel Watson; the Tafelmusik Orchestra and Chamber Choir are directed by Ivars Taurins.
February 22: Sine Nomine Ensemble takes you to medieval Iberia, whose musical culture was greatly influenced by that of both North Africa and neighbouring Europe. In "Musica Yspanica: Spanish music of pilgrimage and praise" you'll hear how some of these colourful influences manifested themselves, in songs of courtly love, cantigas in praise of Mary, sacred music from the royal nunnery at Las Huelgas and songs of popular devotion from Spanish pilgrimage centres.
March 3: "Out of the depths have I called unto you, O Lord" begins Psalm 130, a stunning poem of entreaty that has inspired composers through the ages. In "Kaffeemusik," a concert which seeks to inform and enlighten as well as entertain, the Toronto Chamber Choir presents several settings of this text by composers including Schein, Sweelinck, Schütz and Bach.
Please consult The WholeNote's daily listings for details of all these, and others not mentioned. 
Simone Desilets is a long-time contributor to The WholeNote in several capacities who plays the viola da gamba. She can be contacted at earlymusic@thewholenote.com.