Surveying the concert scene this month, I can't help noticing that there are several in which the central figure happens to be female — that's a good theme, I'm thinking! So here's my praise to the Power of Woman.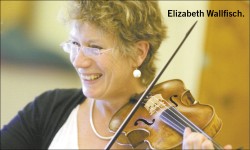 Tafelmusik's featured guest soloist and director this month is the eminent baroque violinist Elizabeth Wallfisch, an artist with a vivacious personality and a sparkling approach to the music she plays. Born in Australia into a very musical family — wind players, string players, singers — she is married to the British cellist Raphael Wallfisch. She's long been a respected and sought-after leader and performer in the period performance movement, though she did not enter into this world until her late 20s, when she was handed a baroque instrument and bow and asked to play them in a concert in two weeks — "and I never looked back," she says. "Suddenly I found myself in the thick of a 'movement' that was strong and vibrant and had a 'truth' to teach me. I am still learning — more and more to tell the truth." Extremely committed to the nurturing of young artists, she's been intensely involved with many groups such as the Carmel Bach Festival Orchestra and also has recently formed the Wallfisch Band, an international period-instrument orchestra in which young musicians play alongside mentors at the top of their profession.
The quote above is taken from an interview with Tafelmusik, published on their website (you can read the whole interview there). Here's another Wallfisch quote, from a 2010 interview with Jesse Hamlin of the San Francisco Chronicle: "Making music defines us. It's not a job, it's what makes us tick."
Wallfisch's Tafelmusik program takes you to Madrid, with music by composers active in or having some connection to Spain — particularly Boccherini, who lived in Madrid and whose music is often highly inflected with Spanish rhythm and charm. You'll hear his La musica notturna delle strade di Madrid, whichevokes the hustle and bustle of the Spanish capital, and his sizzling Fandango. Wallfisch and Tafelmusik are joined by flamenco dancers Esmeralda Enrique and Paloma Cortés from the Esmeralda Enrique Spanish Dance Company — a group described on their website as "passionate and driven," whose "expressive, powerful dancers perform finely wrought pieces that hold in perfect balance tradition and classicism with a modern, contemporary aesthetic."
"A Night in Madrid" is presented five times, March 20 to 24 at Trinity-St. Paul's Centre.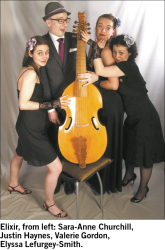 English soprano Emma Kirkby has been described as "the artist who almost single-handedly changed the way we listen to voices in early music." Now an icon in the world of period performance, a renowned early music specialist known for her impeccable style and purity of voice, Kirkby initially spent her musical life singing in choirs and madrigal groups with no thought of making singing a career. In a world where the big operatic voice reigned supreme, she didn't fit in, either with vocal equipment or by temperament. Her immense gifts couldn't be hidden though, and inevitably she was "discovered" by such people as lutenist/director Anthony Rooley. Once she had found her own way as a singer, she, like Wallfisch, never looked back. She's known as an artist of high technical skill, refinement and depth, one who conveys the meaning of the text in a powerfully poignant way.
On her website is a very telling remark, prompted by a 2007 survey of "the greatest sopranos" in which she placed at number ten: "While such things are inevitably parochial, partial, controversial and outdated as soon as they appear, (Kirkby) is pleased at the recognition this implies for an approach to singing that values ensemble, clarity and stillness alongside the more obvious factors of volume and display."
She is joined by Swedish lutenist Jakob Lindberg for the Toronto Consort production of "Orpheus in England," a program which pays particular homage to the 450th anniversary of John Dowland's birth. Performances take place on April 5 and 6 at Trinity-St. Paul's Centre.
And there's more. As part of their residency at St. Michael's College and in keeping with our theme, the Musicians In Ordinary present their own tribute to "Ladies that are Most Rare" on March 19, in a program of songs to poems by Lady Mary Sidney, Lady Mary Wroth and the Egerton Sisters, and music from the lute books of Mary Burwell and Margaret Board.
One of the busiest harpsichordists around, Sara-Anne Churchill is a woman on a mission to bring an awareness of her instrument to the general public. "People don't realize how often they are exposed to the harpsichord and its music, and I want to show how ubiquitous it is, and how versatile (and amusing!) the harpsichord can be," she says. So to draw in all those not yet seduced by the charms of the harpsichord she's devised a program of familiar pieces (such as Handel's Harmonious Blacksmith variations), arrangements (such as Dowland's Flow my Tears arranged by Byrd) and some unlikely surprises too, such as the theme from The Addams Family! "The Cliché Harpsichord" is a TEMC presentation that takes place on March 24 at St. David's Church.
Fifteenth-century French martyr and saint, Joan of Arc, has inspired countless works of art throughout the ages. Not the least of these is Carl Theodor Dreyer's 1928 silent film, The Passion of Joan of Arc, depicting her trial and execution, for which Renée Jeanne Falconetti's performance is described as one of the finest in cinematic history. In a co-presentation by the Toronto Silent Film Festival and Scaramella Concerts, this film is screened at Innis Town Hall on April 4 to an adventurous accompaniment: a newly composed score by Los Angeles composer Tom Peters, featuring the composer playing electric stick violone and Joëlle Morton playing amplified viola da gamba.
Others
March 9: Music at Metropolitan presents "Baroque and Beyond III: Music from the French Baroque" including Couperin's Leçons des Ténèbres and other works. Performers are soprano Ariel Harwood-Jones, mezzo Christina Stelmacovich, theorbist/lutenist Benjamin Stein, the Elixir Baroque Ensemble and others.
March 15: "Distres'd Innocency: The Community Baroque Orchestra of Toronto Mixes with Elixir" is the title of the next CBOT concert held at Victoria College. Their guests, Elixir Baroque Ensemble, are a vibrant new group consisting of gambist Justin Haynes, harpsichordist Sara-Anne Churchill, violinists Elyssa Lefurgey-Smith and Valerie Gordon. Together the two groups play music by Purcell, Vivaldi, Telemann and Bach; Elixir is featured on its own in music by Castello and Buxtehude.
March 16 in Hamilton, March 16 and 17 in Toronto: Capella Intima presents the anonymous oratorio Giuseppe, dating from around 1650 and discovered in the Vatican Library, for five voices and instruments. Sopranos Lesley Bouza and Emily Klassen, alto Laura McAlpine, tenor Bud Roach, and bass James Baldwin are joined by organ and gamba.
March 23: Bach's B Minor Mass is presented at Toronto's Metropolitan United Church by the Elmer Iseler Singers and the Amadeus Choir, soloists and orchestra, under the baton of Lydia Adams.
March 30: Ever probing life's profound issues, I FURIOSI explores the deep, hidden things in life with music by Dowland, Scarlatti, Handel and Buxtehude. "The Down-Low" features guest Alison Mackay playing both double bass and viol, and takes place at a new venue, Windermere United Church.
March 31: At U of T's Trinity College Chapel, the Schola Cantorum and Theatre of Early Music under director Daniel Taylor present "Jesu meines lebens leben," with works by Buxtehude, Bruhns and Kuhnau.
April 5: Handel's Concerti Grossi Op.6 are 12 of the finest and most attractive examples in this genre. Aradia Ensemble and the Kingsway Conservatory Strings sample from these works, in a CD release concert at Glenn Gould Studio.
For details of all these and others not mentioned here, please consult The WholeNote's daily listings. 
Simone Desilets is a long-time contributor to The WholeNote in several capacities who plays the viola da gamba. She can be contacted at earlymusic@thewholenote.com.