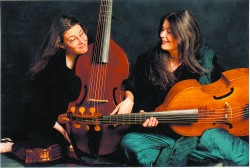 Rambling through three months of early music performances within the space of one column might seem a bit foolhardy but it can be done; here, with the help of a few judiciously chosen madrigals, is my run-down of concert activity for the coming summer months.
June, she'll change her tune, in restless walks she'll prowl the night. Well, not exactly renaissance lyrics — it's Simon and Garfunkel — yet it does describe this month of transition, the last vestiges of the winter season giving way to festivals that herald the arrival of summer.
We'll start with a lovely ending to the TEMC's Musically Speaking series, which has been going on monthly at Toronto's St. David's Church since January. What better way to draw to a close than with a program of viol music? "The English Viol" features works by Locke, Purcell and others and is performed by the Cardinal Consort of Viols on June 16.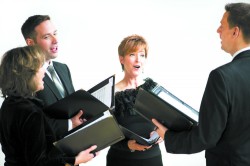 No sooner have they wrapped up their busy regular season than Tafelmusik bursts vigorously upon the scene in June with their Baroque Summer Institute, an advanced training program in baroque performance which draws musicians from around the world. Four public concerts are offshoots of this program: June 4, "Delightfully Baroque" features music by Handel, Vivaldi, Blow and others performed by the Tafelmusik Baroque Orchestra and Chamber Choir; June 9, "Musical Interlude" is a casual concert of chamber music by Castello, Merula, Bononcini and others played by members of the faculty; June 13, "The TBSI Orchestras and Choirs" presents music by Purcell, Fasch, Vivaldi and others; June 16, "The Grand Finale" is a baroque extravaganza involving participants and faculty, with music by Handel, Rameau, Charpentier and Mondonville.
And still in June, the Tafelmusik orchestra and chamber choir appear at the Luminato Festival, joining the Mark Morris Dance Group and vocal soloists for three performances, June 21, 22 and 23, of Handel's L'Allegro, il Penseroso ed il Moderato. Choreographed by Mark Morris, this piece is widely considered one of the great dance works of the 20th century.
On June 22, a step back to the medieval: Vocem Resurgentis presents "Journey into the Medieval Convent: Music of Hildegard von Bingen and Las Huelgas Codex," with sopranos Linda Falvy and Mary Enid Haynes and alto Catherine McCormack, performed at the Church of St. Mary Magdalene.
If you're in Burlington on June 29, you can experience all six of Bach's Brandenburg Concertos performed in two concerts, by members of the Brott Music Festival's National Academy Orchestra. And if you find yourself in Old Montreal from June 21 to 24, you have a wonderful opportunity to experience the spectacular Montreal Baroque Festival, this year titled "Nouveaux Mondes/New Worlds." It features Motezuma, an opera by Vivaldi, and too many events both grand and intimate to list here (you can find it all at montrealbaroque.com). It also celebrates the 50th anniversary of the Montreal Recorder Society, with workshops, masterclasses and concerts focused on the recorder.
Festivals are in my mistress' face; and July in the Garden hath place. Okay, it's a paraphrase (and no disrespect intended) of a madrigal by Morley, but it does point out that Toronto's Music Garden concerts are in full swing in July and that summer festivals are abounding everywhere, with lots of early music to hear. Let me tell you about a few of these:
In Exeter, the Bach Music Festival of Canada takes place July 14 to 20. While it's not all early music, there's a concert of Bach's great choruses with choir and orchestra (July 15), a performance by Cappella Intima titled "Celestial Sirens," featuring the revolutionary music of Benedictine nun Chiara Maria Cozzolani (July 16) and a full performance of Bach's St. John Passion (July 20).
The Elora Festival, July 12 to August 4, presents two concerts completely devoted to Handel: July 14, Dixit Dominus and Laudate Pueri with the Elora Festival Singers and Chamber Players, Noel Edison, conductor, and on July 27, the chamber opera Acis and Galatea, with the Elora Festival Singers and the musicians of the Toronto Masque Theatre.
At Festival of the Sound, July 18 to August 11 in Parry Sound, some of the most beautiful spaces in the area (such as the Museum at Tower Hill and St. Andrew's Church) open their doors to the audience for "Bach Around Town," a series of performances featuring music of Bach and others, with performers such as violinist Moshe Hammer, the New Zealand String Quartet, harpist Erica Goodman and flutist Suzanne Shulman (July 24, 26 and 30).
Ottawa's Music and Beyond festival, July 4 to 15, has an impressive lineup of music and performers. Among the events are a performance of Pergolesi's Stabat Mater, an Albinoni oboe concerto and love duets by Handel, with soprano Karina Gauvin, countertenor Daniel Taylor, baroque violinist Adrian Butterfield and the Theatre of Early Music (July 6) and two performances of Bach's "Coffee Cantata" featuring the Theatre of Early Music and soloists (July 7).
Niagara-on-the-Lake's Music Niagara festival, July 12 to August 11, offers a tasteful event for those who like to explore the wineries of the region. On July 20 the Toronto Consort will appear at the Trius Winery at Hillebrand, in a performance titled "Music & Wine."
The Ottawa Chamberfest commands the city from July 25 to August 8, with irresistible concerts happening in many venues. Among them are three devoted to early music: July 28, Les Voix Baroques present "Beyond the Labyrinth: In Search of John Dowland" in honour of the composer's 450thbirthday — an exploration of how Dowland's songs may change when they are performed as lute songs, as part songs or in a grey zone between the two. Also July 28, "Dowland in Dublin" features tenor Michael Slattery and the early music ensemble La Nef, who focus on the lighter-hearted side of Dowland with new arrangements of some of his well-known airs. July 31, there's a performance of Monteverdi's iconic Vespers of 1610 with Les Voix Baroques and La Rose des Vents, directed by Alexander Weimann.
On Lamèque Island in northeastern New Brunswick, the three-day Lamèque International Baroque Music Festival takes place from July 25 to 27. There you can hear works for harpsichord, baroque flute and cello, instrumental and vocal music by Vivaldi, Handel, Corelli and Scarlatti, and choral music by Bach, Pachelbel and Leonarda.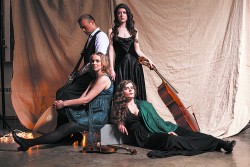 Meanwhile at Toronto's Music Garden, the Summer Music in the Garden series is in full swing. Approximately one hour in length, concerts take place in the outdoor amphitheatre and are a wonderful way to spend a Thursday evening or a late Sunday afternoon. Two in July feature baroque music: July 4, "Mediterranean Baroque" features music from baroque Italy, Spain and Turkey, played by baroque cellist Kate Haynes, baroque violinist Christopher Verrette and theorbist Matthew Wadsworth. July 18, Pallade Musica (Grand Prize winners of the 2012 Early Music American Baroque Performance Competition) presents "Terreno e vago," an exploration of the emotional polarities found in music of the Italian Baroque.
In addition to all this, the following July events take place: July 19 in Waterloo, the Kitchener-Waterloo Chamber Music Society presents Pallade Musica, fresh from their appearance in Toronto the previous day. July 20 at the Oratory of St. Philip Neri, harpsichordist Philip Fournier brings together accomplished singers and viola da gamba for "Méditations pour le Carême," with music by Charpentier, Marais and Couperin.
Come away, come sweet love, golden August breaks. All the earth, all the air, of love and music speaks. O dear, another paraphrase — this time apologies to Dowland — but it does serve to note that if you want to go to early music concerts in August, you'll probably have to "come away," as all the concerts I know about at this point are in widespread locations: Parry Sound, Stratford, Toronto and Kingston.
There's the continuation of the Bach Around Town series at Festival of the Sound, which this month finds soprano Leslie Fagan, trumpeter Guy Few and others performing Bach, Vivaldi and Handel at St. James Church on August 6, and violinist Julie Baumgartel and the Festival Baroque returning the series to the festival's home base, the Stockey Centre, to perform an array of baroque composers on August 9.
Tafelmusik Baroque Orchestra makes one more appearance, this time at Stratford Summer Music, with two all-Bach programs on August 17 and 18. In Toronto at Summer Music in the Garden, members of New York's period instrument ensemble, Gretchen's Muse, come to play two 18th-century string quartets, one by Haydn and one by Mozart, on August 22. And in Kingston, the St. George's Cathedral Summer Concert series features the Kingston Viol Consort on August 29.
Oh it's a long, long while from May to December, but the concerts grow fewer when you reach September ... (Will anyone argue that Frank Sinatra wasn't a consummate madrigalist?) There's one more at the Music Garden which shouldn't be missed, though technically it falls outside the boundaries of this column: on September 12, the superb baroque cellist Kate Haynes returns to continue her six-year cycle of the Bach unaccompanied cello suites, with Suite No.3 in C Major. She'll also premiere a new work by Christopher Hossfeld, inspired by the Bach.
And so good-bye to our summer tour of early music performances. Please consult The WholeNote's website throughout the summer for updates and additional concerts as we hear about them. 
Simone Desilets is a long-time contributor to The WholeNote
in several capacities who plays the viola da gamba.
She can be contacted at earlymusic@thewholenote.com.