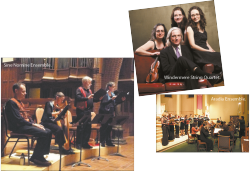 It seems that the arrival of spring (however tenuous it may be as I write) is an invitation for wonderful things to happen — collaborations and encounters, the influence of one element upon another, tranform what was into something new. Here, in the domain of early music, are a few examples:
The mission of Nota Bene Baroque is to bring music of the baroque and early classical periods to the Kitchener-Waterloo region. But this chamber group of strings and keyboard, whose members perform on period instruments in period style, enjoys presenting concerts "with a plus" as they say. This time it's the addition of storytellers and a professional shadow puppet troupe — I think something magical might transpire! "Once Upon A Time" is presented on April 14 at Kitchener's Registry Theatre, with guests including local storytellers and Shadow Puppet Theatre.
For Sine Nomine Ensemble, the collaboration with Peter Drobac, music director at Toronto's Orthodox parish of Saint Silouan the Athonite, is a great opportunity to expose little-heard music from some of those "zones of encounter" of the Middle Ages — the "Christian West," Byzantine civilization, the varied cultures of the Islamic world. Andrea Budgey describes the colourful variety of what will be presented: Eastern Orthodox chant from late-medieval manuscripts; Turkish late-medieval instrumental music; French-influenced polyphony from 14th-century Cyprus; 14th-century Italian instrumental music with probable Eastern influence. "Orientis partibus: A musical meeting of East and West" is presented at Saint Thomas's Church on April 26.
The influence of Italian style was strong at the court of King Louis XIV of France. For French music this meant a general infusion of Italian exuberance, as well as the fostering of purely instrumental forms (sonata, symphony, concerto). You can hear some results of this melding of styles, the delicacy of the French mixed with the vivacity of the Italian, in the Musicians In Ordinary's season finale "French Cantatas Mixed with Symphonies." Cantatas by Clerambault and Jacquet de la Guerre as well as instrumental music by Marais and others are performed by soprano voice, theorbo, violin, harpsichord and viola da gamba, on April 27 at Toronto's Heliconian Hall.
The collaboration between composer Stephanie Martin and the Windermere String Quartet on Period Instruments bore the fruit of a new quartet, which Martin composed for the group in its 2011/12 season. Titled From a Distant Island, this work closes with a fugue and that particular feature prompted the WSQ to question: Why do composers like concluding with a fugue? "Does its contrapuntal nature appeal to a sense of instrumental justice, giving each instrument an equal voice? Or is it an opportunity to display compositional virtuosity by fusing intellectual and expressive approaches?" All questions to ponder as you listen to their program "The Art of the Fugal Finale," which presents three works, by Haydn, Beethoven and Martin, each of whose final movement is a fugue. The concert takes place on April 28 at St. Olave's Church.
Baroque encounters Baroque Idol at Aradia Ensemble's next show, a takeoff on the popular American Idol concept — except this time, the audience votes for their favourite new work for baroque ensemble and its composer receives not only the "Baroque Idol" award but also the commission of a new work specially for Aradia. And there's a further catalyst in the mix: the submitting composers can bring along their own bands too — you'll get Aradia musicians sharing the stage with "progressive pop/rock" band The Quiet Revolution, the experimental musical storytelling of Ronley Teper and her Lipliners, the easy tuneful beat of Roman Tomé. Who knows what will come of this? "Baroque Idol 2!" happens on May 3 at the Music Gallery.
Others
April 11: Virtuoso musicians are showcased in "Music for Three Violins," a presentation of the Oratory of St. Philip Neri. Violinists Christopher Verrette, Julia Wedman and Patricia Ahern, gambist Felix Deak and organist Philip Fournier perform music by Purcell, Marini, Schmelzer, Fontana and Gabrieli.
April 12: Based in Montreal, the Quatuor Franz-Joseph has performed the complete Haydn string quartets on period instruments alongside string quartet repertoire from both early and modern eras. In Waterloo, for the Kitchener-Waterloo Chamber Music Society, they are heard in quartets by Haydn and Jadin.
April 20, 21: "May no rash intruder disturb their soft hours" — this is one of the most beloved choruses from Handel's oratorio Solomon. The complete work is presented by two different choirs this month, on the same weekend: April 20 and 21 in Oakville by Masterworks of Oakville Chorus and Orchestra; and April 21 in Toronto by Pax Christi Chorale.
April 27: Each year the Tallis Choir delights in bringing to the surface an historic event, reimagining through music and research how it might have been experienced in actuality. On the 200th anniversaryof the British-American conflict at York, the choir presents "Upper Canada Preserved: A Grand Concert for the Battle of York, 1813." Music reflecting the tumult of the times, by Haydn, Boyce, Billings and others, will be performed at St. James' Cathedral, the site of the makeshift hospital set up for the injured, 200 years ago.
April 28: A year-end celebration of the music of Bach takes place in Brampton, as the Georgetown Bach Chorale presents "Music from the Great Passions." Featured are sublime choruses and instrumental selections from concertos.
April 28: Two musicians whose musical hearts reside at least partially in medieval times bring you a program of medieval and early Mediterranean folk music. Multi-instrumentalist Michael Franklin (woodwinds, reeds, bagpipes, hurdy-gurdy, voice) and percussionist-singer Gaven Dianda are featured in this TEMC presentation, which takes place at St. David's Church.
May 1–5, 7: When Handel is the subject of a performance by Tafelmusik and its wonderful Chamber Choir, great music happens. "A Handel Celebration" features odes, serenades and oratorio choruses, "in a celebration of the human spirit" as they affirm.
May 4: Two choirs double the pleasure of one. The Toronto Chamber Choir welcomes as guests the Chamber Singers of the Kitchener-Waterloo's Grand Philharmonic Choir. Each group will perform a set (music by Sheppard and Purcell), and then come together for Duruflé's Requiem (which incorporates Gregorian chant) and Tallis' magnificent 40-voice motet Spem in Alium. "Media Vita: In the Midst of Life" is presented at Grace Church on-the-Hill and will be repeated in Kitchener later in May.
May 4, 5: Expressions of love originally written in biblical verses or heard in raunchy poems were often transformed by renaissance composers into innocent-sounding ditties or lush, sensual motets. The 16-voice a cappella choir Cantemus Singers performs a varied program of these works, by early French, English and German composers. "Love Songs" is presented twice, at Holy Trinity Church and at St. Aidan's.
May 5: In Kingston, the Melos Choir and Chamber Orchestra presents "The Tudors," with music that includes Byrd's Mass for Four Voices, Gibbons' This is the record of John, and much else. Guests include tenor Dylan Hayden and a consort of viols, harpsichord and organ.
With all the riches of music abounding, we are also a little poorer for the deaths of two musicians who touched many people with their heartfelt music making. Washington McClain was a truly gentle and intensely musical soul, an esteemed baroque oboist who performed with many groups including Tafelmusik and Montreal's Ensemble Arion. Leslie Huggett was a visionary who, with his wife Margaret and their four children, "The Huggett Family," awakened audiences across Canada to the pleasures of medieval, renaissance and baroque music, in a day when early music was regarded mostly with disinterest. Both are remembered fondly and will be missed. 
Simone Desilets is a long-time contributor to The WholeNote in several capacities who plays the viola da gamba. She can be contacted at earlymusic@thewholenote.com.