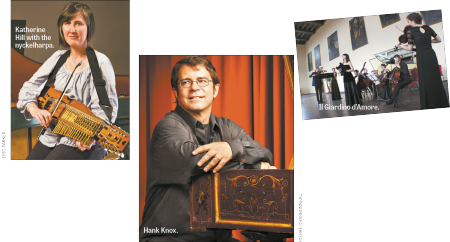 I should probably just come out and say, before I describe the concerts I'm looking forward to hearing this month, that I'm starting to have high hopes for the future of culture in Toronto; and the classical musicians I meet are giving me good reason to be an optimist. There are a few artists performing in Toronto this month who are giving this city a flavour that's a little more cosmopolitan and a little less conventional. We're now an important enough destination that at least a few lesser-known artists are performing in the city hoping to make it big-time, while the musicians that currently call Toronto home are continually coming up with new ideas that are every bit as innovative — if not more so — than concerts I've heard on the best European and American stages.
One artist that Toronto audiences will be happy to welcome back is Hank Knox, one of the leading lights of Montreal's music scene and one of the founding members of Montreal's Arion Baroque Orchestra. Knox has only occasionally performed in Toronto, in joint concerts with Arion and Tafelmusik. Never content to be heard behind the orchestra, Knox has struck out on a cross-Canada tour that includes dates in Thunder Bay, Ontario, and Flin Flon, The Pas and Balmoral, Manitoba, as well as a stop in Toronto. The whole trip will amount to some 3,600 kilometres by car, which is impressive enough as a road trip without even factoring in the concerts after each drive. This sounds like a truly punishing concert schedule, as Knox is making the trip halfway across Canada alone.
Apparently he doesn't mind. "It's good, every so often, to blast your mind out of the usual rut it's been in," Knox answers when I ask him how he copes with the hours of driving. "I actually enjoy the solitude of long drives, and it's very peaceful to just sit back and focus on the road for hours without any distractions."
Knox will be at the Canadian Opera Company for a free noon-hour concert on October 3, and will be playing a mixed program for, as he puts it, "people who don't know anything about the harpsichord," which one can safely claim is well above 90 percent of the Canadian population. Knox's program includes the trance-like The Bells by William Byrd, Frescobaldi's gloriously perverse Fantasy on the Cuckoo, transcriptions of Handel arias from Rinaldo, La Poule by Jean-Philippe Rameau, and Bach's Chromatic Fantasy and Fugue. What makes this appealing to a curious-but-ignorant-of-harpsichords concert-goer who doesn't know what to expect? "Let's put it this way," Knox says, "if you don't like what you hear, wait five minutes and something completely different will come along for you to listen to." Sounds like a concert with something for everyone, and maybe even a possible ride to Montreal in it for you if you offer to pay for gas.
One Toronto-based artist who's ventured off the beaten path to pursue her musical passions is Katherine Hill, who moved to the Netherlands and eventually Sweden to study medieval music. Hill is mainly known as a singer and viola da gambist, and is the proud holder of a master's degree in medieval studies from the University of Toronto. Together with Ben Grossman and Alison Melville, Hill is also a member of Ensemble Polaris, a group which specializes in the folk music of circumpolar countries —Arctic fusion they call it. Hill's deep and abiding love for the traditional folk music of Sweden led her to spend a year studying Swedish folk music at the Eric Sahlström Institute in Tobo, Sweden, and she came back with a unique knowledge of a relic from the the medieval era — a keyed fiddle known as the nyckelharpa.
"The nyckelharpa was actually fairly common throughout Europe in the Middle Ages," Hill says, "but it's only been preserved in Sweden. It's becoming more popular in Germany and France and there are makers producing instruments now, but because no instruments have survived from the 14th century and the instrument kept changing, there's no real way to tell what the original instrument looked and sounded like."
Hill will be playing the nyckelharpa together with the Toronto Consort in a program of music from Sweden from the 16th to the 19th centuries, but that doesn't mean it will be all Swedish composers — 17th-century Sweden was still a very multicultural country. "There was a huge international influence in Sweden in the 16th and 17th centuries," Hill explains. "The Swedish court heard and loved music from England, France, Italy and Poland, too, and wanted to import the best musicians from all over Europe." So a cosmopolitan Swede could possibly have heard, besides music from his own country, the music of the English composer Tobias Hume (a soldier in the Swedish army), tunes from John Playford's The Dancing Master (a hit in 17th-century Sweden), compositions by Heinrich Isaac, and traditional Lutheran chorales — and that's exactly what the Toronto Consort will be playing at Trinity-St. Paul's on October 18 and 19.
Incidentally, Hill will also be playing along in Toronto Masque Theatre's production "Brief Lives: Songs and Stories of Old London," based on the collected biographies by John Aubrey. Aubrey's Brief Lives is a who's who of famous Londoners from the 17th century, and includes William Shakespeare, Thomas Hobbes, John Dee, Ben Jonson and Sir Walter Raleigh as its subjects. Even more interesting than the history lesson is the gossip: Aubrey dished the kind of dirt on his subjects that would get a modern biographer sued for libel if he published that kind of information today. Toronto Masque Theatre's production features William Webster of Soulpepper and includes ballads and popular music from Aubrey's London of the 17th century. The show will be at the Young Centre for the Performing Arts from October 25 to 27.
If you're looking for more conventional concert-going fare (or you're just an opera fan or Italophile) be sure to welcome a group of young players who are making their Toronto debut for Mooredale Concerts on Sunday October 20. Il Giardino d'Amore will be performing a concert of Italian baroque music in Walter Hall at 3:15 pm. The founders, Polish violinist Stefan Plewniak and Italian harpsichordist Marco Vitale, met when they joined Le Concert des Nations, the orchestra led by gambist and early-music superstar Jordi Savall, and decided to form their own band — since only the best players in Europe get to play with Savall it's a safe bet these are some top-notch players. Their concert features Italian cantatas sung by the Polish soprano Natalia Kawalek, and compositions by Scarlatti, Corelli, Locatelli, Geminiani and Vivaldi. Il Giardino d'Amore will also be performing an interactive concert aimed at children ages 6 to 15 at 1:15 at Walter Hall. It's a pared-down version of the same concert meant to last only an hour; tickets for the early performance are only $13.
I'm glad to see that Toronto is becoming a destination for foreign artists like Il Giardino d'Amore, and I'm always grateful for a chance to hear something new from familiar artists on the Toronto music scene. Be sure to check The WholeNote blog to see what I have to say about the early music concerts I actually manage to get out to in the weeks ahead. 
David Podgorski is a Toronto-based harpsichordist, music teacher and a founding member of Rezonance. He can be contacted at earlymusic@thewholenote.com.