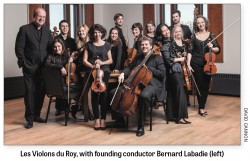 In professions that are physically and mentally challenging as well as competitive, there's no experience quite as disappointing as discovering that you're second best. Back in 1995, a team of psychologists observed and ranked the emotions displayed by Olympic athletes right when the final results in their events were announced, and then again when they were standing on the podium. What they found was not only that the bronze medal winners seemed significantly happier than the silver medallists, but that winning a silver actually caused negative emotions in the athletes who won them. Instead of celebrating an achievement – and how many people even know who are the second best in the entire world at something? – they expressed both sadness and contempt, and harshly critiqued their own performance, listing their mistakes and replaying the event in their heads, wishing they had acted differently in order to win gold.
The career of Marc-Antoine Charpentier (1643-1704) is an excellent example of the frustrations of being almost the greatest. Despite a professional lifetime of artistic patronage in some of the best courts in 17th-century France, a mid-career collaboration with Molière, an appointment as maître de musique for the Jesuit order in France, and a lifetime composing music with over 500 compositions to his name, he was still a (distant) second, career-wise, to the greatest French composer of the period, Jean-Baptiste Lully. It's important to keep two things in mind about being second-best to Lully: one, that it doesn't mean Charpentier, or any of his other contemporaries, was any less of a composer, and in many cases Charpentier was arguably better. Two, that being anything other than the best composer in Louis XIV's France came with significant creative limitations on what composers were allowed to write. Lully, one must bear in mind, was not simply interested in writing better music than everyone else. He was also determined to be the richest and the most influential and, to the best of his ability, the only composer in France, and the centralization of French cultural and political life around Versailles made sure he could maintain an artistic monopoly.
The result for Charpentier was that he couldn't legally produce an opera, or indeed any other piece of music, with more than two singers and six instrumentalists, without the express written permission of Lully. Although working for the prominent House of Guise meant that Charpentier could somewhat circumvent this, he still had to wait until he was 50 years old before he could get an opera produced at court after Lully finally died in 1687.
The opera in question was Médée (Medea) and although Charpentier had to wait most of his life to get a chance to write something like it, the wait was well worth it for the French court. Listening to Médée, the listener can tell right away that Charpentier was able to perfectly imitate the style developed by the old Italian monopolist and, although the opera only ran for a few months, Médée was critically well-received by contemporary audiences.
This month, Opera Atelier is reviving the crowning achievement of a composer whose career never did justice to his compositional talent. Medea is running April 22 to 29 at the Elgin Theatre and Opera Atelier, with its exceptional roster of singers, opulent staging and crack pit orchestra (Tafelmusik), will certainly make this rare performance of a composer who never got to be the best a must-see.
We like to think we've come a long way, culturally, since Louis XIV and his privilèges royaux, but the distance between first and second place in Canada still seems like a wide gulf. A perfect example of this is Les Violons du Roy who, from a vantage point within the Toronto early music scene, never seem to enjoy the popularity and success of Tafelmusik.
I'm not sure the lack of coverage is entirely fair to the the Quebec City-based group, as it's certainly not lacking for talent. They've been led in the past by Bernard Labadie, Jonathan Cohen and Mathieu Lussier, all of whom have led full careers and made significant contributions to the early music field. The group's members are all perfectly competent players and have enjoyed a lifetime of experience playing orchestral, solo and chamber music in Quebec. The group itself is one of Canadian early music's stalwarts, having been in operation since 1984 (just five years after Tafelmusik) and now has some 35 recordings to its name. If there's any reason this group is being held back, I have no idea what it is.
This month, you'll be able to see for yourself what makes Les Violons du Roy worth hearing, as they'll be coming to play Koerner Hall April 13 in a program that includes Bach, Handel, Fux and Graun. Lussier will be leading the group and, to sweeten the deal, the orchestra will be joined by the great countertenor Philippe Jaroussky who, far from being just a voice, has a versatility that lets him sing a wide range of repertoire from Monteverdi to Fauré. I will be very interested to hear what this soloist and this group are capable of when they collaborate.
Music-making has probably been a family business since about as long as there have been professional musicians. Although the history of music pedagogy is full of brilliant teachers and outstanding pupils, it's difficult to overcome the problem of what the student does when the lesson ends and he goes home to (one hopes) practise, and a good deal of the numerous performance issues that arise from a typical piece of music can be resolved much more quickly in having an older, more experienced musician on hand at home to help.
The Bach family is an obvious example of such dynasty, but there are plenty of musicians who also parented a younger generation of great performers. Tafelmusik explores the theme of musical families in their concert this month, "Bach: Keeping It in the Family," which features one great early music father-daughter duo, Alfredo and Cecilia Bernardini. Dad is a well-known baroque oboist, and daughter Cecilia is a baroque violinist who is beginning to shine as a soloist. They'll both be coming to Toronto to show off their talents in a program that includes the JS Bach Concerto for Violin in E Major BWV 1042 and the CPE Bach Oboe Concerto in E-flat Major Wq. 165, as well as a sinfonia by Bach's eldest son Wilhelm Friedmann and a Telemann orchestral suite. This is a pair of soloists who can handle virtuostic works with ease, and Tafelmusik always sounds great when there's a guest director to give a new perspective on performance practice. Check this concert out April 5 through 9 at Trinity-St. Paul's Centre.
If you'd prefer a concert of chamber music this month to a full-scale French opera or orchestral concerts of high Baroque music, consider checking out "Fork in The Road," I Furiosi' s concert on April 21 at Calvin Presbyterian Church. It's somewhat unclear what the group is up to, but no matter: I Furiosi can always be counted on to put on an exciting concert with great performers, and this concert will highlight some seldom-heard composers, including Jean Baptiste Senaillé, Giuseppe Tartini and Louis Bourgeois.
David Podgorski is a Toronto-based harpsichordist, music teacher and a founding member of Rezonance. He can be contacted at earlymusic@thewholenote.com.