Nothing can polarize a room of musically minded people faster than an expression of opinion on Historically Informed Performance (HIP). Wikipedia, the go-to source for information on all things from humdingers to hemiolas, defines Historically Informed Performance as "an approach to the performance of classical music which aims to be faithful to the approach, manner and style of the era in which a work was originally conceived." Like sideburns, Pez dispensers, and many other "hip" things, Historically Informed Performance began in the 1950s with a small but devoted, cult-like following and has since been associated with some of the 20th century's classical music luminaries including Nikolaus Harnoncourt, Ton Koopman and John Eliot Gardiner.
Traditionally, HIP has been closely connected with (and most successfully applied to) early music, specifically music from the Baroque era (1600-1750, approximately). This often involves tools such as period instruments, various tunings and temperaments, and a number of other variables that performers take into consideration. The majority of this information has been gleaned over the past few decades from various historical treatises written by composers that are now as famous, if not more so, for their theoretical writings as for the musical works they composed. Notable treatises include those by musicians such as Johann Quantz, C.P.E. Bach and Johann Mattheson.
Enter Norrington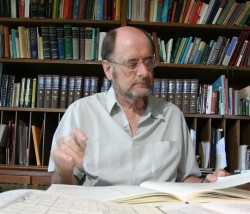 As the HIP movement grew throughout the latter half of the 20th century, its scope similarly expanded to include music by Beethoven, Brahms, and even Mahler (culminating in British conductor Roger Norrington's anti-vibrato crusade which resulted in tendentious performances and recordings of a number of Mahler's symphonies. These non-vibrato performances are interesting much in the same way that a circular-breathing saxophonist is interesting – at once fascinating and impressive, but also somewhat unnatural). Some of these experiments in performance practice, like Norrington's Mahler, were greater in theory than in application, such as the idea to perform Beethoven's symphonies with strict adherence to his metronome markings. This was in stark contrast to the über-Romantic interpretations of past maestros such as Furtwängler and Klemperer, and could become a bit frenetic when Beethoven's metronomic suggestions had an entire orchestra flooring the gas pedal!
Given its history, it's understandable that HIP is a rather controversial topic among musicians, scholars and audiences – especially when discussing mainstream composers such as Bach, Handel or Vivaldi – and like any theory, it cannot be applied with a one-size-fits-all mentality. (As a Canadian HIP-trained harpsichordist and organist, I can't help but think of Glenn Gould's Bach performances which, despite the theoretical issues of the appropriateness of performing Bach on the piano, are so unique, effective and timeless.) Part of the joy of being a musician in a city as diverse as Toronto is being able to hear the variety of interpretations and open-minded approaches taken towards similar repertoire, especially when Messiah season is in full swing! Having the opportunity to absorb multiple performances of a well-known piece interpreted by different ensembles in different ways can be an eye- and ear-opening experience, and we are extremely fortunate to have the opportunity to witness so many high-calibre concerts and players throughout the year.
September can be a slow month for the arts scene as musicians return from summer residencies and rehearsals resume after time away. Fortunately for early music lovers, there are a variety of concerts to choose from this month; here are a few highlights, organized by composer:
J.S. Bach
Top of most people's list of Baroque composers is J.S. Bach, also known (to fans of P.D.Q. Bach creator Peter Schickele) as "Big Daddy" Bach. On September 13, Toronto Symphony Orchestra cellist Roberta Janzen performs cello suites by Bach and Kodály as part of the new ClassyAF concert series. This performance, part of a larger program that aims to bring classical music out of the concert hall, takes place at the Dakota Tavern on Ossington Avenue. The movement in recent years to present high-quality performers and performances in alternative venues such as pubs, clubs and taverns is a great way to welcome new audiences to music that is often stereotyped as outdated and stuffy. It's also a chance to take in some great tunes with a drink in hand (a double bourbon on the rocks, preferably) amidst a refreshing change of scenery.
For those seeking a more traditional concert experience, Rosedale Presbyterian's Recitals at Rosedale presents "My Good Fortune: The Music of J.S. Bach" on October 1. The program's two cantatas, one secular (Schweigt stille, better known as the 'Coffee Cantata') and one sacred (Cantata 84, Ich bin vergnügt mit meinem Glücke) as well as a motet (Lobet den Herrn) will be led by music director Christopher Dawes and feature a roster of well-known soloists including soprano Gillian Keith, bass-baritone Daniel Lichti and tenor Lenard Whiting.
G.F. Handel
To many early music aficionados, Handel's genius is surpassed only by Bach. Often grouped along with Domenico Scarlatti and Rameau into what John Eliot Gardiner calls "the Class of '85," Handel and Bach are certainly connected in some interesting ways, not least of which is the fact that both men were surgically mistreated by the same eye doctor. Bach died soon after his operation while Handel lived for nine years, increasingly blind, having derived no benefit from his treatment.
On a more positive note, Tafelmusik's first full season under their new music director Elisa Citterio begins this September. Season-opening concerts can set the tone for the entire year, and this looks to be a dynamic and energetic program. With concerti by Handel and Corelli, a suite by Rameau, and a Vivaldi violin concerto featuring Citterio as soloist, we await these performances (September 21 to 24 and 26) with eager anticipation.
Gottfried Finger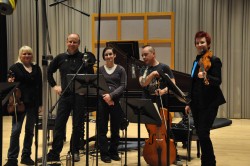 In a world full of concerts featuring oft-performed works by well-known composers, it's important to point out the occasional deviation from the norm. On October 6, the Baroque chamber ensemble I FURIOSI presents "Introduction to the Body" which, according to their website, lauds "the various naughty and not-so-naughty bits" of the human anatomy. I FURIOSI, in addition to their engaging and often amusing titles and programming, are expert players and will perform works by Couperin, Handel and others, including the Moravian composer Gottfried Finger.
Finger was born in 1655 or 1656 and died in August 1730. He was a viol virtuoso and worked as a composer for the court of James II in London, where he was known as Godfrey Finger. He wrote a number of sonatas, operas, and suites for a variety of instrumental combinations. There are few recordings of Finger's music, but the Echo du Danube disc of the Sonatae pro diversis instrumentis, Op. 1 on the Accent label is worth rooting around for.
October Outlook
Looking ahead, there are a number of exciting and important events on the horizon this October, as well as a stimulating opportunity for young professionals interested in working with some of Toronto's best early music specialists. The deadline for applying to the Tafelmusik Winter Institute, a weeklong intensive which focuses on Baroque orchestral music, is October 11; this year's participants will look at suites from the French Baroque by Lully, Rameau and others. For more information on this worthwhile program, visit the Tafelmusik website.
To keep up to date on everything early music in Toronto or to share your comments and questions, visit thewholenote.com or email me at earlymusic@thewholenote.com.
Matthew Whitfield is a Toronto-based harpsichordist and organist.