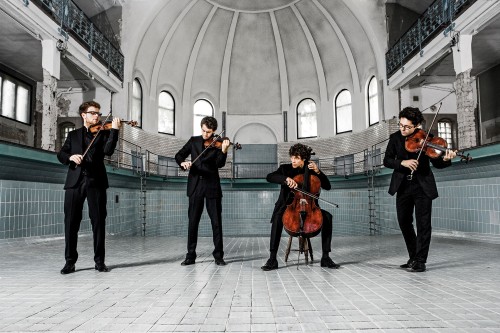 The Strings aspect of Music Toronto's 48th season gets off to an auspicious start with the local debut of two European-based string quartets, the more established Quartetto di Cremona from Genoa, Italy, and the more recently formed (2012) vision quartet centred in Berlin. The Quartetto is said to be the spiritual heir to the fondly remembered Quartetto Italiano; the vision string quartet (like the Polish Apollon Musagète Quartet) plays standing up but in addition performs their concerts completely from memory. Both ensembles will be new for me, so I asked Music Toronto's artistic producer Jennifer Taylor to give me some background. How long had they been on her radar? How did she discover them? What excites her about them?
She told me that in general she takes a lot of recommendations from artists, managers, other series presenters and concertgoers. She also does a lot of Internet research and listening. "Quartetto are a 20-year quartet; I had heard of them some years ago, but … then they made what I think was their first North American tour, and I wasn't on it – too late for my planning. They have some well-regarded recordings. In fall 2017 they were entrusted with the Paganini Strads, owned by the Nippon Foundation, that the Tokyo [Quartet] played in their final years. They later signed with a New York management who by coincidence were the Tokyo's original management three decades ago. It is easier to invite Europeans who have North American management because there may be a tour; very tough to bring anyone for a single date. So I invited them.
"The vision string quartet – they prefer no caps in their name (I've just recently been told) – won two European competitions in 2016, but as a four-year-old quartet, I hesitated. Then they signed with a British management I know well, and I started getting info and recordings in early 2017. Later in 2017 they signed with a New York manager I know even better, and we started talking. I made the arrangement in October 2018. Yes, the standing up – I think for the vision it is part of being edgy young guys. We'll see.