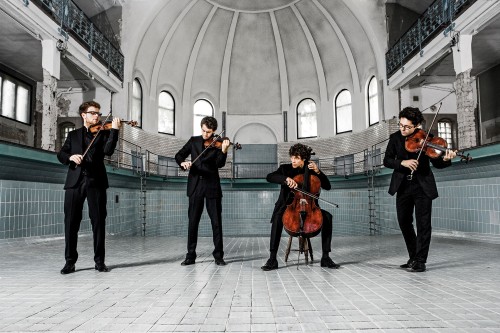 The Strings aspect of Music Toronto's 48th season gets off to an auspicious start with the local debut of two European-based string quartets, the more established Quartetto di Cremona from Genoa, Italy, and the more recently formed (2012) vision quartet centred in Berlin. The Quartetto is said to be the spiritual heir to the fondly remembered Quartetto Italiano; the vision string quartet (like the Polish Apollon Musagète Quartet) plays standing up but in addition performs their concerts completely from memory. Both ensembles will be new for me, so I asked Music Toronto's artistic producer Jennifer Taylor to give me some background. How long had they been on her radar? How did she discover them? What excites her about them?
She told me that in general she takes a lot of recommendations from artists, managers, other series presenters and concertgoers. She also does a lot of Internet research and listening. "Quartetto are a 20-year quartet; I had heard of them some years ago, but … then they made what I think was their first North American tour, and I wasn't on it – too late for my planning. They have some well-regarded recordings. In fall 2017 they were entrusted with the Paganini Strads, owned by the Nippon Foundation, that the Tokyo [Quartet] played in their final years. They later signed with a New York management who by coincidence were the Tokyo's original management three decades ago. It is easier to invite Europeans who have North American management because there may be a tour; very tough to bring anyone for a single date. So I invited them.
"The vision string quartet – they prefer no caps in their name (I've just recently been told) – won two European competitions in 2016, but as a four-year-old quartet, I hesitated. Then they signed with a British management I know well, and I started getting info and recordings in early 2017. Later in 2017 they signed with a New York manager I know even better, and we started talking. I made the arrangement in October 2018. Yes, the standing up – I think for the vision it is part of being edgy young guys. We'll see.
"That's the way it generally goes. It usually takes about two years from thinking of an artist to finding out to having it suit my timing. I have just today concluded an arrangement for a pianist for 2020/2021. When I started investigating three full years ago, I tried for a date for this season; at long last I have a date. And now we wait to see if all that was worth it! The most long-term interest on my part was Quatuor Mosaïques who opened for us in October 2017. I had tried repeatedly over 20 years to bring them and finally managed it."
Quartetto di Cremona performs music by Boccherini, Verdi, Puccini and Respighi in the Jane Mallett Theatre on October 17; vision quartet's recital of works by Haydn, Bacewicz and Schumann takes place November 7.
Music Toronto's Piano Series opens on October 22, with a gala concert by Piano 6 New Generation, a collective of six internationally acclaimed Canadian concert pianists – Marika Bournaki, Angela Park, Daniel Wnukowski, David Jalbert, Ian Parker and Anastasia Rizikov – who have taken up the mantle of the original Piano 6, founded by Janina Fialkowska. From 1994 to 2004, Piano 6 performed in small communities all over Canada concentrating on remote regions of the country. The appealing program for the Music Toronto Piano 6 New Generation gala will see each of the pianists perform solo as well as participate in a variety of two pianos, four hands repertoire. Solo works by the likes of Schumann, Korngold, Rzewski, Kapustiin, Gershwin and Ravel share the stage with two pianos four hands showstoppers by Ravel, Milhaud, Bernstein and Gershwin. Dead centre, just after intermission, Kevin Lau's commission Chimaera for two pianos twelve hands will be showcased. It's an 88-key cornucopia.
Three Questions for Denis Matsuev
In advance of his return to Koerner Hall on October 17, Russian piano virtuoso Denis Matsuev, whose victory in the 1998 Tchaikovsky Competition brought him international fame, took time out of his busy schedule – he plays 265 concerts a year – to answer the following questions:
WN: What was the first piece of music you fell in love with?
DM: It was not classical music. I listened to Soviet songs, Oscar Peterson's jazz improvisations, which I love from my childhood. And since then this music is my favourite.
Who were your musical heroes in your student days?
One cannot say that I believed only one musician or composer to be my musical hero. In different periods of my life I had different heroes. If we talk about performers, I can name Vladimir Horowitz, Svyatoslav Richter, Arturo Michelangeli, Emil Gilels and Sergei Rachmaninoff, of course, as a pianist, composer and great personality.
Your Toronto program is very impressive. Please tell us about what specific thoughts went into your selection of the Tchaikovsky and Liszt works you will be playing in Koerner Hall.
It is always really difficult to formulate for which reason I choose this or that program. My repertoire includes 45 concertos with orchestra and 21 solo programs. Every year I learn one solo program and two concertos [which he's never played before] with orchestra. It is my usual schedule. Works that I am planning to perform in Toronto have been in my repertoire for some time already. We have a really affectionate relationship with them. Liszt is the apex of Romantic music, I mean his Sonata in B Minor and Mephisto Waltz as well. As for Tchaikovsky's Grand Sonata, I believe that this music is not performed as frequently as it deserves to be performed. It is really difficult because of its form; one can call it a piano concerto without orchestra. I play it all over the world, so I am happy that I have an opportunity to perform it in the amazing Koerner Hall, that I am deeply in love with.
The Art of the Piano at Gallery 345
The ongoing Art of the Piano series at Gallery 345 takes a giant step forward in October with five concerts by four pianists (and a violinist) of predominantly 19th-century repertoire beginning on October 3 with 32-year-old Israeli pianist Raviv Leibzirer performing Schumann's Fantasiestücke, Prokofiev's Sonata No.3 and the solo piano version of Gershwiin's Rhapsody in Blue. On October 6, musical royalty in the person of Victoria Korchinskaya-Kogan – she is the granddaughter of violinists, Leonid Kogan and Elizaveta Gilels (the sister of iconic Ukrainian pianist Emil Gilels) – takes the stage for a program of Schumann and Chopin before joining with acclaimed Canadian-Lithuanian violinist Atis Bankas to perform Beethoven's Violin Sonatas Nos.1 and 8.
Mark Pierre Toth's complete Beethoven Sonatas Project continues with Part 5 (highlighted by the "Appassionata") on October 11, and Part 6 (the "Pathetique", "Hammerklavier" and more) on October 20. Toth, whose international career, teaching and performing, is flourishing, also performs for the Kitchener-Waterloo Chamber Music Society: Part 5 on October 12 and Part 6, October 16. Finally, on October 25, in a clever programming touch, Bulgarian-born, Chicago-based performer and pedagogue Ani Gogova follows Beethoven's Sonata quasi Fantasia "Moonlight" with Liszt's Fantasia quasi Sonata "After Reading Dante" before proceeding with two Rachmaninoff Études-Tableaux that lead into Mussorgsky's monumental Pictures at an Exhibition.
Academy Concert Series New Price Policy
Established in 1991, Academy Concert Series (academyconcertseries.com) offers innovative and intimate chamber music concerts spanning the Baroque, Classical and Romantic eras on period instruments. Recently, artistic director Kerri McGonigle announced that ACS is making a big, bold move to Pay What You Decide. "We no longer have ticket prices. People can pay what they want, when they want and how they want! Tickets can be reserved online or by phone," she said. Audience feedback led to the change. Some people thought the ticket prices were too low and should increase; others found the ticket prices limited the number of concerts they could attend. With Pay What You Decide everybody gets to decide how much they want to give. The hope is that those that can give more will give generously.
The hoped-for funds will allow ACS to pour the receipts right back into the community via outreach, increasing the payment to their artists, hiring an administrative assistant and increasing the number of ACS concerts. As the ACS website puts it: "Music heals, connects and touches our soul. It moves us, inspires us, energizes and relaxes us."
As examples of where the hoped-for extra money might go: supporting a new concertgoer, $20; and one community outreach concert in a school, hospital, retirement home or elsewhere $1000 to $1500.
October 5, ACS presents "Family Has Your Bach" – with music by Telemann, J.S. Bach and C.P.E.Bach – performed by recorders/Baroque flute virtuoso Alison Melville, harpsichordist Christopher Bagan, violist/violinist Emily Eng, and cellist Kerri McGonigle. Whatever you decide to pay, you're welcome.
CLASSICAL AND BEYOND QUICK PICKS
OCT 9, 6:45: Founded in 2014, The Toronto Symphony Orchestra Chamber Soloists offer a diverse and varied range of instruments in a wide range of infrequently performed repertoire, along with some best-loved chamber works. They perform inside the Roy Thomson Hall auditorium with the audience seated in the choir loft, with admission included in the price of that night's TSO concert ticket. The first of this season's five concerts presents TSO principal flutist Kelly Zimba, assistant principal violist Theresa Rudolph and harpist Heidi Elise Bearcroft performing Debussy's Sonata for Flute, Viola, and Harp and Skaila Kanga's arrangement of Ravel's inimitable Sonatine. And, in rare opportunity to hear the Soloists away from RTH, the program will be repeated OCT 10, 12PM as part of the COC's free noon-hour concert series, in the Richard Bradshaw Amphitheatre.
OCT 11, 7:30PM: The Don Wright Faculty of Music, Western University, presents Stewart Goodyear in recital. The following day, OCT 12, 11AM, Goodyear will give a free two-hour masterclass.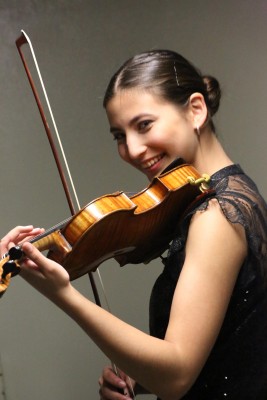 OCT 18, 8PM: Teenage violinist Elisso Gogibedashvili is the soloist in Paganini's rousing Concerto No.1 in the opening concert of Sinfonia Toronto's new season. As well, conductor Nurhan Arman leads his string orchestra in Dvořák's lyrical Chamber Symphony - Quintet Op.77a. The following day, OCT 19, 7:30, Barrie Concerts brings Arman, the Sinfonia and Gogibedashvili north for a repetition of the program.
OCT 19, 8PM: Formed in 1998, The highly touted Bennewitz Quartet, who made a strong impression in two visits to Ottawa in the last three years brings their middle-European sensibility to the Kitchener-Waterloo Chamber Music Society and the music of Schumann (String Quartet No.2), Janáček (String Quartet No.2 "Intimate Letters") and Dvořák ("American" String Quartet). The following afternoon, OCT 20, 3:15PM, they make their Toronto debut opening the new season for Mooredale Concerts. Their Walter Hall recital begins with selections from Bach's The Art of the Fugue followed by Beethoven's transportative String Quartet Op.132, and concluding with Mendelssohn's String Quartet Op.13, which was directly inspired by Beethoven's Op.132.
OCT 21, 7:30PM: U of T Faculty of Music presents TSO bulwarks, concertmaster Jonathan Crow and principal cellist Joseph Johnson, performing Ravel's stripped-down Sonata for Violin and Cello (dedicated to Debussy's memory) and Kodály's Duo for Violin and Cello in Walter Hall.
OCT 23, 8PM: The Kitchener-Waterloo Chamber Music Society presents the Dvořák Piano Quartet with Slávka Vernerová-Pěchočová, piano, in an intriguing recital: Dvořák's Op.87, an arrangement of Beethoven's Quintet for Piano and Winds Op.16 and Mahler's engaging Piano Quartet.
OCT 25, 8PM: TSO principal cellist Joseph Johnson joins Matthew Jones and the Etobicoke Philharmonic Orchestra in Tchaikovsky's delightful Variations on a Rococo Theme.
OCT 26, 8PM: Two sonatas by Beethoven – including the indelible "Waldstein" – and two works by Schumann should make for another memorable evening by the redoubtable Sir Andras Schiff who seems to be quite at home in Koerner Hall. The preceding afternoon, OCT 25, 3PM, he will give a free masterclass in Mazzoleni Hall. Neither event should be missed.
NOV 2, 3PM: For the opening concert of their tenth anniversary season, 5 at the First Chamber Players presents the AYR Trio (Angela Park, piano; Yehonatan Berick, violin; Rachel Mercer, cello) performing trios by Smetana and Dvořák (the melodious "Dumky"). It's worth a trip to Hamilton.
Paul Ennis is the managing editor of The WholeNote.