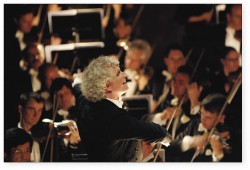 When Sir Simon Rattle – who brings the Berlin Philharmonic Orchestra (BPO) to Roy Thomson Hall for two concerts in November – was two years old, he showed his rhythmic talent by beating in time while his father played Gershwin songs on the piano. Born in Liverpool in 1955, he quoted his more famous fellow Liverpudlians when he announced in 2013 that he would cease his post as chief conductor and artistic director of the BPO in 2018. "It is impossible not to think of the Beatles' question, 'Will you still need me…when I'm 64?' and I am sure that then it will be time for somebody else to take on the magnificent challenge that is the Berliner Philharmoniker." Two years later, he was appointed music director of the London Symphony Orchestra.
Rattle grew up "an absolute musical monomaniac," in his words, not far from Penny Lane. According to the BPO website, his father, the manager of an import and export company and later a teacher, was an enthusiastic jazz fan and an excellent pianist. His mother, also an excellent pianist, ran a music shop before her marriage. Both parents supported their son in his studies of percussion, piano and violin. At seven he read Hector Berlioz's Treatise on Instrumentation; and from an early age was interested in the music of the 20th century.
Christopher Ford called the 21-year-old Rattle, in a 1976 article in The Guardian, "a precocious and versatile musician as a boy in his native Liverpool." The British musical polymath Fritz Spiegl gave him his first professional job at 13, playing timpani in Handel's Fireworks Music. His reputation as a percussionist and pianist was growing but a year later he decided that "what he really had to do was conduct."
At the age of 16 he entered the Royal Academy of Music. "I went there as a pianist and a percussionist, trying to make it as clear as possible that I wanted to carve. You're not supposed to carve until your second year, but one has to make opportunities. By the time I got out I had conducted a lot of operas, and even more bits of operas." He had also given performances which continued to be talked about, according to Ford, of two of Mahler's biggest symphonies. In the year before going to the Academy he had played in the National Youth Orchestra, where he met and worked with Pierre Boulez.
"Boulez really was a 'formative experience,'" Rattle told Ford. "I then went through a terrible Boulez patch, trying to conduct like him … For me the greatest musical influence among all the conductors is Furtwängler."
A quarter century later, Rattle followed in Furtwängler's footsteps in Berlin. In a recent Presto Classical interview, Rattle described Furtwängler's approach as "a typical composer's way of looking: very free, very mystical, extraordinary in another way. … To try to reproduce a Furtwängler performance now would be postmodern. There are atmospheres and a grasp of the overall structure which is almost unearthly. He had such a grasp of this, that he could improvise - particularly with his orchestra that he knew so well - in a manner whereby he could go anywhere without losing the basic shape of a piece."
Rattle brings the BPO, one of the world's great orchestras, to RTH for two distinctively different concerts. The first – on November 15 – will open with Boulez's Éclat. That's just an amuse bouche for Mahler's mercurial, kaleidoscopic Symphony No.7 which will follow. Mahler has been at the centre of Rattle's conducting life forever. He made his BPO debut in November 1987 conducting Mahler's Symphony No.6 and his first concert as chief conductor, September 2002, included Mahler's Symphony No.5.
The November 16 program juxtaposes the Second Viennese School of Schoenberg (Five Pieces for Orchestra), Berg (Six Pieces for Orchestra) and Webern (Three Pieces for Orchestra) with Brahms' idyllic Symphony No.2. Schoenberg regarded Brahms highly and analyzed his music when he taught composition, calling him "the progressive" who paved the way for the future of music. Don't miss this unique opportunity to hear some of the best musicians on the planet.
Stephen Prutsman at Mooredale. American pianist Stephen Prutsman's impeccable classical credentials include studying with Leon Fleisher who used Prutsman's arrangement of Jerome Kern's All the Things You Are on his 2014 Bridge Records solo piano CD. Prutsman brings his fascinating "Bach and Forth" program to Mooredale Concerts December 4. The program is little changed since its December 2010 NYC debut. It links 11 preludes and fugues from Book II of Bach's Well-Tempered Clavier and Gavottes I and II from the English Suite No.6 with works by Rameau, Beethoven, Wagner/Liszt, Debussy and Schoenberg in its first half and arrangements of compositions by Yes, Charlie Parker, gospel singer Walter Hawkins, traditional Rwandan and Uzbek folk songs and Carnatic music by Purandara Dasa after intermission.
"I've found that the music of Bach, more than any other composer, can be paired with anything," Prutsman told Ken Bullock of San Francisco Classical Voice on July 5, 2011. "Brahms, say, and Latin music don't work that well together. With Bach as the anchor, we'll not only hear music not ordinarily represented on the concert stage, but also hear Bach differently, finding in the musics different harmonies, swing rhythms, improvisation, and – as in both Baroque and Charlie Parker – a delight in ornamentation. This isn't a puzzle gimmick. There's an infinite number of relationships in the music I'm still finding out about. If there's a philosophy for this program, it's that relationships are the thing!"
Prutsman's varied musical upbringing began when he was four and included accompanying his amateur musician father and family friends singing classics of the American Songbook. Later, he augmented his classical studies with gigs in local restaurants and cocktail music in bars. He dabbled in progressive rock but his worldview opened considerably after he moved to San Francisco and started arranging for the Kronos Quartet in the 1990s, which led to his exploration of the relationships between types of music from various traditions.
"It came about because of David Harrington's [violinist founder of Kronos] interest in all things musical. We'd just dive in – say, transcribe an African piece, what we'd call a 'take-down.'…Notating microtonal music, you have to know where the pitches lie, and so you learn the musical language, little by little. This was the link between those other musics and European art music, classical music."
He spoke to Fred Child for In Studio on October 4, 2013, about his wide-ranging repertoire and his goal of freedom and openness in the moment. "Classical musicians will improvise with phrasing, dynamic contour and articulation," he said, before talking about hearing relationships in music all the time. "I think some of the truths sung by an indigenous group in the Andes are the exact same truths that Beethoven came to when he wrote [Op.] 132. Of course, they're very different languages but they're the same truth. I recognize that and I want to participate in that."
New York Times critic Anthony Tommasini summed up Prutsman's Alice Tully Hall concert back in 2010: "Such a program could have been gimmicky. But the musical connections Mr. Prutsman made were so intriguing, and his playing so earnest and sensitive, that you never doubted the integrity of this musical adventure." It should be a fascinating Sunday afternoon December 4, in Walter Hall.
Christophe Coin at Tafelmusik. French cellist and gamba player Christophe Coin is one of the leaders of the early-music movement, having studied with Nikolaus Harnoncourt and Jordi Savall before joining the Academy of Ancient Music and forming the Quatuor Mosaïques in the mid-1980s. During the first week of October, Toronto got a chance to experience the strength and subtlety of his tone colour and exemplary musicianship in a series of concerts featuring cello concertos by Boccherini and Haydn which reflected his particular interest in music of the late-18th century. At the midpoint of his visit, Coin gave a revelatory masterclass, which I also attended, to five seasoned musicians, in Jeanne Lamon Hall.
He was a fount of very precise technical pointers: when to use as much as possible of the bow; how to emphasize harmony in a Bach cello suite transposed for viola or intervals in a Boccherini sonata; suggestions as to playing an allegro faster with more energy rather than playing too dry dynamically; advising not to be academic but instead to be more open and relaxed; getting a warmer tone quality by trilling not on the open string. He was understated but direct, very detail oriented, with the constant aim of creating a more musical performance. And to underline the independent thinking he encouraged, he would sometimes simply say, "It was just a suggestion."
Lang Lang at Koerner Hall. Lang Lang, at 34, is a musical conjurer whose unbounded showmanship is fused with unerring musicianship and technique that strains credibility. He is a man 40 million Chinese piano students look up to as a role model and, as of October 18, the latest Honorary Fellow of the Royal Conservatory of Music (Sir Andrew Davis, Leon Fleisher, Oscar Peterson and The Tragically Hip are some of the others). Since 2015, The Royal Conservatory has worked with Lang Lang to transform young lives through classical music; the curriculum of The Royal Conservatory is the basis of the Lang Lang International Music Foundation's public school program. Lang Lang received the honour at intermission of the RCM's sold-out gala concert at Koerner Hall.
Debussy's Ballade slave was a spellbinding slow shimmer with Lang Lang fusing passion and pianissimo. He heightened the dramatics in Liszt's Piano Sonata in B Minor teasing out its languid nature which he played off against the darkness of its insistent main theme. Bubbles of limpid notes seemed to cascade into unburst clusters as the pianist balanced moments of sincere tenderness with his gleeful delight over his own technical prowess. Albéniz's Suite española No.1 followed the mid-concert ceremony, idiomatic and evocative of Spanish landscape and culture. Under tight control that appeared to be effortless, Lang Lang's pellucid playing dripped with tonal colour. The familiar Asturias (Leyenda) with its repetitive flamenco rhythm was a magnificent spectacle. Granados' Quejas, o la maja y el ruiseñor was sensitive, beautifully played. Manuel de Falla's Danza ritual del fuego from El amor brujo was familiar and accessible with Lang Lang slicing and dicing the music for the pleasure of all. It was an event that defied limits. Unmissable.
Music Toronto. Named after the famed Acadian violinist, the Quatuor Arthur-LeBlanc – quartet-in-residence at Université Laval in Quebec City – returns to Music Toronto November 10 for the seventh time in a compelling program consisting of Haydn's String Quartet Op.77 No.1, Bartók's String Quartet No.4 and Beethoven's immortal String Quartet Op.59 No.3 "Razumovsky." And on November 15 Danny Driver, one of Britain's most respected and versatile pianists and, like Marc-André Hamelin, Stephen Hough, Steven Osborne and Angela Hewitt, a Hyperion Records artist, makes his Toronto debut. Driver, a direct descendant of the 18th-century Jewish mystic, the Baal Shem Tov, will perform Bach, Schumann, Balakirev, Rachmaninoff and Prokofiev.
TSO. The TSO's Decades Project continues November 2, 3, and 5 with an infectious serving of the Roaring 20s: Milhaud's jazzy concoction La création du monde; Jon Kimura Parker in Prokofiev's exuberant, droll and poetic Piano Concerto No.3; Shostakovich's youthful masterwork Symphony No.1; all led by up-and-coming American conductor James Gaffigan. The following week, November 9 and 11, the project rides high with concertmaster Jonathan Crow taking centre stage in Vaughan Williams' sublime The Lark Ascending; principal violist Teng Li performs Walton's Viola Concerto; Peter Oundjian's sure hand is in control of Sibelius' remarkable one-movement Symphony No.7 and Ravel's immortal Boléro.
Later in the month, Italian pianist Stefano Bollani brings his jazz sensibility to Ravel's Piano Concerto in G, November 17 and 19; at the same concert LSO principal guest conductor Gianandrea Noseda (soon to be music director of the National Symphony Orchestra in Washington) takes charge of Saint-Saëns' Symphony No.3 and its prominent use of the organ. The Klieg lights will be on Itzhak Perlman November 22, as the violin virtuoso turns his warm persona to themes from Casablanca, Cinema Paradiso, Out of Africa and Schindler's List. In an inspired piece of programming, Peter Oundjian then leads the TSO in Beethoven's Symphony No.7, one of the most widely heard pieces in movie soundtrack history. Its Allegretto (second movement) alone has appeared in more than two dozen films, from Edgar G. Ulmer's 1934 classic The Black Cat to Oscar-winner The King's Speech.
Magisterra Soloists. String ensemble Magisterra Soloists, having dipped their collective toes in Toronto's waters with a Gallery 345 appearance in October, return home to London, Ontario, November 5 with "From Rio, with Love," their first fundraising concert and silent auction at the Hassan Law Community Gallery. Along with Mendelssohn's brilliant Octet for Strings Op.20, the ensemble will showcase selections of Brazilian popular music in the wake of their recent two-week tour of Brazil. One week later, November 12, "A Concert from the Balkans" in the Chapel at Windermere on the Mount (1486 Richmond St., London) includes works by Hans Gál (Five Intermezzi for string quartet), Bela Bartók (Duos for two violins) and Rudolf Matz (Andante e Allegro for four violins), alongside Mendelssohn's Octet. From Gál's intensely personal and Romantic musical language to Bartók's joyfully folkloric violin transcriptions, it's music that was shaped by the highly diverse cultural and political influences of early 20th-century southeastern Europe.
QUICK PICKS
Nov 3, 4, 5: Pianist Andrew Burashko, artistic director of the Art of Time Ensemble, shows his programming acumen in "That's Not Funny" where he unites the music of funnymen Franz Joseph Haydn, trumpeter/bandleader Spike Jones and satirist/songwriter Tom Lehrer.
Nov 6: Pocket Concerts: Founding member of the critically acclaimed Linden String Quartet, Catherine Cosbey, Cecilia String Quartet first violinist, Min-Jeong Koh, founder and artistic director of Pocket Concerts, violist Rory McLeod, and cellist Amy Laing perform selections from Mendelssohn's String Quartet Op.44 No.1, Schubert's engaging Quartettsatz and Haydn's exquisite String Quartet Op.76 No.4 "Sunrise."
Nov 9: The violin-piano Duo Concertante bring their high standards to the music of Haydn, Dallapiccola, Brahms and Franck in their concert presented by the Kitchener-Waterloo Chamber Music Society. Nov 13: K-WCMS' next presentation, the unusual combination of guitar and flute known as Duo Cavatina, ranges from Bach and Sor to Takemitsu and Piazzolla. Nov 18: The outstanding series continues with Sono Luminus recording artist, Boston-based pianist Michael Lewin in a program that moves from early Beethoven to the exoticism of Ginastera, Lecouna and Nazareth before settling into the more familiar Chopin's Sonata No.3 and Liszt's Mephisto Waltz.
Nov 10: The Royal Conservatory presents "Generation Next," a concert of risings stars – pianists Alexander Seredenko, Tony Yike Yang and Charles Richard-Hamelin; cello phenom Stéphane Tétreault (whose Koerner Hall debut in April 2015 with Yannick Nézet-Séguin and Orchestre Métropolitain still resonates); and mezzo Emily D'Angelo. Nov 13: Glenn Gould School dean, James Anagnoson, and his piano partner, Leslie Kinton, celebrate their 40th anniversary as Anagnoson & Kinton with a concert in Mazzoleni Hall of works by Brahms, Pierre Gallant, Poulenc and Dvořák topped by Bartók's seminal Music for Two Pianos and Percussion (the duo is joined by TSO principal timpanists David Kent and TSO principal percussionist John Rudolph). Dec 4: Stewart Goodyear's prodigious program at Koerner Hall includes Bach's Partita No.5, Beethoven's Sonata No.32 Op.111, Chopin's Ballade No.4, selections from Tchaikovsky's The Nutcracker and the world premiere of Goodyear's own Acabris! Acabras! Acabram!
Nov 11: At Gallery 345. Mikolaj Warszynski (whose newest CD is reviewed by Alex Baran in this month's Keyed In column) is joined by fellow pianist Zuzana Simurdova in two of Dvořák's beguiling Legends and later in an arrangement of Liszt's triumphal Les Préludes. In between, each takes solo turns with Simurdova playing music by Fišer, Smetana and Janáček's haunting In the Mists with Warszynski performing five of Liszt's most popular pieces. Nov 23: Nocturnes in the City also presents Warszynski and Simurdova in works by Chopin, Fisher and Schumann.
Nov 11: Silver medalist at the 2015 International Chopin Piano Competition, Charles Richard-Hamelin lights up the Aurora Cultural Centre with an all-Chopin program. Nov. 27: Hamelin is the soloist in Chopin's Piano Concerto No.1 accompanied by the Niagara Symphony Orchestra conducted by Bradley Thachuk.
Nov 13: Chamber Music Hamilton presents the versatile New Zealand String Quartet performing Haydn, Grieg and two works by their countrymen, Jack Body and Gareth Farr.
Nov 13: Amici Chamber Ensemble, augmented by Russian violinist Ilya Kaler and Russian accordionist Alexander Sevastian, perform music by Rachmaninoff, Gubaidulina, Stravinsky, Arensky and Ustvolskaya in an intriguing program dubbed "Mother Russian: Rebels and Exiles."
Nov 24: The venerable Women's Musical Club of Toronto's latest concert showcases the talents of Boston Symphony principal horn, James Sommerville, violinist Scott St. John and pianist Peter Longworth in 20th-century French recital works and trios by Brahms and Vivian Fung.
Nov 25: TSO concertmaster Jonathan Crow goes west to perform Bruch's Violin Concerto No.1 with the Etobicoke Philharmonic Orchestra.
Nov 26: Iconic composer Philip Glass will be awarded the 11th Glenn Gould Prize at an exclusive concert in his honour in Ottawa as the NAC Orchestra led by Dennis Russell Davies performs Glass' works for chamber ensemble, solo piano and his Symphony No.2.
Dec 5: Bassoonist extraordinaire Nadina Mackie Jackson continues her Bassoon Out Loud series with sonatas by Prokofiev and Skalkottas, ably assisted by pianist Stephan Sylvestre.
Paul Ennis is the managing editor of The WholeNote.