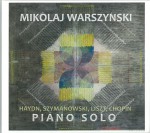 Mikolaj Warszynski
is a thinker. His notes read like an inspired thesis defence. He has solid and clear rationale for the program choices on his newest recording:
Piano Solo – Haydn; Szymanowski; Liszt; Chopin (Anima ANM/141200001).
Warszynski creates a journey that begins with classical structure and logic, and ends in raw emotion.
Haydn's Sonata in C Major Hob.XVI:50 is unique for its references to pedalling, found in none of Hadyn's other keyboard works. The effect is arresting, especially since Haydn allows some odd harmonies to run together. Warszynski's keyboard technique for this piece is very direct and rather more powerful than we generally expect for this repertoire. He justifies this in his notes on the work's recipient, a leading London pianist in 1794, who possessed both formidable technique and a powerful English Broadwood piano. The execution is crisp and clear with no sacrifices to phrasing or subtlety.
Karol Szymanowksi's Shéhérazade from Masques Op.34 is, despite its modernity, as dependent on clarity and articulation as the opening Haydn Sonata. It's built in a logical arch that Warszynski makes great effort to respect. Still, he captures the exotic program material with an improvisational style that begins to move us away from structure and into the world of Liszt and Chopin.
The Mephisto Waltz uses some lightly applied form and programmatic ideas that leave plenty of room for the transformation of themes that Liszt so uniquely championed. Warszynski finds all the latitude he needs to explore this through the contrasting middle section before he dives back into the emotional intensity that completes the waltz.
Warszynski arranges four pieces by Chopin to serve as a final statement about his program, concluding with the Polonaise in B Minor Op.53 "Héroique" played more slowly than most performers would ever dare. Citing Chopin's own preferences to avoid the virtuosic showmanship this piece often elicits, he plays it with an overriding sense of nobility.
Concert Note: Mikolaj Warszynski performs with piano duo partner Zuzana Simurdova in Toronto on November 11 at Gallery 345 in The Art of the Piano series and as part of the Nocturnes in the City at St. Wenceslaus Church on November 13.
Review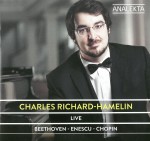 Quebec-born Charles Richard-Hamelin has added a second recording to his discography. Recorded in May this year, Charles Richard-Hamelin Live – Beethoven; Enescu; Chopin (Analekta AN 2 9129) opens with two Rondos by Beethoven. Because the pieces are so very Classical, they tend to be overlooked in favour of his later, more potboiling audience pleasers. Richard-Hamelin raises the emotional bar on these early works and plays them as Romantic flirtations. It's very effective.
George Enescu's Suite No.2 for Piano Op.10 dates from the turn of the 19th century and uses some surprisingly contemporary harmonies. Richard-Hamelin plays these short dance pieces with affection for the graceful nature of the suite's four parts. Each is uniquely coloured. Pavane, especially, has a dark introspection that Richard-Hamelin explores with intimacy.
He uses the same inclination to begin the Chopin Ballade No.3 in A-flat Major Op.47 but rises to all the grandeur required as the Ballade builds to its finish. The following Nocturne in E-flat Major Op.55 No.2 requires getting deep inside Chopin's intentions as he shifts tonalities and layers ornaments over very simple thematic ideas. Richard-Hamelin demonstrates a genuine understanding of this music and reveals more of its inner secrets in a gratifying way.
The recording concludes with Introduction and Rondo in E-flat Major Op.16 and the Polonaise in A-flat Major Op.53 "Heroique". Each is a cauldron of technique but "Heroic" stands out for its less than traditionally punctuated phrases in favour of a more fluid approach.
Concert Note: Charles Richard-Hamelin performs in Toronto at Koerner Hall on November 10, in Aurora at the Aurora Cultural Centre on November 11 and in St. Catharines with the Niagara Symphony Orchestra at FirstOntario Performing Arts Centre on November 27.
Review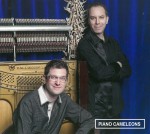 Fusing Classical and Jazz has been done before and its success always depends on the calibre of the musicianship brought to the keyboard. A new recording, Piano Caméléons (Justin Time JUST 257-2) features pianists Matt Herskowitz and John Roney recasting many of the classical repertoire's best known melodies in a jazz voice. The project boasts Oliver Jones as its guide and mentor, and Jones writes glowingly about what the pianists have achieved. Jones also performs with them in the Minuet in G Major BWV 114 by Bach/Petzold.
The opening track uses the Bach Prelude No.2 in C Minor from the Well-Tempered Clavier, Book I. After establishing key and rhythmic pattern, Herskowitz and Roney begin drifting from Bach's melody into a descant that eventually develops into a catchy swing embellishment, all the while maintaining the original pulse of Bach's keyboard idea. Very clever.
With Debussy's Claire de lune, the approach changes. Here they use only the briefest motif from the opening measures and spend more creative effort sustaining the piece's atmosphere. They never let go of the thematic fragment entirely, although they wander significantly before quoting it again at the close.
Rachmaninoff's Prelude in C-sharp Minor Op.3 No.2 introduces some mysterious percussion at the outset, remains dark and ominous throughout and offers an impressive display of technique from both keyboards.
The track that emerges as a truly brilliant conception and performance is the Chopin Étude in C Minor Op.10 No.12 "Revolutionary." Starting with the familiar cascade of the work's first idea Herskowitz and Roney create the turbulence of the "Revolution" and stay with its minor key almost entirely through their jazz treatment. It's ingenious and impressively creative.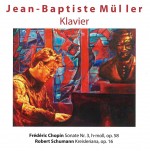 Another welcome recording from Jean-Baptiste Müller, Chopin – Sonata No.3; Schumann – Kreisleriana (JBM 40665 jean-baptiste-mueller.com) begins with Chopin's third and final Sonata in B Minor Op.58. Formally freer than its two predecessors, it sports a wildly sparkling but brief Scherzo that Müller plays with easy abandon. The third movement that follows is marked Largo, and Müller spends a generous amount of time lingering with each of its beautiful ideas. It's an effective way to contrast the two inner movements of this piece, especially when it concludes with the nonstop energy of the finale. The final movement demands stamina and clarity through its many relentless cascading runs and towers of chords. Müller delivers with a secure keyboard style and obvious musicality.
Robert Schumann's Kreisleriana Op.16 is a collection of eight short pieces penned in romantic affection for the composer's wife-to-be. It requires attention to opportunities for contrasting emotional content. While the faster, louder pieces provide short respites from their inherent tensions, the slower pieces are the real challenge to play. Müller approaches these with an unconventional pensiveness that focuses attention on the lingering pauses he uses so effectively at phrase endings. The fourth and sixth pieces in the cycle are examples of just how artfully he applies this device. The closing piece is an impish wee thing performed with a gifted naughtiness that Müller makes no effort hide.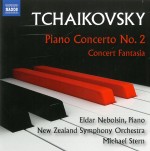 You need more than just a good grip on the keyboard to play Tchaikovsky No.2. It's a mental challenge, and Uzbek pianist Eldar Nebolsin has mastered it in his latest recording Tchaikovsky – Piano Concerto No.2; Concert Fantasia (Naxos 8.573462).
Given the tragedies and criticism with which he dealt during his lifetime, Tchaikovsky made a remarkably victorious statement in this work. The big opening for the orchestra is quickly echoed by the piano and it's here that Nebolsin establishes his presence. He plays the original score, without the cuts imposed by early critical performers. He has a commanding presence at the keyboard which he uses to keep the orchestra at bay. The first movement is very much a tug of war filled with energy and grandeur that makes the second all the more surprising for its profound melancholy and chamber-like approach. Nebolsin completely surrenders to the trio portions with cello and violin and the three players weave a gorgeous tapestry with the movement's principal theme. The New Zealand Symphony Orchestra under Michael Stern holds well back at an unusual distance, heightening the intimacy of this movement and preparing for the eruption of pure joy that begins its finale.
The Allegro con fuoco opens with a quick tempo sustained throughout but the most remarkable feature is the lightness of the piano touch. Nebolsin is simply dancing all over the keyboard in an exhilarating romp to the final chords. It's a marvellous performance executed with intelligence and a sense of adventure.
The Concert Fantasia in G Major Op.56 is a very different work that gives Nebolsin the opportunity for much more solo playing, showing us yet another side of this accomplished young musician.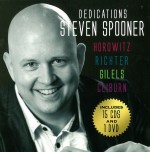 Stephen Spooner has recently released the finished results of a huge recording project Dedications – Horowtiz, Richter, Gilels, Cliburn (A Life of Music Records stevenspooner.com). It's a 16-CD box set that Spooner describes as an homage to the great pianists of the Russian School. The set includes audio liner notes, a live recital and a couple of discs containing hymn transcriptions and other improvisations.
The first three volumes are devoted to Vladimir Horowitz whom Spooner considers to be one of history's greatest pianists. Without overtly attempting to play as Horowitz played, Spooner does, however, adopt the characteristic thoughtfulness that shaped Horowitz's keyboard style. While a superb technician, even into his final years, Horowitz always impressed audiences with the feeling that he was somehow considering anew, every note he was playing. There seemed to be a brake on the impulse to rush headlong into virtuosic display for its own sake. This is most evident in Spooner's performances of Chopin and Rachmaninoff. His Scarlatti Sonatas, some performed on Horowitz's own piano, recall Horowitz's crisp, acrobatic fingerings as well as his love of a well-phrased melody.
Sviatoslav Richter gets the lion's share of the set with eight volumes devoted to his musical legacy. It's curious that Richter gets so much recorded coverage here. Despite taking recording very seriously, he never enjoyed it as much as live performance. A great many of his recordings are, in fact, live concerts.
In his Richter volumes, Spooner includes Schubert's Winterreise D.911 in recognition of Richter's collaborations with both Peter Schreier and Dietrich Fischer-Dieskau. Baritone Chris Thompson performs beautifully, finding the intimacy and fluidity that both his German counterparts cultivated so successfully.
Among Richter's most critically acclaimed recorded performances are the Liszt B Minor Sonata S.178, Debussy's Préludes and more than a dozen Haydn Sonatas. Spooner devotes an entire volume to each of these three. Noteworthy too, is that he performs the Liszt twice in one volume using one of Liszt's last pianos, an 1886 Bechstein, in a comparative performance.
Richter's broad repertoire included every major composer and Spooner reflects this in volumes containing works by Schumann, Schubert, Chopin, Bartók and Prokofiev.
Emil Gilels receives only a single volume. The physical power of his keyboard technique is captured in Spooner's performance of Liszt's Fantasy on a Motif from Wagner's Rienzi S439. He explores the more intimate and introspective side in a selection of Grieg's Lyric Pieces as well as Alexander Siloti's beautiful arrangement of Bach's Prelude in B Minor from BWV 855.
Van Cliburn, too, gets only a single volume. Remembered as the American kid who won the 1958 Tchaikovsky competition with his stunning performance of a repertoire so close to the Russian heart, Spooner pays tribute to this pianist who beat all the odds at the height of the Cold War.