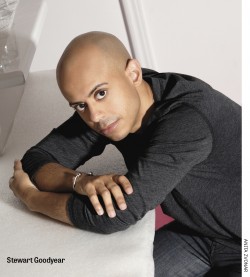 "There are so many composers and so many projects," Stewart Goodyear said recently to WholeNote editor David Perlman. "What makes this life so exciting is that the discovery is endless; the road doesn't end and there's discovery galore."
The two men were wrapping up the latest edition of Conversations <at>The WholeNote for the magazine's YouTube channel, a conversation prompted by Goodyear's upcoming appearance as soloist in the first concert of Mooredale Concerts 2015/16 season, September 27. Billed as "Legendary Piano Variations," it's the coupling of two major works, Bach's joyful Goldberg Variations and Beethoven's Diabelli Variations (the essence of which, according to Alfred Brendel and others, is humour).
Goodyear talked about the similarities in the two pieces: "They both centre around dances. There is humour in both (of course used very differently), voices, innovative harmonies – one in each set almost sounds like a 21st-century work, the harmonies are so advanced it still shocks the listener. Even if the listener has heard it around 10,000 times – like yours truly – it always makes a huge impression and I'm bowled over by what I hear."
That's the boyish pianistic explorer talking, the 37-year-old pianist who is famous for the Beethoven "Sonatathon" in which he has played all 32 sonatas in chronological order at one sitting, who calls himself a "music gourmet" with an appetite for big programs (such as performing all five of the Beethoven piano concertos with the Niagara Symphony Orchestra on Hallowe'en night, repeating the marathon the following Sunday afternoon, November 1). Or, on the same weekend as the Mooredale date, performing all five Beethoven concertos in a slightly more traditional setting with Edwin Outwater and the Kitchener-Waterloo Symphony: One and Four on Friday evening; Three (and Symphony No.8) on Saturday afternoon; Two and Five Saturday evening.
"It humbles me as an interpreter," Goodyear continued, discussing his Toronto recital. "I always want to bring an intimacy to both of those works…to get into the marrow."
Playing these two monumental works on the same recital is "like a Canadian program for me," he says. His introduction to the Goldberg Variations was Glenn Gould's 1955 recording of the piece "and then immediately after, I heard [Gould's] second [recording]." The first recording of the Diabelli Variations he heard was Anton Kuerti's. Goodyear's own CD of the Diabellis was released last fall by Marquis and very favourably reviewed, by among others Christina Petrowska Quilico in our November 2014 issue.
Goodyear had lived with the Goldbergs all his life before finally performing them in public for the first time on Gould's own piano at the National Arts Centre in Ottawa last spring, surrounded by portraits of Gould. "I was face to face with Glenn Gould," he said. "It gave me another excuse to connect with the audience."
Gould's piano felt custom made to him, he says. He found playing it "challenging" with its "brilliant sound and lots of colours. Just being a part of that history inspired me a lot," he continued. "I felt that there was something spiritual going on."
The Mooredale recital will be Goodyear's fourth performance of the Bach this year. "Every time I do it, it's different," he said. The notational text is sacrosanct, the basis for all Goodyear's formal preparatory work until it feels "like it's in every pore."
"So that whatever happens, it feels like I'm improvising," he elaborated. "I know it 500 percent that whatever comes out it's not like I'm reciting something or reiterating something; it's just coming out."
Part of his practising method is delving into a piece's history and its qualities. In the case of Messiaen's Turangalîla Symphony which he's playing again with Paavo Järvi, later this season with the Orchestre de Paris, it's trying to "find the seed to this masterpiece." Listening to him talk about its character reveals the way he relates to a musical work: "It's very theatrical; there are sweeping gestures, extremely lyrical, very colourful, with fermatas, rallentandos. There are moments when you see the lovers running to each other just like Hollywood; there are slow-motion moments when they finally embrace. It's a technicolor extravaganza. It's a beautiful work, 80 minutes long. It's decadent, it's pure, it's everything. It's romantic."
It's a telling insight into Goodyear's approach. Despite the marathons, despite the prodigious technique and memory that they require, the basis for Goodyear's appeal is his empathetic relationship with the music he performs and his ability to communicate that to an audience – qualities that will undoubtedly be evident to all who hear him in Walter Hall on the last Sunday afternoon of September.
Summer Pleasures. A completely different traversal of the Beethoven piano concertos took place in Stratford August 27 to 29 when Stratford Summer Music presented Jan Lisiecki and the Annex Quartet with Roberto Occhipinti, bass, in three programs encompassing all five of the concertos in transcriptions by the German composer and conductor, Vinzenz Lachner's (1811-1893). It was Lisiecki's first time performing all five piano concertos. In the days leading up to our September production deadline, I was fortunate to find time to attend the middle concert which paired the Second and the Fourth.
The 20-year-old wunderkind was his usual gracious and charming self as he introduced the concert. "We can't give you all the drama," he said. "But we can give you intimacy and the beauty of this music."
St. Andrew's Church is a bright room acoustically but Lisiecki met its challenge (and that of the Yamaha grand) in the Piano Concerto No.2, Op.19, begun when Beethoven was still a teenager and only published after his first six string quartets (Op.18). Lisiecki's touch was even-handed, very classical, marvellous. He made every note count. The Allegro con brio was Mozartean in its passagework, Haydn-like in its succession of swells but intimations of the composer-to-be were clearly present. The Largo that followed is not one of Beethoven's best but Occhipinti's rich, sonorous sound stood out. The lively Rondo, however, is a delight, presaging the more mature symphonist, and the performers seemed to relish playing it, bringing out the joy that flows from the return of the opening theme in its inverted form.
The six played like cohesive, well-balanced chamber musicians in the Rondo, and the piano part especially stood out since it didn't have to compete with a full orchestra. This transparency continued in the Op. 58 concerto, a piece composed in that luminous time just after the Triple Concerto, the "Waldstein" and "Appassionata" Sonatas and the "Eroica" Symphony and immediately before the "Razumovsky" String Quartets. Lisiecki often played with a sound big enough to match an orchestra which made for a less balanced whole, though given the somewhat rough-hewn sound of the violins, it was not unwelcome. Intimations of beauty leading into the cadenza were dashed by a hurried approach until a surfeit of melody righted the course on the way to a thundering climax.
The second movement conversation between the dark and dissonant strings and the gorgeous lyricism of the keyboard set up the magical, rhapsodic piano cadenza. The spirited third movement Rondo, seemed to outrun its musical sense. But all was right in the encore, the Rondo of the "Emperor" Concerto, in which Lisiecki seemed re-engaged if not re-energized. It was a generous gift to an appreciative audience who greeted the conclusion of each of the three pieces with a standing ovation.
(All of which makes me look forward to Lisiecki's December 6 recital in Koerner Hall when his program will include Chopin's 24 Preludes, Mendelssohn's Variations sérieuses and Mozart's marvellous Piano Sonata, K331 among other works.)
Paul Lewis. Still on the subject of Stratford Summer Music, on the last Thursday afternoon of July in a warm St. Andrew's Church (hand-held fans were provided) British pianist Paul Lewis spoke to his congregation, as it were, those of us privileged to hear this supreme interpreter of Beethoven and Schubert, describing how he saw the pieces he was about to play – what he called "true peaks of the piano repertoire" – Beethoven's last three piano sonatas.
The concert turned out to be the highlight of my summer. You can read more about it in my blog on thewholenote.com. (Lewis will also be giving a recital, of Brahms, Schubert and Liszt, in Koerner Hall March 20, 2016. I already have a ticket.)
Botos and Bartók. Meanwhile, the tenth anniversary season of Toronto Summer Music reached a significant climax August 6 with separate concerts late in the afternoon and into the evening. Robi Botos and Béla Bartók, two Hungarian-born émigrés to the New World, were appropriate poster boys for the well-conceived and multi-layered 2015 TSM festival.
With its extensive schedule built around a foundation of TSM Academy fellows and mentors, the concerts, masterclasses, lectures, films and open rehearsals flowed organically, buttressed by a number of additional concerts featuring special guests such as soprano Measha Brueggergosman, pianists Garrick Ohlsson, Ingrid Fliter and Danilo Pérez and the Danish String Quartet. They provided ample evidence for artistic director's Douglas McNabney's contention at the opening concert that TSM provides "a significant contribution to the cultural life of this city in the summer." Not to mention a significant contribution to the life of the Academy fellows.
I took in six concerts, one dress rehearsal, two masterclasses and a lecture over the 25 days of the festival and barely scratched the surface. Highlights included the well-devised "American Avant-Garde" program devoted to Cage, Feldman, Ives and Zorn with the personable pianist Pedja Muzijevic and the irrepressible Afiara String Quartet; Ohlsson's Scriabin; the Danish String Quartet's playing of Adès' audacious Arcadiana; the Borromeo String Quartet's complete Bartók cycle in one evening, preceded the day before by first violinist Nicholas Kitchen's illuminating lecture on the week he once spent exploring Bartók's original manuscripts in Budapest; Finnish lyric soprano Soile Isokoski's memorable masterclass; Botos' exuberant tribute to Oscar Peterson in the presence of Peterson family members at a rollicking, jam-packed Heliconian Hall; Brueggergosman's touching and extraordinarily beautiful Summertime. Further details on TSM 2015 can be found on thewholenote.com.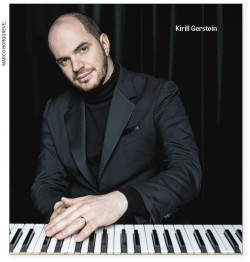 September is here. The TSO begins its 2015/2016 season with a crowd-pleasing program headed by guest soloist Itzhak Perlman in Bruch's dazzling Violin Concerto No.1. With its gorgeous melodic lines and virtuoso passages seamlessly integrated, it's one of the most popular concertos in the violin canon. Having just turned 70, Perlman will celebrate that milestone as well as his ongoing relationship with the TSO (which goes back to 1966) in Roy Thomson Hall, beginning at 7pm September 24. The orchestra then jumps into the deep end with a rousing program featuring the legendary Three B's. Following Leopold Stokowski's arrangement of Bach's Toccata and Fugue in D Minor the TSO moves on to the rich and melodious Double Concerto of Brahms with TSO concertmaster Jonathan Crow and principal cellist Joseph Johnson as soloists. Post-intermission comes Beethoven's iconic Symphony No.5. If you have never heard this piece live, get yourself down to RTH September 25 or 26 or experience it September 27 in the glorious acoustics of the George Weston Recital Hall. If you haven't heard it recently, now's the time. A live reacquaintance with this music is essential at least once every decade. September 30, Shostakovich's jaunty Suite for Variety Orchestra (which may be familiar to some readers for its use in Stanley Kubrick's final film, Eyes Wide Shut) is joined on the program with Gershwin's challenging Concerto in F. The mulit-faceted Russian-born, American Kirill Gerstein is the piano soloist and the guest conductor is the gifted American James Gaffigan. October 1 and 3 Prokofiev's indispensable Symphony No.5 augments the program, making for a full musical evening indeed.
QUICK PICKS
Sept 13: Kitchener-Waterloo Chamber Music Society. South African pianist Petronel Malan's program includes Beethoven's "Moonlight" Sonata.
Sept 16: KWCMS. The New Orford String Quartet opens its program with Beethoven's String Quartet No. 3, Op.18, No.3 before moving on to the seminal Op.130 and its original ending, the Grosse Fugue, Op. 133.
Sept 18: Prince Edward County Music Festival (PECMF). The New Orford String Quartet performs Brahms' String Quartet No.2, Beethoven's Grosse Fugue Op.133 and Gary Kulesha's String Quartet at the Church of St. Mary Magdalene.
Sept 19: PECMF. The Gryphon Trio's concert includes Beethoven's Archduke Trio at the Church of St. Mary Magdalene.
Sept 19, 20, 21: KWCMS. Georgy Valtechev, violin, and Lora Tchekoratova, piano, perform all ten of Beethoven's sonatas for violin and piano in a series of three concerts.
Sept 20: RCM. Glenn Gould School faculty-member, 80-year-old John Perry's big program for a Sunday afternoon includes Mozart's divine Piano Sonata K.333, three Brahms Intermezzi, Op.117, Beethoven's penultimate piano sonata, Op.110 and Schubert's melodic masterpiece, his final sonata, D960.
Sept 25: PECMF. "Inspired by Clara" – chamber music by Clara Schumann, Robert Schumann and Brahms at the Church of St. Mary Magdalene.
Sept 26: RCM. The ARC Ensemble's ambitious program includes the sublime clarinetist Joaquin Valdepeñas in Mozart's Clarinet Quintet K581, Shostakovich's Piano Quintet Op.57 and Weinberg's Sonata No.1 for Violin and Piano Op.12. You'll need a ticket, but it's FREE, part of Culture Days.
Sept 26: PECMF. An evening of German and French cabaret songs with Patricia O'Callaghan at the Regent Theatre.
Paul Ennis is the managing editor of The WholeNote.`