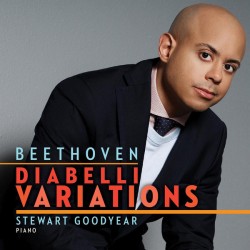 Beethoven – Diabelli Variations
Stewart Goodyear
Marquis MAR 455
Stewart Goodyear has already demonstrated his maturity and artistic mastery of Beethoven in the complete sonata recordings and his marathon performances of the works. This current CD establishes him as one of the premier Beethoven interpreters today.
The Diabelli Variations "amused Beethoven to a rare degree" and were written in "a rosy mood" which dispels the belief that Beethoven spent his later years writing in complete gloom. These variations tease us with incredible humour and "funny themes." Substitute the syllables ha-ha, hee-hee to the music in Variation 10 which Alfred Brendel so aptly named "Giggling and neighing" in his book Music Sounded Out and it will guarantee a smile and laugh while listening to this extraordinary opus. This is joyful, uplifting music and Goodyear has the formidable technique and astute sense of structure to be able to switch from one character to the next. He clearly defines the unique personality and mood of each variation.
The extra-musical images and literary allusions of the work come alive in Goodyear's command of the extreme contrasts and articulation of the musical motifs. He brings to life tender moments and violent, disjointed musical excursions while sustaining a focus from the beginning to the end of the work. The love and joy of playing Beethoven is evident in every nuance and breath of Goodyear's performance. The sound of the recording, tempo and timing flows naturally in its expressive and colourful journey.
This is an excellent recording and is highly recommended. I look forward to Stewart Goodyear recording all of Beethoven's Variations.