I've been a frequent and enthusiastic Harbourfront visitor from its first season, experiencing my first taste of many genres of global music there. I first heard these masters liveat relatively intimate Harbourfront spaces: Malian guitarist-singer AliFarka Touré; Inuit singer-songwriter and guitarist Charlie Panigoniak; the passionate qawwali vocalism of Nusrat Fateh Ali Khan; Thomas Mapfumo "the Lion of Zimbabwe";the son jarochoof Veracruz,Mexico; Malagasy music of Tarika; and others too numerous to mention. I've also been a sometime Harbourfront performer, participating in concerts, parades, community celebrations and WOMAD festivities.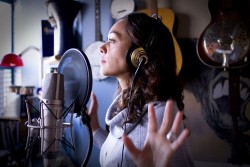 Under the banner of "Discover the World in One Place this Summer" Harbourfront Centre, Toronto's ten-acre arts and culture lakefront destination, continues its 30-plus year celebration of the hot weather festival season with a range of ethnically diverse community-friendly,eclectic programming. World music has always been part of the mix. In return, it attracts tens of thousands of visitors from a very broad range of backgrounds. Of course the actual visitor mix varies from one event to another, but there's nowhere else I've been that appears to have a richer demographic and better reflects on a continuing basis our city's multicultural evolution. Harbourfront is a family space. Even though mine has long been independent, judging from the families I see there, it's still a fun and mostly free place to take the kids.
Harbourfront Centre's summer really kicks off with the Canada Day weekend subtitled "Going Global." As far as world music per se is concerned on this weekend, however, it seems to come down to the concert by South African singer, songwriter, dancer and musical activist Johnny Clegg which took place on June 30. (Read about Clegg's July 7 concert online.)
The next weekend, July 6 to 8, the national focus shifts to Brazil. Artistic directorBarbara de la Fuentenotes that "Brazil is a fusion of many cultural and ethnic groups. In keeping with Harbourfront Centre's 'crossroads' theme, Expressions of Brazil will showcase some of these cultural intersections." Among the dozens of events, I can share a few music highlights, including forró artists Maria Bonita and The Band from Brazil's northeast. Forró is a regional folk dance and music genre with roots in both Africa and Europe, a soulful, infectious mix of voice, accordion, violin, guitar, flute and percussion. Forró has become popular throughout Brazil, inspiring a new generation of musicians like Maria Bonita and The Band and another band, Zé Fuá, which performs the energy-packed Pernambuco style of forró.
Toronto-based musicians are well represented, too. The singer and songwriter Bruno Capinan marries samba, bossa nova and tropicalia, while singer Aline Morales has been steadily building her reputation from her Toronto home. Her last release has been touted "the finest Brazilian album ever produced in Canada,"(The Grid).
Tio Chorinho on the other hand is a newly formed local ensemble dedicated to performing Brazilian choro music in the tradition of the mandolin master, Jacob do Bandolim.
And it wouldn't feel like a Brazilian festival without a characteristic parade animated by a large group of booming drummers, a chorus, and dancers. The Afro-Brazilian troupe Maracatu Mar Aberto playing Maracatu de Baque Virado and other Pernambuco regional rhythms fills the bill rather nicely.
July 13 to 15, the SoundClash Festival appears focused on dance and hip-hop but even here significant world music content crops up.For well over four decades Benin's Orchestre Poly-Rythmo de Cotonou has performed a blend of Afrobeat, funk, soukous and other styles, often mixed with indigenous vodun rhythms. Having recorded a remarkable 500 songs, they have toured extensively though their Friday July 13, 9:30pm show is theirCanadian debut. I plan to be there.
The weekend of July 27 to 29 loosely explores the themes of what is "classical," and music made on stringed instruments. "Classical IV: Strings" embraces music made with the aid of cord stretched over a sound box and then plucked or bowed. Highlight concerts include the Masters of Malifeaturing world music star Sidi Touré on Friday, July 27. From Bamako, Mali, Touré is the winner of two national awards for best singer. He draws inspiration from his inherited Malian musical milieu but is also informed by western blues and rock. In 2011, Touré released his debut album Sahel Folkfor Thrill Jockey and then toured North America for the first time, taking him to prestigious venues and festivals, including New York's Lincoln Center and the Chicago World Music Festival. The songs on Koima, his critically-acclaimed second album, are his tribute to his native Songhaï music of northern Mali, the rhythms of which are called holley, shallo, takamba, and gao-gao.
Toronto's George Sawa, a leading Arabic music scholar, kanun (Arabic zither) player and mentor to several generations of musicians, has been a fixture of the local scene since his arrival from Egypt in 1970. He leads his Traditional Arabic Music Ensemble Saturday, July 28 at 1:30pm with guest Egyptian belly dancer Nada El Masriya, among the city's foremost exponents of the art.
Another Toronto-based ensemble, much newer on the scene, Minor Empire performs twice that evening. On the heels of its debut album, Second Nature, it has created a buzz in the Canadian world music arena through the forging of an accessible yet still adventurous style. Guitarist/composer/producer Ozan Boz and vocalist Ozgu Ozman co-direct Minor Empire. Based on traditional Turkish tunes, the group's repertoire is arranged by Boz who aims not so much for a fusion of Turkish and Western music, but "the result of both a collision and confluence of these disparate elements." The arrangements are abetted by Ozman's stylish vocals and the accompaniment of outstanding sidemen: Ismail Hakki Fencioglu (oud), Didem Basar (kanun), Debashis Sinha (darbuka, bendir, asma davul) and Sidar Demirer (saz).
Later on the evening's bill is Irshad Khan, among the leading sitar and surbahar (bass sitar) exponents of his generation. Born into a prominent North Indian musical family he received outstanding traditional instruction from his famous father Imrat Khan and uncle Vilayat Khan in sitar and raga, that all-encompassing rigourous musical concept merging melody, mode, scale, emotion, time and much more. A long-time GTA resident, Irshad Khan has not relied exclusively on exploring the vast possibilities of the Hindustani classical tradition, however. Rather, he has increasingly focussed his virtuoso sitar powers on searching for new ways to communicate with his Western audiences, including performing with musicians and musical forms well outside Hindustani classical tradition.
Tuesday, July 31 from 7:30 to 10:00 pm The Calypso Stars take over Harbourfront Centre. This two-and-a-half hour Caribbean music concert features calypso singers performing original songs from the annual Calypso Tents Music Series (CTMS). Top Canadian soca artists and special guests round out the event, including Macomere Fifi and Structure. Alexander D Great, a calypso master, recording artist, teacher, writer and winner of the Association of British Calypsonian (ABC) calypso monarch title in 2010 and 2011 is the evening's special guest. Virtuoso steelpannists, carnival characters on stilts called moko jumbies, traditional Caribbean drumming and limbo dancers from Trinidad round out the full program.
August 3 to 6 the Island Soul Caribbean festival commemorates the 50th Anniversary of Independence of two island nations of cultural and artistic significant to the GTA: Jamaica and Trinidad & Tobago.The party commences on Friday, August 3, 8 pm with a musical Tribute to Lord Kitchener. Lord Kitchener (Aldwyn Roberts) who has been dubbed the "grandmaster of classic calypso music" is among Trinidad's best-loved calypsonians, with a career spanning more than an astounding 60 years. Before Kitchener died in 2000, he penned hundreds of songs and recorded more than 40 albums. His songs became a staple with steel bands due to their catchy melodies and harmonic complexity. Toronto's Moses Revolution is the featured house band for the evening.
Afrafranto (butterfly in the Akan language of Ghana) takes the stage August 4 with "palmwine" sound, a West African brand of relaxed music featuring songs accompanied by (mostly) acoustic instruments. Palmwine is a music genre that evolved among the Kru people of Liberia and Sierra Leone. Portuguese guitars introduced by sailors were adapted to play Trinidadian calypso, a very popular genre in the mid-20th century Indigenous musical elements and lyrics were added to the mix, resulting in palmwine music, named after the local alcoholic palm sap drink. Afrafranto features two JUNO-award-winning members of the African Guitar Summit group: Theo Yaa Boakye on lead vocals and shakers, and Pa Joe on guitar and vocals, as well as Ebenezer Agyekum on bass guitar, Sam Donkor on balafon and Kwame Twum on percussion.
Monday, August 6 at 4pm the Caribbean Folk Performers (CFP) close the long weekend festivities. CFP is an Afro-Caribbean performing arts company based in Toronto, founded in 1988. The company's mission is to preserve and promote "traditional African and Caribbean culture through dance, music and drama." Its members perform a mix of African, Caribbean, modern and jazz dance, incorporating diverse styles and costumes, all accompanied by Afro-Caribbean music.
Planet IndigenUs running from August 10 to 19 showcases global Indigenous culture as it is practiced today. Book-ended by two weekend-long festivals Harbourfornt Centre hosts this citywide celebration which it claims is "the largest multidisciplinary, contemporary, international Indigenous arts festival in the world." Note: many of the events are scheduled off-site at the Woodland Cultural Centre in Brantford, ON.
In trying to tease out the world music-related items from the vast program, it occurred to me that many older indigenous performing arts are part of a culturally-specific social, ritual, or even game context, as in some traditional Inuit throat singing. That is true of music – which many of us typically treat as a separate definable discipline and profession – but which in some "traditional" societies is difficult to disincorporate from its concomitant and interwoven performative forms. Here I refer to performances which may include elements of dance, performance art, transformative costume, spoken word, social action and ritual utterance and action, in addition to what we may without question categorise as vocal and instrumental music. Yes music is there, but it's deeply embedded. Therefore to tag world music concerts within the Planet IndigenUs programming has generally speaking been a challenging proposition.`
No such confusion in the concert on August 11, however. The New Zealand trio, Pacific Curls, makes music that fuses traditional Celtic tunes and fiddling styles with jazz chord transitions and then imbues it with expressive vocals and politically savvy lyrics in Maori, Rotumanand English. With a backbone of Maori rhythms and instrumentation like thetaonga puoro, these three women (Halliday, Ora Barlow and Jessie Hindin) have pioneered a fusion sound that blends their indigenous roots with the reality of modern New Zealand. Pacific Curls also performs as part of "Celebrating the Crossroads – Opening Night Spectacle"on Friday, August 10.
Ashkenaz, North America's premier festival of Jewish and Yiddish culture closes out Harbourfront Centre's summer programming August 28 to September 3. Yemen Blues, the Israel/NY band, purveyors of high-energy world music fusion is one of the headliners; the band performs on September 2 at 9:30pm. More details will follow in my next column.
Further east along Harbourfront Centre's waterfront is the Toronto Music Garden, launching its 13th year of free summer concerts. Curator Tamara Bernstein has, as usual, programmed traditional music from around the world along with classical and jazz concerts. A few things to remember: concerts take place in the Music Garden most Thursdays at 7pm and Sundays at 4pm and are approximately one hour in length. Concerts proceed weather permitting. Please visit the website for more details. Here's a thumbnail overview of a few world music picks.
Thursday, July 12 ,7pm"Wassho!" features Toronto's taiko drumming troupe, Nagata Shachu.
Sunday, July 15, 4pm, "From the Gardens of India" showcases Bageshree Vaze (voice) and Vineet Vyas (tabla) presenting North Indian classical ragas, drawing on traditional Indian rustic themes.
JUNO-winning banjoist Jayme Stone's "Room of Wonders" is up Thursday, July 19, 7pm. His music is inspired by music from around the world, and joining him to perform it are Kevin Turcotte (horns), Andrew Downing (cello) and Joe Phillips (bass).
Sunday, August 26, 4pm, "Songs from an Ancient Garden" offers classical Persian music performed by the Shiraz Ensemble, led by Araz Salek with guest percussion virtuoso Pedram Khavarzamini.
Other concerts about town
World music is not limited to the Toronto waterfront in the summer. Witness the Cultura Festival at Mel Lastman Square, North York. Now in its third year, Cultura will run on Friday nights from July 6 to August 10. Though you won't find them in this issue's daily listings, here are just a few, of many, picks:
July 6, calypsonian David Rudder, who has been described as modern calypso's most innovative songwriter, performs live.
July 13, Autorickshaw, Toronto's gift to the cultural cutting edge, perform with their winning melange of contemporary jazz, funk, the classical and popular music of India. Exceptional Canada musicians, vocalist Suba Sankaran, tabla player Ed Hanley, bassist Rich Brown and percussionist Patrick Graham join forces for this iteration of Autorickshaw.
August 3,the Silk Road (Qiu Xia He, pipa and Andre Thibault, flamenco guitar) presents their blend of Chinese folk and classical music with Celtic, Latin, Arabic, Aboriginal, jazz, and blues.
August 10, Toronto's young Sarv Ensemble plays traditional Persian music drawing inspiration from diverse classical and folk traditions across Iran.
July 20, the JUNO-award-winning Quebec folk group Le Vent Du Nord's repertoire relies in part on traditional folk songs and in part on original compositions. I've seen them on stage and these four fine musicians convey an admirable esprit du corpsand a fine-tunedsensibility that moves any audience to its feet and in its heart.
On July 7, the thunderous roar of Japanese taiko drums will resound throughout the U of T's MacMillan Theatre. Under the aegis of the Toronto Taiko Festival, for the first time taiko groups from Eastern Canada and beyond meet under the banner of the drum to exchange skills and share stories, aiming to strengthen the taiko community. The festival is organized by Raging Asian Women Taiko Drummers (RAW), a collective of women who combine community building and healing through music as a way of achieving social justice. Performances by four groups are showcased: Yakudo, Nagata Shachu, RAW and Arashi Daiko, with a special guest appearance by Tiffany Tamaribuchi of the Sacramento Taiko Dan/ JO-Daiko.
Further afield
A sure indicator of the depths of summer for some is a leisurely drive to a signature Niagara winery. These days it's not only for the pleasure of exploring the verdant countryside and to taste some promising vintages, but also to experience novel culinary and even musical treats. On July 7, the Jackson-Triggs Niagara Estate at Niagara-on-the-Lake is the setting for a "Summertime Soiree," part of The Royal Conservatory's 125th anniversary year celebrations. After a gourmet dinner accompanied by fine local bottles, what could be more suitable than listening to the South African star Johnny Clegg at Jackson-Triggs' 500 seat open-air amphitheatre? Clegg is a Grammy nominee and Billboard music award winning singer, songwriter, dancer, anthropologist and a respected international musical activist. Over three decades he has sold over five million albums of his infectious blend of Western pop and African Zulu crossover music. Awarded the prestigious French Chevalier de l'ordre des arts et lettres, he's not unknown here either: his Koerner Hall RCM debut was sold out. I can easily imagine myself sitting amid lush Niagara vineyards with a glass of crisp riesling in hand, bopping and perhaps even singing along to Clegg's affirmations. Life is good – may you enjoy your summer too.
Andrew Timar is a Toronto musician and music writer. He can be contacted at worldmusic@thewholenote.com.Andrew Timar is a Toronto musician and music writer. He can be contacted at worldmusic@thewholenote.com.