Perhaps one of the most unexpected venues for regular world music performance in our town is the Richard Bradshaw Amphitheatre at the Four Seasons Centre for the Performing Arts. As a performance space it is both casually chic and spatially flexible. This month, with two concerts scheduled, I thought it would be an opportune time to examine both the institutional framework and artistic talent which serves up this perennially bountiful world music smorgasbord.

The COC has hosted a noon hour World Music concert series since its inaugural season in 2006, an integral component of their larger series of free concerts. Its ambition as noted in a COC press communiqué is to "reflect in its programming the richness of Toronto's cultural fabric and create an opportunity for people to experience the artistic excellence and cultural diversity of the city." Over the past seven years it has become a dependable showcase for international music, very often performed by top musicians who make their home in the GTA.
If success can be measured by audience attendance then the World Music concert series is a runaway hit; whenever I've attended there has appeared to be a full house. COC stats show that some 15,000 people annually enjoy the various free concerts on offer from September to June. This is no mere fluke. Obvious care has been put into the curation of the series, reflecting both what our performing artists are producing today and what will convince audiences to make the trek at noon to witness in person. If success can be measured by community engagement then a compelling case can readily be made for the concerts' collective breadth and depth. It's personally satisfying to see that Nina Draganic, the programming director of the free World Music concert series, has not forgotten the often neglected "c" word — challenge — in the rush to maximize patron numbers.
This season the seriesencompasses nine diverse concerts embracing music blanketing the earth. I counted music from South Asia, East Asia, Western Europe, the Caucasus, North Africa, South America and the Caribbean.
On November 6 under the rubric "Many Strings Attached: Spotlight on Sarangi" Aruna Narayan, a pioneering sarangi virtuosa, headlines at the Richard Bradshaw Amphitheatre. The sarangi is a North Indian bowed 39-string instrument of considerable vintage, its playing technique challenging to tackle and supremely difficult to master. Ms. Narayan, the only woman to play this instrument professionally, is the daughter of the renowned sarangi master Pandit Ram Narayan. He single-handedly established the sarangi, formerly exclusively used to accompany vocalists, as a soloist in Hindustani classical music. She will perform in the classical khyal manner a concert of ragas selected from those appropriate to the time of day, accompanied by the drummed metric framework provided by the tabla and by the tambura, the plucked string instrument that establishes the indispensable drone throughout the performance.
What is she doing when not performing at the COC? Narayan maintains an active sarangi teaching atelier at her home just north of the city and teaches it at regional schools. She also keeps up an international concert career, having appeared in recent years with her father at the BBC Proms, Royal Albert Hall and on India's Doordarshan TV, as well as premiering the sarangi part in Nolan Ira Gasser's World Cello for Cello and Orchestra with the Oakland East Bay Symphony. Nor has Narayan neglected home town audiences in her globetrotting. She's appeared in the Music Gallery's World Avant series, and crossed yet more musical borders in her 2007 performance with Toronto's Tafelmusik Baroque Orchestra in a novel intercultural interpretation of Vivaldi's Four Seasons.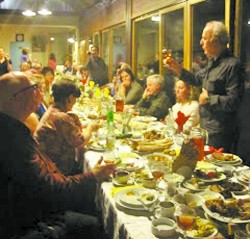 Darbazi: November 13 the COC's World Music concert series presents the Darbazi Georgian Choir directed by the charismatic tenor Shalva Makharashvili.The title of the concert, "Gideli,"meansa grape harvest container. It's not an unlikely thematic basket given that in Georgia fall is grape harvest season and the time to make the country's favourite beverage from its juice. Many Georgian songs praise the vineyard, the grape and wine as divine gifts. Such songs are also characteristic of the supra–but more of that later. The Darbazi choir's appearance in the COC series is a sharp counterpoint to the solo virtuoso concert tradition exemplified by Aruna Narayan, reflecting instead a kind of music making which is community based and polyphonic,
Founded 17 years ago in Toronto, the Darbazi ensemble passionately and exclusively focuses on performing the traditional polyphonic music of the various regions of Georgia, a mountainous country at the crossroads of Europe and Asia. Darbazi's concerts typically mine rich repertoire which ranges from meditative sacred Orthodox ecclesiastical chants to exuberant songs meant for horse riding, field working, drinking, dancing and general partying. An exciting new feature of their recent Toronto performances has been the addition of the Georgian dance group, Kakheti, with their elegant couple dances and hyper-extended male leaps and spins fuelled by sheer machismo.
When not performing at the COC, Darbazi — the core of which is composed of three women and seven men — does its share of gigs which include Toronto's Fete de la Musique and First Night, Montreal's World Music Festival, concerts in St. John's, Newfoundland and New York City. Yet over the years, no matter the gigs on the table, the choir has been on a quest for an ever deeper understanding of the place of music in Georgian heritage and identity. Furthering this key mission, Darbazi returned last month from its latest visit to the Georgian motherland where they learned new song repertoire from legendary Georgian cantors. They were also featured performers at the Recital Hall of the Conservatoire in the country's capital, Tbilisi, appeared on the Georgian TV channel, Imedi, and were feted at several supras — that most Georgian of feasts — a key site for social and cultural interactions. Back in Toronto Darbazi also does weddings, baby showers and funerals. I've attended a number of Darbazi-powered Toronto supras. In fact an impromptu supra-like moment sprang up at one of my recent birthday parties. I always felt it was at these community events — after the staged concert — that these songs came to vivid, palpable life.
Other Concert Picks: At the top of the month is the Day of the Dead Festival, Mexico's celebration of all that has passed, especially one's ancestors — our Halloween. Harbourfront Centre is marking it with a wide range of daytime cultural events on November 3 and 4. Musical performers at the York Quay Centre include the guitarist Pedro Montejo, the Café Con Pan group, Jorge Salazar, Viva Mexico Mariachi and Jorge Lopez.
Also on November 3, Small World Music presents the well-known Cuban singer and guitarist Eliades Ochoa at the Danforth Music Hall Theatre. First propelled to international attention as a member of the unlikely chart-topping Buena Vista Social Club, Ochoa is considered one of Cuba's top soneros. Proudly displaying his guajiro roots, his folksy music exemplifies one of the streams which feed into the powerful current of Cuban music. His repertoire includes songs in the son, Afro-Cuban, bolero, changüi and guaracha genres.
Staying with Cuban music, on November 9 Alex Cuba performs at Koerner Hall. The Cuban-Canadian singer, songwriter and multi-instrumentalist is launching his latest album Ruida in el Sistema (Static in the System), combining tasty elements of rock, pop, soul and Latin funk. In 2010, Alex Cuba was awarded a Latin Grammy for Best New Artist in addition to a nomination for Best Male Pop Vocal Album, so we know he has studio and vocal chops galore. In his new CD, four tracks in English demonstrate that he is settling nicely into his adopted land — yes, really, in Smithers, B.C.
November 7 at St. Stephen-in-the-Fields Anglican Church, Concerts at Middaypresents Viktor Kotov on the haunting sounding duduk, an Armenian double reed instrument, accompanied by Raisa Orshansky on tsimbaly, a trapezoidal hammer dulcimer from Belarus and Ukraine. Kotov's arrangements of European classical instrumentals, jazz standards, blues, Broadway and film music serve as a basis for his improvisatory style of playing the duduk.
November 10 and 11 we move musically to an island at the other end of the globe, Japan. Toronto group Nagata Shachu, led by Kiyoshi Nagata, performs "Work Songs"at their 14th annual live show at the Enwave Theatre. Artistic director Kiyoshi Nagata, whose career spans 30 years, explains: "In Japan there is a saying, 'Where there is work, there is song' ... often cheerful and uplifting." The concert, featuring many types of Japanese taiko, gongs, bells, wooden clappers, shakers, bamboo flutes and voice, is a tribute to labourers, farmers and fishermen.
The Métis Fiddler Quartet plays at the Alliance Française de Toronto on November 24. This young bilingual French-English group specialises in fresh and energetic interpretations of Canadian Métis and Native old style fiddle music passed down by elder masters from across Canada. This under-represented music chock full of wit, spirit and joy is worth searching out.
Touching on a few concerts early in December, on December 1 the Royal Conservatory presents Amanda Martinez at Koerner Hall. What more can I add to Metro's assessment of Martinez's Canadian-Latin singer-songwriter music, "reminiscent of the Latin songstress of days of old ... strong and defiant while soft and vulnerable." In this concert, featuring influences of flamenco and Afro-Cuban rhythms, bossa nova and Mexican folk music, she collaborates with Spanish producer Javier Limón
December 6 the University of Toronto Faculty of Music stages its annual free "World Music Ensembles Concert" at the MacMillan Theatre, Edward Johnson Building. This year's student ensembles include African Drumming and Dancing directed by Ghanaian master drummer Kwasi Dunyo, Klezmer by "klezpert" Brian Katz, and Japanese Taiko Drumming by sensei Kiyoshi Nagata. I used to attend this annual world music roundup eagerly when younger. Just two examples of my early discoveries were Balinese gamelan Semar Pegulingan and Southwest Iranian coastal folk music. What in the world will you discover? 
Andrew Timar is a Toronto musician and music writer. He can be contacted at worldmusic@thewholenote.com.