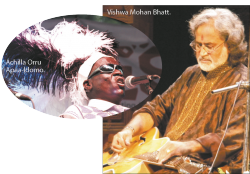 Every issue, I wade through The WholeNote concert listings, picking out events that highlight aspects of "world music"including its often conflicted identity, performance practice, instrumentation, genrefication, commercialization and reception. Some are easier to identify than others!
A concert self-labelled as flamenco, as is Jorge Miguel's concert on April 17 at Lula Lounge, seems fairly straightforward, for example. Likewise any concert tagged with a recognizable geographic location outside of the Euro-American mainstream or an established music genre with non-Western or hybrid origins — like samba. But hold on, is the "West" not part of the world? And what about mixed musical marriages, as exemplified by the April 28 concert by the Hungarian group Meszecsinka also at Lula Lounge? They also accurately reflect the real world we travel through and listen to and serve to remind us of the engines of transformation working within every healthy culture to knock down the genres we so lovingly construct.
Instrumentation, once a dead giveaway, can also be problematic as a world music marker. For instance the name of the Burmese instrument called the sandaya says more about the modal performance practices of Burmese music than the instrument, which is in fact a standard Western piano — or even these days perhaps an electronic keyboard. The Carnatic "mandolin" playing South Indian classical music is another case of repurposed terminology. It is actually a small solid body electric guitar adapted in its string tuning and popularized by the virtuoso U. Srinivas (b.1969). Similarly, the Carnatic "violinist" A. Kanyakumari often plays an electric viola which is nevertheless called a violin in programs and albums. On April 19 Toronto audiences can witness one such piece of instrumental rebranding at work at the Trinity-St.Paul's Centre concert by Vishwa Mohan Bhatt. He plays the mohan veena, an Indianized slide guitar, the manner of playing it some argue being partly introduced to India by Hawaiian musicians.
Another consideration is the context in which music is performed and mediated. Most events I cover here occur in concert halls large and small, in churches, or in clubs like Lula Lounge with a stage. In a feasting society like that of Georgia however food and drink are essential components of some kinds of traditional music performances. Before public concert halls were built the supra, a kind of elaborate well-appointed Georgian feast, was an excellent place to hear indigenous polyphonic singing. Georgian society has elevated feasting and toasting with wine to a consummate art form. You can experience a hint of this custom on April 6 at Toronto's Heliconian Hall where a tasting of Georgian organic wines accompanies performances of Georgian and Russian songs.
Concerts world wide are often a vehicle for the expression of public grief and tribute. In the case of the concert on Sunday April 7 at Lula Lounge for the recently deceased Uganda-born lukeme (aka "thumb piano") player Achilla Orru Apaa-Idomo, it will be the occasion of a celebration of a career. The concert features his bandmates African Guitar Summit, as well as Njacko Backo, Ann Lederman, Baana Afrique, Nhapitapi Mbira, Ruth Mathiang and Sani Abu of Ijovudu Dance. His "subway friends" join the party along with Kwame Stephens, Katenen 'Cheka' Dioubate, Lizzy Mahashe, and Kobena Aquaa-Harrison.
I, along with thousands of other commuters, heard Apaa-Idomo in passing at the Bloor St. subway station. His virtuoso amplified lukeme playing and textured singing bounced around the station foyer emanating from where he set up beside the concession kiosk. During the precious quiet moments in between trains it echoed down the subway platform. His sweet music inspired me to dream of collaborating with him musically, a possibility sadly now not to be.
That being said, the world's music will continue to echo through the halls of our city this month, a sweet reminder of the global musical renewal constantly under way all around us.
April 6 is a good place to start, with at least three world music concerts listed. As mentioned last issue, Small World Music/Wine Dine Africa presents the veteran Oliver Mtukudzi and Black Spirits in "The Voice of Zimbabwe" at the Phoenix Concert Theatre. The same day Diana Iremashvili presents an "Evening of World Music" at Yorkville's Heliconian Hall with Georgian and Russian urban romantic songs and "Russian gypsy" ballads. Featured are the mother and daughter vocal-guitar duet of Diana and Madona Iremashvili, with the added punch of Georgian song specialists Andrea Kuzmich (vocals and guitar), Bachi Makharashvili (vocals and panduri), singers Al Hakimov and Shalva Chxaidze, and Leonid Peisaxov on violin. If unusual repertoire smartly performed is not enough, insiders tell me that a rare multi-flight Georgian organic wine tasting rounds out the evening. It certainly sounds like a worthwhile occasion to revisit this warm-sounding 1875 carpenter's gothic board-and-batten church once again.
Also on April 6 the Toronto group ten ten performs a concert and album release titled "Odori ni Ten" (odori refers to Japanese dance) at the Robert Gill Theatre. The group features composer Aki Takahashi (shamisen, taiko and voice) and Heidi Chan (fue, taiko and voice). Yoshi Yamano on sitar and the taiko group Nagata Shachu add their booming drums to this cross-cultural collaborative.
April 11 the prize-winning Argentinian quintet 34 Puñaladas, four guitarists and a vocalist, appear at Lula Lounge. Among the youngest generation of tango bands, they aim to reinterpret and untangle the dark roots of urban tango music from the 1920s and 1930s in genre-appropriate guitar arrangements and lyrics often revealing gritty themes of thieves, prostitutes, drugs and the bitter love of the marginalized Portenos, the natives of Buenos Aires.
As mentioned at the outset of the column, April 17 Jorge Miguel Flamenco takes over the Lula Lounge in a program called "Una Vez, Cada Mes." Torontonian Miguel, a Spanish Canadian guitarist and composer, interprets the flamenco tradition through "the fingers, voice and feet" of an ensemble committed to the spirit of flamenco.
Also as mentioned, on April 19 Toronto's Small World Music launches its 11th annual Asian Music Series with Vishwa Mohan Bhatt playing Indian slide guitar and Subhen Chatterjee accompanying on tabla at Trinity-St. Paul's Centre.
The Asian Music Series continues May 4 with award-winning Rajeev Taranath, sarod soloist, at the Maja Prentic Theatre in Mississauga. From the recently introduced slide guitar here we move to the sarod, an instrument which entered the Hindustani instrumentarium perhaps in the 19th century and was modernized in the 20th. Taranath is one of its leading exponents. Master-student lineage is important in this music. Taranath is a distinguished disciple of the late sarod master Ustad Ali Akbar Khan (1922–2009) whom I saw give memorable performances several times in Toronto.
The Esmeralda Enrique Spanish Dance Company's concert premiere of their production of "Portales" on April 25 to 28 at the Fleck Dance Theatre highlights the multiple intimate relationships that often exist between social or theatrical dance and music. The performers include violinist Chris Church, guitarists Nicolás Hernández and Oscar Lago, singers Naike Ponce and Manuel Soto, and five dancers.
April 28, the extraordinary Hungarian group Meszecsinka appears at Lula Lounge. This Budapest band's lead singer, Annamária Oláh, sings in six languages: Hungarian, Roma, Bulgarian, Finnish, English and Spanish. The band members are natives of Hungary, Bulgaria and Algeria. Together they have forged an exciting, as yet untaggable, musical fusion, rooted in the folk music of the Balkans and Central Europe, to which they have added Latin, funk, drone, psychedelic and 70s experimental jazz musical features.
The May 5 "Mouth Music" concert by the Echo Women's Choir at the Church of the Holy Trinity, co-conducted by Becca Whitla and Alan Gasser, brings my Toronto picks to a close. Dance songs from Bulgaria, Macedonia and Georgia are featured in addition to other works. The guest vocalist, JUNO-nominated songwriter Maria Dunn who draws on the Anglo-Scottish-Irish folk tradition of storytelling through song, has been compared to Woody Guthrie for incorporating an engaged social awareness into her songs.
As always, taken as a whole, the results of this monthly amble through The WholeNote's listings, even if described as world music, sound like Canada to me. 
Andrew Timar is a Toronto musician and music writer. He can be contacted at worldmusic@thewholenote.com.