No doubt about it, it's a supremely busy time of year. It means not only attending to seasonal family rituals, as many of us are, but also for a returning grad student like me it means essays, seminars presentations, assignments and yet more papers to complete — but enough about me.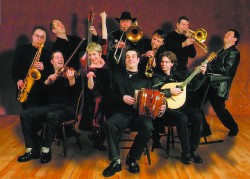 The year end is not only about completion, but also about reflection. Leafing through my back pages it seems that the past year has been a thematically ambitious one in this column. Beginning with ruminations on what World Music can be and who its performers and concertgoers are, I went on to examine the many ways Torontonians celebrate Black History Month. In turn the spotlight rested on the World Music recorded music category at the Juno awards, on the annual celebration in honour of South India's greatest composer St. Tyagaraja, and on the Lula Lounge's 10th anniversary shows. Billy Bryans' untimely death led me to re-consider Toronto's pioneer generation of world music performers, producers, venues and audiences, while the wealth of programing at Luminato and Harbourfront Centre stole the limelight in the summer issues. Fall colours ushered in a meditation on John Cage's Toronto composition for a veteran actor on this city's concert and world music scenes: the Evergreen Club Gamelan. In the last issue I horned in on the edgy electronic-centric "avant world" universe covered by the Music Gallery's X Avant Festival. It's been a musically packed, theme-filled year here.
As for my picks for this season's concerts, December for me usually means re-dipping into the history, mystery and magic of Christmas rituals. The Canadian "high energy Celtic World Beat quartet" Rant Maggie Rantputs their fans into the holiday mood with their programtitled "Frost & Fire — A Celtic Christmas Celebration" staged at numerous southern Ontario halls. Best check the WholeNote listings for details. Also, the high-energy La Bottine Souriante, Quebec's purveyor of French-Canadian music with pronounced salsa, jazz and folk influences, plays Koerner Hall on December 8.
If saudade puts you in the mood however, then perhaps Jessie Lloyd and Louis Simao's show "Fado, the Soul of Portugal" at the Green Door Cabaret will do the trick on December 1. On the other hand Amanda Martinez, our own Latin-Canadian singer-songwriter, might be the ticket to lifting your spirits at Koerner Hall on the same night.
At noon on December 5 at the Four Seasons Centre for the Performing Arts, four of Toronto's finest gigging world musicians troll the season's more whimsical global side in an all-ages concert titled "GrimmFest: Fairy Tales from Faraway Lands." The musicians are vocalist Maryem Tollar, Roula Said, vocals/dance/percussion, percussionist Naghmeh Farahmand, and Waleed Abdulhamid on bass/percussion/vocals. Also at the Four Seasons Centre on December 13 the Jeng Yi Korean Drum and Dance Ensemble, featuring Joo Hyung Kim on Korean zither, perform a program with the enticing label "Drums, Strings and Ribbons." If West Africa is where you'd rather be mid-December, then be there in spirit at the Dande Music Showcase's CD release concert of Bongozozo, an Afro-Jazz band with Zimbabwean roots, at the May Café on the 15th.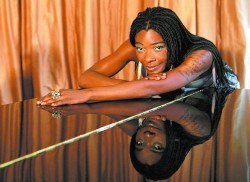 As much as December is about reflection, January and the New Year means new beginnings for many of us. The month starts slowly, but by January 18 it is in full swing with the concert by the groups Soledad Barrio, Noche Flamenca and the Jorge Miguel Flamenco Ensemble at the Royal Conservatory of Music. More flamenco, this time with a decidedly jazz-infused flavour served up by Buika, graces Koerner Hall on January 25. Ending the month on the afternoon of the 27th is Soundstreams' adventurous production of "The Three Faces of Jerusalem," including music and poetry exploring the shared heritages of Judaism, Christianity and Islam. Torontonian composer James Rolfe's as yet unnamed new work will be unveiled. On the traditional side of the program: Sephardic songs, Arabic instrumental and vocal works, as well as Lauda Jerusalem, by the great Italian renaissance composer Monteverdi. I think it's a fittingly optimistic way to greet the New Year. May yours be peaceful and filled with music. 
Andrew Timar is a Toronto musician and music writer. He can be contacted at worldmusic@thewholenote.com.