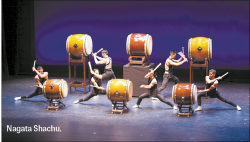 Fall has already made is chilly presence known in Southern Ontario and not just in terms of the weather. Sad news greeted me on September 17. My friend, the composer and veteran radio music broadcaster Larry Lake, passed away; more on his career elsewhere in this issue. Larry had a hidden side. He was an "early adapter" of world music in a few of his compositions, a little-known engagement I may write about in a future column.
As is almost always the case I've had to omit, with regret, a number of concerts on my short list. This column could easily have been twice as long.
12th annual Small
World Music Festival continues
Last issue I wrote about the 12th annual Small World Music Festival which began September 26, and continued October 2 at Lula Lounge with what was billed as a "one-of-a-kind musical mashup," featuring the award-winning jazz and hip-hop Toronto trumpeter Brownman, playing with the Cuban rappers Ogguere and Telmary best known for their ground-breaking Cuban genre fusions of mambo, son, cha cha cha and rumba, underscored by hip-hop and reggaeton.
October 4 the group Mashrou' Leila, Arabic for "an overnight project," plays Lee's Palace in their Toronto debut. Acclaimed as "the voice of Arabic youth" and "one of the most significant young bands in the Arab world," the six-musician Lebanese group use politically charged lyrics and absurdist videos to ride the wave of youthful optimism generated around the Arab spring. Hamed Sinno, the group's leader and main lyricist, addresses the current social revolution with positive social messages and art-school ironic detachment. Their instrumentation of violin, bass, two guitars, keyboard and drum set doesn't betray the ethnic Middle Eastern origins of the band but rather serves to connect their audiences to the familiar transnational popular culture they feel part of.
October 6 DakhaBrakha closes the Small World Music Festival with a concert at the Revival Bar. The Kyiv quartet has invented a kind of world music which infuses their theatrical interpretative reworking of Ukrainian village music — folk costumes and all — with a rock- and even at times a trance-like sensibility. Their core instrumentation of closely miked cello, floor tom, djembe, darabuka, harmonica and Jew's harp, along with occasional keyboard synth lines, support the group's soaring village-inflected vocal solos and powerful close harmony refrains. I attended their 2012 North American debut concert at Luminato. Their songs were in turn emotionally intense, chilled out, but then delightfully stylistically odd-ball. Moreover you don't have to understand DakhaBrakha's Ukrainian lyrics to appreciate the sheer quirky emotive force of their music making.
More Picks
October 5, at the First Baptist Church in Barrie, at 2:30pm, the Colours of Music Festival showcases the music of banjo virtuoso Jayme Stone and his band in "The Incredible Banjo." I have written admiringly of Stone's music before in this column. I suspect therefore that many readers — and of course his fans — have a good feel for the vast range his music projects encompass, including Bach, Appalachian covers, a banjo concerto and explorations of the banjo's Malian connections. Sidemen trumpeter Kevin Turcotte, cellist Andrew Downing, Joe Phillips on bass and drummer Nick Fraser provide the deliciously dexterous musical backing.
October 8 at noon "Sketches of Istanbul" performed by the Anahtar Project graces the Canadian Opera Company's World Music Series at the Richard Bradshaw Amphitheatre. For his Anahtar Project, award-winning composer and cellist Andrew Downing has booked percussionist Debashis Sinha and clarinettist Peter Lutek. The three Canadians are joined by the Turkish oud virtuoso and composer Güç Başar Gülle in a cross-cultural collaboration. Inspired by the mosaic of cultures and people of the ancient city of Istanbul, audiences can expect explorations fusing Turkish-Ottoman classical makam music with Western performance sensibilities and musical forms. Jazz procedures are also prominent. Here's some tantalizing insider news: the group will be "playing challenging and beautiful compositions by Andrew Downing and Güç Başar Gülle."
October 10 the COC's World Music Series continues with "Hibiki! Echoes of Japan" performed by Toronto's favourite daiko group Nagata Shachu at the Richard Bradshaw Amphitheatre. Celebrating its 15th season, Nagata Shachu is one of our city's musical treasures, hailed by the Toronto Star as "... one of the world's most interesting Japanese taiko drumming ensembles." Its music includes not only a wide range of heartbeat-quickening Japanese drums but also various bamboo flutes, stringed instruments and voices. I've seen the group, led by Canadian-born taiko master Kiyoshi Nagata, several times over its history and its performances are invariably filled with a high level of ensemble musicianship coupled with mental and corporeal discipline.
Uma Nota Festival of Tropical Expressions
Running from October 17 to 20, the third annual Uma Nota Festival of Tropical Expressions is the biggest yet. The festival features Afro-Brazilian, Caribbean, Latin, funk and soul music performed by both live acts and DJs from Brazil, U.K. and New York in addition to the cream of the local scene. Out of four days chock full of events, I have space here only to dip into its engaging family-friendly "Community Cultural Fair." For the rest of the concerts check The WholeNote listings, or the festival's website which offers detailed information.
Sunday, October 20 the Uma Nota Festival offers an ambitious daylong Community Cultural Fair at the Lula Lounge. It begins with live music performed by Toronto's Tio Chorinho, a choro ensemble led by mandolin player Eric Stein. Choro, a melodically and harmonically adventurous instrumental genre from Brazil which came of age in Rio de Janeiro in the 1920s, has been described as "the New Orleans jazz of Brazil." The highly regarded Brazilian "fingerstyle" guitar master Rick Udler, one of Brazil's first-call guitarists, follows. If you had any doubt that the brass band form is making a comeback in jazz just listen to the Heavyweights Brass Band featuring five young Toronto musicians taking the stage next. This favourite among the Uma Nota and local jazz audiences plays New Orleans style jazz, but also funk, Latin, soul, and reggae favourites which are guaranteed to inspire impromptu dancing. The sets continue with Forrallstar, the Uma Nota Festival-produced "super band," comprised of the city's top Brazilian forró players led by singer/guitarist Carlos Cardoso. DJ Mogpaws closes the concert spinning recordings of Brazilian soul, funk, jazz, reggae and electronica from the studios, fairs and streets of Rio and São Paulo, plus the states of Bahia and Pernambuco.
At 2:30pm talks and workshops take the Lula floor. A few sessions of interest: son jarocho and other Mexican folk dances and music led by the Café Con Pan duo, and Coco de Roda, a Northeastern Brazilian dance/game led by Maracatu Mar Aberto and Professor Sapo of Capoeira Camara. BTW, while it may be a bit early in the day, I'm tempted to take in the Caipirinha-making workshop.
Two More Concerts
Back at the Richard Bradshaw Amphitheatre on November 5, the COC's World Music Series presents "Meditations for Bass Veena" by the Toronto group Monsoon:Synthesis. The bass veena, a remarkable new instrument, was designed in 2010 by bassist Justin Gray along with Canadian luthier Les Godfrey. They adapted and extended the fretless electric bass making it into an instrument suitable not only for Hindustani classical but also for Indo-jazz music. Gray, the first musician to perform North Indian classical music on the electric and acoustic basses, leads Monsoon: Synthesis on bass veena. He is accompanied by Ed Hanley on tabla and Derek Gray on Tibetan bowls and percussion. The trio references both North Indian ragas and original compositions by Justin Gray, conjuring a sound world that promises to take the downtown audience on a sub-continental musical journey.
Wrapping up this issue, on November 7 the Ger Mandolin Orchestra, performs at the George Weston Recital Hall at the Toronto Centre for the Arts, produced by the Ashkenaz Foundation. It was a photograph of a pre-WWII Jewish mandolin orchestra in the Polish town of Gora Kalwaria (Ger in Yiddish) and the realization that most of its members perished in the Holocaust that originally inspired Israeli-American Avner Yonai to re-form just such an ensemble. The Ger Mandolin Orchestra, led by the Grammy Award-winning multi-instrumentalist Mike Marshall, is the result of Yonai`s unique memorial to his own family and the original orchestra members. This is an all-star international group of ten mandolinists recreating a musical form that in the first half of the 20th century was among the most popular forms of Jewish community music making both in Eastern Europe and in immigrant communities of North America. The group's repertoire embraces klezmer and Yiddish music along with Russian, Ukrainian, Polish, Czech, Italian and classical selections. This concert would be one eminently fitting way to observe Remembrance Day (November 11) with music reborn. 
Andrew Timar is a Toronto musician and music writer. He can be contacted at worldmusic@thewholenote.com.