June in toronto used to signal the beginning of a slow hot musical slide into picnic season. With concert activity winding down, many performers and audiences alike left town to relax at rural lakeside cottages. Not so these days. Now a plethora of curated festivals and single musical events fills the summer urban days and evenings for those who stay in the city. I have space to explore just a few. Therefore please excuse me if your favourite artist or musical genre is not mentioned.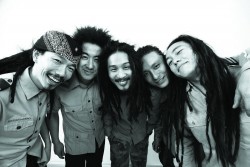 Luminato Festival: Luminato is perhaps the signature festival opening the door to the open-air concert season. Luminato's ten-day "festival of creativity" runs from June 14 to 23. Its music components' buzzwords are "diversity," "collaboration" and the notion of seduction that goes on between artistic disciplines, programming principles articulated by festival artistic director Jorn Weisbrodt at the unveiling event in April.
Perhaps no other Luminato feature more enthusiastically embraces such a broad artistic mandate of collaboration — in this case imbued with a distinctively international music palette — as the chamber opera Feng Yi Ting. Running June 20, 21 and 22 at U of T's MacMillan Theatre, it was created by the respected Chinese contemporary composer Guo Wenjing. His 2004 score expertly blends Chinese and Western musical vocabulary, instrumentation and textural and harmonic worlds. The composer furthermore draws on two contrasting regional Chinese operatic styles of personal interest: Beijing opera, with its contained and polished singing, and the exuberant and highly ornamented vocalism of Sichuan opera. These disparate musical elements are effectively superimposed and fluidly recombined in Feng Yi Ting.
Adding measurably to the opera's allure was the production directed by the celebrated Toronto film and theatre director Atom Egoyan [also directing the Luminato performances] whose contribution "proved a significant part of its attraction, not least because, like the score, it offers a ... blend of ancient Chinese and modern Western theatre technologies." This fascinating production can be viewed through multiple facets of cultural globalization: as an explorative presentation of elitist art cross-pollination and mash-up; and also as the transition of traditions. I'll be there in the audience to experience it firsthand.
In addition to Feng Yi Ting, I count some 11 other acts handpicked by veteran curator Derek Andrews that fill out Luminato's world music offerings. While each is worthy of our attention I only have room for a few picks. It's also worth noting that as in previous years many performances are free. Please check the Luminato website, print media and of course The WholeNote listings for pertinent details.
The Festival Hub at the David Pecaut Square is Luminato's outdoor stage, welcoming audiences with a sharp focus on world music. On Saturday, June 15 the "Reggae Around the World" concert includes the six-member pioneering Beijing group Long Shen Dao making their North American debut. Their name — a clumsy English translation is "The Way [Tao] of the Dragon God" — reflects the group's statement that while they are "not Rastafarians, reggae music, like a warm breeze, is accessible to people no matter where in the world they come from." Musically, the band combines rock, ska, reggae, hip hop and other popular music genres along with Chinese instruments like the zheng (plucked zither). "One World," indeed.
The next day, June 16, two outstanding performers energize the Hub stage. The Tuareg guitarist Omara "Bombino" Moctar of Niger has garnered international acclaim for performances of his songs, whose lyrics often carry a message dedicated to peaceful coexistence in his war-torn homeland. Musically, Bombino marries rock — he's a big Hendrix fan — and the tende music of the Nigerian nomads. Amadou and Mariam follow on stage. The couple's infectious blend of Malian songs has since the 1990s added intercultural instrumentation to create a style dubbed "Afro-blues."
That same evening the stage will be set for DakhaBrakha. Meaning "give and take" in old Ukrainian, the Kyiv-based quartet has invented a surprising genre of world music. While perhaps only indirectly linked to the Toronto-Ukrainian urban folk revivalist scene I explored in my May 2013 column, it certainly shares the same spirit. Founded in 2004 by avant-garde theatre director Vladyslav Troitskyi, DakhaBrakha began singing old Ukrainian village music but then added Russian, African, Indian, Arabic and Australian instrumentation to the mix. Calling the result "ethno-chaos," their exciting transnational sound makes its North American debut at Luminato. In a bit of inspired programming, since the two have so many interesting points of intersection as well as divergence, DakhaBrakha opens for the "queen of performance art music" Laurie Anderson. I have a personal sweet spot for Anderson's work: in the mid-70s I was hired to play bassoon in her band at the Art Gallery of Ontario.
June 20, the a cappella quintet H'Sao entertains the Hub audience. Originally from Chad, the five-voice group moved to Montreal in 2001. From that home base they continue to develop and internationally tour their taut, richly textured and rhythmically vibrant choral sound.
June 23 at 2pm, Luminato-goers are in for a rare treat: garifuna music indigenous to the tiny Central American nation of Belize performed by the eight members of the Garifuna Collective. Ivan Duran leads his group singing and playing a style of vivid drum, shaker and guitar-based Afro-Amerindian dance music making its Canadian debut at the festival. The Kitchener native singer-songwriter Danny Michel joins the Garifuna Collective in the next set. Together they perform songs from his 11-album career.
Harbourfront Centre Festivals: Long before Luminato lit up outdoor Toronto venues, the Harbourfront Centre's summer music-centric festivals animated the waterfront. Under the banner "The World in One Place," each summer audiences by the thousands witness emerging as well as leading world music acts with a different ethnic or national theme each weekend. Harbourfront Centre's world music programming is divided among two locations: the main 10-acre multiple-venue site and the Toronto Music Garden further to the west along Queens Quay.
Toronto Music Garden: The Music Garden presents a series of free concerts most Thursdays and Sundays all summer long called Summer Music in the Garden. My first pick, on July 21, is titled "Send Me a Rose," featuring music from China, the Middle East and Europe performed by the Lute Legends Ensemble. Three international representatives of the lute comprise the ensemble: lutenist Lucas Harris, Wen Zhao on pipa and oud master Bassam Bishara.
July 25, make a date for "Evening Ragas by the Water." Sarangi maestra Aruna Narayan is joined by Vineet Viyas on tabla and Akshay Kalle, tanpura. The sarangi, a North Indian bowed many-string instrument, is renowned for its ability to represent the nuances of the human singing voice. In Narayan's masterful hands we will hear it sing with emotional depth and virtuosity.
August 8 visit "A Taiko Tale of Two Cities" performed by the Nagata Shachu ensemble, one of Toronto's favourite Japanese drumming and flute groups. Montreal's Constantinople Ensemble performs music with a transcontinental scope — from the African Mandingo kingdom to the Persian court — on strings and voices August 11. And deep in the heart of August (on the 18th), Swamperella, Toronto's preeminent Franco-American hybrid Cajun music tribute band turns the Music Garden into "Cajun in the Cattails."
Harbourfront Centre: There's a themed Harbourfront festival every summer weekend. I only have space for a few selected picks, so again best refer to the listings.
July 1, the summer at the always-crowded (in a good way) Harbourfront Centre kicks off with the "Canada Day Weekend Celebrations." As usual, world music is represented. This year the multiple award-winning Cuban-Canadian singer-songwriter Alex Cuba, with his fusion of funk, jazz and Latin pop, is among the WestJet Stage headliners.
July 5, the Lula All Stars presents a concert of salsa, followed by Chico Trujillo with his trademark cumbia punk music. July 6, the hot Latin Grammy award-winning Mexican group 3Ball MTY performs songs in musical genres variously labelled Latin house, tribal-guarachero and electronic cumbia.
July 19, 20 and 21, the three-day Tirgan Festival celebrates Toronto's increasing connection to the visual arts, food, crafts, dance and music of Iran. The recently formed London, England-based group Ajam is the weekend's featured musical ensemble, describing its style as "Iranian Roots Music."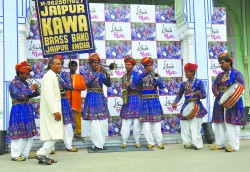 July 26 and 27, the auspicious sounds of the Jaipur Kawa Brass Band from Rajasthan, performing music from Bollywood and regional folk traditions, will resound at the WestJet Stage.
A must-have at regional weddings, they're a must-see for Harbourfront visitors.
Afrofest at 25: Afrofest, Toronto's biggest African festival, is celebrating a significant anniversary: its 25th. On June 12 the festival launches at the Gladstone Hotel ballroom co-presented by Music Africa and NXNE. Outstanding bands including Njacko Backo (Cameroon), Madagascar Slim (Madagascar), Tich Maredza Band (Zimbabwe), Foly Asiko (Nigeria) and Midnight Trinity (Botswana) will perform. Then on July 6 and 7 various music and dance groups and their respective African communities will be out in force in the green surroundings of Woodbine Park. There the real outdoor musical magic takes place in its appropriate milieu, among the food and craft stalls and the arts of Africa.
City Hall Square Concert Series:
Some Quick Picks
The City of Toronto presents a concert series Thursdays during July and August at Nathan Phillips Square starting at 12:30pm. Called "Tasty Thursdays," in homage to the international dishes for sale, the series delivers on its motto "celebrating the world in Toronto" by presenting concerts with a global musical flavour.
July 11, the NYC band Matuto steps onto the stage with its startling mix of Brazilian forró and Appalachian bluegrass. Montreal's Bombolessé merges Portuguese, French and Spanish lyrics with an equally syncretic selection of musical genres into a festive dance-forward performance on July 25. On paper the group reads much like urban Canada sounds these days.
August 15, the Ghanaian-Canadian urban folk, pop, rap and soul maestro Kae Sun will touch the assembled with his poetic observations of the human condition. Finally, on August 22, the Lemon Bucket Orkestra, Toronto's often zany tribute to Ukrainian, Balkan, gypsy party and klezmer music, rocks the City Hall square.
Signing off for the summer, I wish all readers a relaxing and re-energizing summer full of music. Thanks for reading and listening. 
Andrew Timar is a Toronto musician and music writer.
He can be contacted at worldmusic@thewholenote.com.