Looking to expand your own musical horizons but don't know where to start? Below is a short list (by no means comprehensive) of commuity education organizations offering classes in a variety of world music traditions.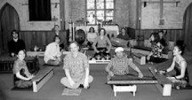 But first, some concert highlights for this month. The 8th Annual Small World Music Festival runs September 24 to October 4 at various venues, and features 23 artists from 20 countries, including Zakir Hussain with Béla Fleck and Edgar Meyer (September 29, part of the Grand Opening concert series at the RCM's new Koerner Hall), Tasa, Bajofondo, Electric Gypsyland, Beyond the Pale, Omnesia Live, to name just a few. See our listings, or visit www.smallworldmusic.com for full details. The Klezmer Kids, from Winnipeg, perform September 12 at the Winchevsky Centre, 585 Cranbrooke Ave., followed by a workshop the next day. (www.winchevskycentre.org or call 416-789-5502); and KlezFactor, Toronto's "alternative" klezmer band, performs at the Tranzac Club, September 29. Finally, Bernardo Padron and his band are at Hugh's Room, October 1 (Venezuelan influenced jazz, with Alan Hetherington, Mark Duggan, Marylin Lerner and Andrew Downing).
Arabesque Academy
1 Gloucester Street, Suite 107
416-920-5593
In addition to being one of the best places in the city to study the art of belly dance, (including an auditioned professional course), Arabesque Academy offers classes in Arabic instrumental music. At the time of writing, the fall schedule was not available, but check their website for updates. Music classes are offered by noted local Arabic musicians Dr. George Sawa, Bassam Bishara and Suleiman Warwar on a variety of traditional instruments including dumbek, Qanoon, Naye, Oud, Voice, Violin, Saz, as well as history and theory.
Clapping Land – songs, movement and rhythm for young children
Sophia Grigoriadis
416-220-8161
sophia@clappingland.com
"Through moving, singing and instrument play, music opens those crucial pathways for your child's language and social development and physical coordination, giving opportunities for creative thinking and exploration." Classes begin soon in the following age ranges: Newborn to 18 months; 18 months to 3 years; 3 to 5 years. Check the website for schedules and registration.
Gamelan Degung Sora Priangan
"Voice of the Spirit of the Ancestral Mountains"
Arraymusic studio, 60 Atlantic Ave. Suite 218 (rehearsal location)
atmar@istar.ca (Andrew Timar, contact)
Sora Priangan is the Evergreen Club Contemporary Gamelan's community group, directed by Andrew Timar. The instruments and repertoire are indigenous to the highland Sundanese people of West Java, Indonesia. Sora Priangan's mission is to foster an understanding and appreciation of the gamelan degung music of West Java, and the unique repertoire commissioned by its parent group, the Evergreen Club. Membership is open to the public, and the group presents concerts and workshops. Rehearsals are Tuesdays 6-9 pm.
Kathak Dance
355 College St., second floor
416-504-7082
joanna@mdo-tte.org
In partnership with the Toronto Tabla Ensemble, Joanna de Souza offers classes in North Indian Kathak dance, from beginner to professional levels, in the Kensington Market area. For full schedule and registration, visit the website.
Koffler Centre of the Arts
Prosserman JCC's Donald Gales Family Pavilion
4588 Bathurst St
416-638-1881 x4269
registration@kofflerarts.org
In addition to a number of music classes and workshops offered by the Koffler Centre, new this fall is the opening season of the Toronto Jewish Chorus, under the direction of Judy Adelman Gershon. Auditions to be held in the fall.
Miles Nadal JCC
750 Spadina Ave., at Bloor
416-924-6211
info@mnjcc.org
In addition to a vast array of recreational and cultural activities, the Miles Nadal Jewish Community Centre offers a number of music classes, including a Community Choir, Women's Chorus, and Klezmer Ensemble. See their website for schedules.
RCM Conservatory School
273 Bloor St. West
Back in their newly renovated old location, the Royal Conservatory offers a number of community classes in world music traditions, inbcluding Brazilian Samba, Celtic-Canadian Fiddling, Latin Jazz, Taiko Drumming, and a World Music Chorus. Visit their website, click on "brouse courses," then "world music" for schedules and registration.
Samba Kidz
Drum Artz Studio, 27 Primrose Ave. (Dupont/Dufferin)
416-538-6342
info@drumartz.com
Run by Drum Artz Canada, the Samba Kidz fall 2009 session begins September 29, Tuesdays from 5:30-7:30pm. This multi-arts programme for kids aged 7-14 encompasses group-inspired world drumming, steel pan, dance and visual art projects culminating in performance opportunities throughout the city.
Samba Squad
Drum Artz Studio, 27 Primrose Ave. (Dupont/Dufferin)
slamdog@sympatico.ca
Lead by Rick Lazar, Samba Squad offers workshops in Brazilian Samba (beginners welcome) most Sundays all year round from 11:30am to 1:30pm. No need to sign up in advance. Instruments are provided. Bring your own ear plugs and a tape recorder if you wish. Some "graduates" become members of Samba Squad itself.
Toronto Tabla Ensemble
355A College St. West
riteshdas@tablaensemble.com
416-504-7082 x1
Ritesh Das offers classes in North Indian tabla drumming, from beginner to professional levels, in the Kensington Market area. See the website for full schedule and registration.
Worlds of Music Toronto
416-588-8813
info@worldsofmusic.ca
For years, Worlds of Music has been a wonderful source of world music classes and workshops in a wide variety of traditions. At time of writing, the fall schedule does not appear to be in place; but do check their website or call for details.