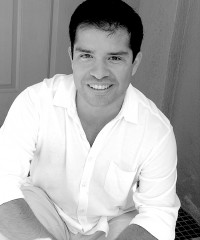 For almost a decade, Toronto's Lula Lounge, on Dundas St. West, has been a hub of musical activity, most notably as an informal dining lounge and bar that has served up some of the best in World music over the years. On October 8, Lula's co-founder and Artistic Director José Ortega was presented the 2010 Roy Thomson Hall Award of Recognition, one of several Toronto Arts Foundation Awards presented at the annual Mayor's Arts Awards Lunch. The Roy Thomson Award is intended "to recognize creative, performing, administrative, volunteer or philanthropic contributions to Toronto's musical life." And who better than Ortega to receive this award – in addition to being Lula's artistic director, he also overseas its outreach and educational programmes, and has volunteered his expertise in programming to music festivals throughout the city. And he's also an internationally known visual artist who has donated works to various projects. I asked Ortega to talk a bit about the Lula Lounge, his own artistic life, and the award.
In addition to being co-founder and artistic director of the Lula Lounge, you are also a visual artist. Can you talk a bit about your background in art? I grew up in New Jersey and studied at the School of Visual Arts in New York City. I've worked as a commercial illustrator since 1986, doing book covers, posters, postage stamps, packaging, and public art projects for a variety of clients including NYC's Metro Transit Authority, Macy's, Absolut, the U.S. Postal Service and the Buckingham Hotel in Manhattan. Since moving to Toronto, I've done a lot of design work related to the city's Latin jazz and salsa scenes: projects like CD covers for David Buchbinder, Hilario Durán and Alexis Baro, as well as many poster designs for Lula. Over the years, my work has been included in group exhibitions both here and in the U.S., and last summer I had a solo show in Seoul, Korea. Over the past four years, I've contributed mural designs to our local BIA for large murals in the Dundas West area.
How and when did you come to create what we now know as the Lula Lounge, and who were some of the very first performers? We opened Lula is 2002. At the time, we were working as part of a not-for profit organization called Open City that organized weekend-long community arts festivals. These events had outgrown the private, warehouse space at 2 Federal that we were using. My business partner (José Neives) and I decided to take the plunge and buy a formal venue space. We felt that there was a void in Toronto's live music scene that we hoped we could fill. It seemed to us that Toronto artists working outside of the mainstreams of North American music needed a high calibre performance space that they could launch new projects in.
Our very first performer was Cuban singer Isaac Delgado. The first local acts included many Canadian artists who have since made names for themselves on the national music scenes. Performers such as Amanda Martinez, Hilario Durán, Eliana Cuevas, Alexis Baro, Luisito Orbegoso. In the early days, we also hosted alternative bands like Metric and Feist; international performers have included Norah Jones, John Cale, the Mahotella Queens, Carl Palmer, Eliades Ochoa, Randy Brecker, El Negro and Ricardo Lemvo to name just a few.
What is your mandate or vision when it comes to programming? Our programming initially focussed on latin jazz and salsa but over the years has grown to include everything from rock to chamber to blues, African, Brazilian and other world music. Partly because of the high quality sound system at Lula as well as our commitment to providing the best performance experience that we can for the artists, we've had the pleasure of developing long term relationships with groups like the Gryphon Trio and organizations such as Small World Music and Batuki Music Society as well as individual artists such as Hilario Durán, Roberto Occhipinti, Dominic Mancuso and many many more.
The not for profit that we grew out of has changed it name to Lula Music and Arts Centre. Through that organization we continue to support Afro Latin Brazilian forms as they evolve in a Canadian context. At the same time, we try to build bridges across communities by bringing artists from different cultures together to realize various projects.
At lot of what we do is really facilitating musicians, organizations and presenters in creating their individual projects. These eight years of running Lula have lead us to the realization that in order to have a vibrant music scene, the city needs spaces where artists can realize their own visions, rather than trying to fit into the vision of programmers and venue owners.
Because of our world music programming direction and the quality of the performance experience that we strive for, we are often sought out by international, touring, world and Latin artists. So even on the international level, much of what we present seeks us out, rather than the other way around.
In addition to being a music performance venue, what other projects is the Lula Lounge involved with? Over the past few years, as Lula Music and Arts Centre, we've been involved in many projects outside of the walls of Lula. We helped to create the band SalsAfrica – a project that began in 2008 to bring together Latin, African and jazz musicians in order to explore the African roots of salsa. We've contributed to programming at Samba on Dundas, Harbourfront's Ritmo y Color, Salsa on St. Clair and Luminato. Each May, we produce a world music festival called Lulaworld to showcase Canadian world musicians. Lula Music and Arts Centre also runs a very successful programme for high school French, Spanish and music students...
What does it mean to you to have won this award?
Of course, I was personally thrilled to have won the award. But I think that all of the Lula team including many of the musicians and community partners saw the award as recognition of the immense contribution that the Latin, Brazilian, African and other world musicians are making to the cultural vibrancy of Toronto. It feels like affirmation of our early intuition that there was a void in Toronto's musical landscape that needed to be filled. We do need affordable spaces for artists outside of the mainstream to do their thing. The award also seems like confirmation that the health of the city's musical life depends on embracing diversity and providing opportunities for the incredible wealth of talent that has made Toronto its home.
Who/what are some of the "not to be missed" performers/concerts coming up at the Lula Lounge in the coming months?
We're really excited about our new Sunday brunch program. This weekly event is an extension of other family friendly projects that we're working on. The brunches include live Cuban Son by Luis Mario Ochoa's Traditional Quartet. We've got the Roberto Linares Brown Orchestra on December 18th and New York based Gary Morgan is back with his PanAmericana project on December 29th. New concerts get added all the time so please check the schedule at www.lula.ca!
What other projects are you involved with personally, either as a visual artist or in other capacities, ongoing or coming up in the future?
I'm currently working on a "love" stamp for the U.S. Postal service to be released in time for Valentine's Day 2011 as well as on a public art project for the municipality of Guyaquil, Ecuador. Over the next year, I want to work on a documentary about Lula and the artists and communities that make it what it is. Besides continuing to program and do design work for Lula, I'm hoping to find more time to work on my painting. Over the past few years, I haven't had nearly enough time to work on my own art but I hope to change that in 2011.
Some Upcoming World-Music Events
• Luis Mario Ochoa performs at Lula's Family Sunday Brunch till Dec. 19, noon – 3 pm.
• Pandora's Box Salon presents Around the World in 80 Minutes, December 5 at the Aurora Cultural Centre, featuring music and dance from India, Egypt, Iran, Bali, Africa, and Europe.
• The Pearl Company presents Celtic band "Rant Maggie Rant," December 11, 16 Steven St., Hamilton. Traditional Celtic music combined with Latin percussion and Appalachian swing.
• Echo Women's Choir performs December 12 at Church of the Holy Trinity. In addition to settings of text by Margaret Atwood (from The Year of the Flood), they'll also sing two South African songs in their original languages, and a composition by co-choir director Alan Gasser (a setting of words by Desmond Tutu), Three Appalachian Love Songs and other works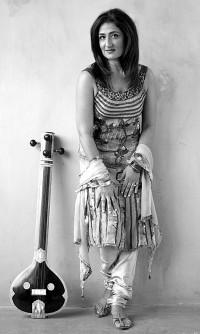 • Juno Award-winning vocalist Kiran Ahluwalia performs North Indian ghazals and Punjabi folk songs at Koerner Hall, January 22. Opening for her is seven-member instrumental/vocal /dance ensemble Rhythm of Rajasthan.
And, a big congratulations to Toronto's Klezmer/East European folk band Beyond the Pale for winning the "Instrumental Group of the Year" and "Pushing the Boundaries" awards at the sixth annual Canadian Folk Music Awards held in Winnipeg this November!
Karen Ages can be reached at worldmusic@thewholenote.com.