I'll begin where I left off last month, with a reminder about Nagata Shachu, Toronto's own Japanese taiko drumming ensemble, who present a new programme titled "Iroha" (colour), directed by Aki Takahashi, with lighting by Arun Srinivasan, November 5 and 6 at Fleck Dance Theatre. Each piece on the programme is inspired by a colour. In addition to drumming and the use of other traditional instruments, the programme includes some choreography.
November 6 is also the date you can catch the Ukulele Orchestra of Britain, performing at the University of Toronto's Convocation Hall. This ensemble of around eight players is on tour this year (they'll be coming to us via New York's Carnegie Hall and a concert in Erie Pennsylvania, before heading back home briefly, then departing to New Zealand). The name says it all – they play ukuleles of various sizes, and if you'd like a sampling of their music, check them out on YouTube! You can also visit their website, www.ukuleleorchestra.com. Check out their rendition of "Ride of the Valkyries"; and yes, they sing too!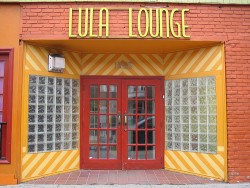 Small World Music continues its regular programming this month with concerts at the Lula Lounge and elsewhere. (And speaking of Lula, their artistic director for the past decade, José Ortega, was recently awarded the Roy Thomson Hall Award of Recognition, one of the 2010 Toronto Arts Foundation Awards; more about Ortega next month.)
But to continue with Small World Music: Septeto Nacional, Cuba's "son" band formed over 80 years ago, brings the spirit of Havana to the Lula Lounge on November 5; then, hailed as "the new voice of Brazil", singer Luisa Maita performs there on November 12. On November 13 there is a co-presentation of Chhandayan, Small World Music and Creations India — devotees of Indian classical music can experience a traditional all-night concert at St. Andrew's Church. Featured musicians include Swapan Chaudhuri, Samir Chatterjee, Shashank, Ramesh Misra, Pandita Tripti Mukherjee, Suman Ghosh, Alam Khan, Gauri Guha, Dibyarka Chatterjee and others. Finally, on November 26 "India's first YouTube star" Wilbur Sargunaraj, who hails from Tamil Nadu, brings a combination of dance, drumming and humour to the Lula Lounge.
For more info on all of these, visit www.smallworldmusic.com.
Yiannis Kapoulas
Also at the Lula Lounge, multi-instrumentalist Yiannis Kapoulas performs selections from his self-titled debut CD, with a six-piece ensemble, November 14. His signature instrument is the "Ethno III" a 3-necked instrument designed by his father George Kapoulas, which combines sonorities of the Greek bouzouki with those of two Turkish instruments, the saz and cumbus. Born in Hamilton to Greek parents, Yiannis plays a number of instruments from this region, including bouzouki, tzoura, baglama, laouto, oud, as well and other Eastern stringed instruments, guitar, percussion and keyboard. He first began performing with his father and brother at the age of 5. Since then he has gone on to establish himself as a musician and award-winning songwriter in international competitions. His career has flourished in both Greece and Canada, where earlier this year he was named this city's "Best Live Acoustic Act" by the Toronto Independent Music Awards.
Folk music lovers will also be interested to know that award-winning blues singer/guitarist Joel Fafard is on tour this month with the release of his new album "Cluck Old Hen." Included are vocal covers of old Southern roots and blues songs, tunes by Muddy Waters, Willie Dixon, Richard Thompson, Lyle Lovett, and traditional Appalachian pieces. He'll be performing at the Free Times Cafe (320 College St. just west of Spadina) on November 20.
And looking ahead to December: Pandora's Box Salon is a new venture in Aurora put together by French horn player Katie Toksoy. There are 5 events planned this season (the first has just passed, as I write this). Each is on a particular theme; a variety of art forms are featured including music, dance, literature, film, and visual arts. It all takes place at the newly renovated concert space in the Aurora Cultural Centre. Each event also includes wine and finger foods during an extended intermission so that artists and audience can mix and mingle. Proceeds go to a local charity. The next event is on December 5, and is titled "Around the World in 80 Minutes"; it features music and dance from India, Egypt, Iran, Bali, Africa, and Europe. Performers include sitarist Anwar Khurshid (director of the Sitar School of Toronto), the Sonore Percussion Trio, Sabrina Nazar on wooden flute, a bellydancer, and others. For more information on Pandora's Box, visit www.pandorasboxsalon.com.
Karen Ages can be reached at