By now, the concert season is well under way – and the world music scene has much to offer this month. Here are some highlights.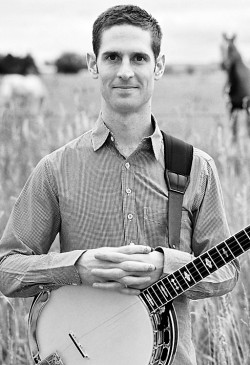 Virtuoso banjo player Jayme Stone launches a new CD with a cross-Canada tour that includes a concert October 13 at Hugh's Room. Room of Wonders is a wonderful musical romp inspired by folk dances from around the world. I've had a sneak preview of the album, and this promises to be a lively evening of superb musicianship featuring banjo, fiddle, guitar, bass, nyckelharpa and other instruments in a kind of Appalachian "old-time-meets the rest of the world" scenario. Represented are dance tunes from Bulgaria, Ireland, Brazil, Norway and elsewhere. There's even an arrangement of a Bach French suite.
Prior to this latest venture, Stone's previous CD, Africa to Appalachia was a collaboration with Malian kora player and singer Mansa Sissoko, the result of a stay in Mali where Stone researched the banjo's African roots. This Juno award-winning album led to a two-year tour of Canada, the US and the UK. I've been told Stone will soon launch a new website and a short documentary on the making of Room of Wonders, which will also include free lessons for aspiring banjoists! In the meantime, visit http://jaymestone.com.
After undergoing two years of extensive renovations, the Sony Centre re-opens this month with some exciting programming. Sure to be a spectacular event, "Dream of the Red Chamber" (October 12, 13) features the Beijing Friendship Dance Company in their interpretation of one of China's most revered works of literature by the same name. Described as a "Chinese Romeo and Juliet love story," the production blends classical ballet and traditional Chinese dance, with a score by Academy Award-winning composer Cong Su (best original score, The Last Emperor), 80 dancers and 800 costumes! The show is presented in celebration of 40 years of diplomatic relations between China and Canada.
Also, touted as "the Bob Dylan of Iran," controversial musician Mohsen Namjoo fuses traditional Persian music with western blues and rock, October 16 at the Sony Centre, along with his band and a full live orchestra. Namjoo is a master vocalist, composer and setar player, who originally trained at and was later expelled from the Tehran University music programme for refusing to toe conventional lines. As difficult as it is to be an independent artist in Iran, Namjoo's career took off due to internet exposure. Now based in California, he is free to create music that resonates with Iran's youth, while appealing to audiences regardless of background.
Toronto based Yiddish singer Lenka Lichtenberg says, "after a little breather, to allow space for several members' individual projects (namely CD releases), The Sisters of Sheynville are getting back into the groove and a regular rehearsal mode. The plan is to prepare a lot of new material this fall, and work towards a new CD in the spring."
Upcoming gigs for this all-female Yiddish swing/klezmer band include Bread and Circus (299 Augusta Ave., Kensington Market) on October 7, and the Reservoir Lounge some time in November. Lenka had a well attended CD release concert of her own recently at last month's Ashkenaz Festival, and you can read a review of Fray in the September WholeNote. She's also been engaged in a unique synagogue project in Europe, doing recordings of traditional and new liturgical music that she says may be the most significant project of her life. She calls it "Songs for the Breathing Walls," and hopes to continue with it for years to come. For more about Lichtenberg, visit www.lenkalichtenberg.com.
A new "kid" on the musical block, the Vesuvius Ensemble, has its inaugural concert on October 29 at the Edward Day Gallery, 952 Queen St. W. Dedicated to performing and preserving the folk music of Naples and southern Italy, the group is led by Italian tenor Francesco Pellegrino, who now teaches at the University of Toronto. He'll be joined by Marco Cera (oboist with Tafelmusik who also plays baroque guitar, chitarra battente, and ciaramella – a type of Italian shawm), Lucas Harris (baroque guitar, and chitarrone – a large bass lute), and guest percussionist Kate Robson. And they've got a website up and running too: check out www.vesuviusensemble.com.
Looking ahead to November, Toronto's own Nagata Shachu Japanese taiko drumming ensemble presents a new programme titled "Iroha" (colour), November 5 and 6 at Fleck Dance Theatre, 207 Queen's Quay West. The production is directed by long-time member Aki Takahashi, with lighting by Arun Srinivasan. Each piece has been influenced by a colour, and in addition to drumming there will be more choreography.
"Colour can be expressed in countless ways," says Takahashi; "people might describe the same colour differently depending on their mental and emotional associations with it. In Japan, where the four seasons are distinct, people experience each time of year through colours in nature. I hope people will discover the illuminating nature of our music reflected in the interplay of iroha." Nagata Shachu (formerly known as the Kiyoshi Nagata Ensemble) has a number of CDs to its name; primarily it's a drumming group, but they perform on a host of other traditional Japanese instruments as well, creating a variety of sonic textures. It will be interesting to see how they illustrate the notion of colour!
Thursdays 7:00 to 8:30pm, October 14 to November 18, at the Miles Nadal JCC. Call Harriet Wichin at 416-924-6211 x133 or music@mnjcc.org.
Karen Ages can be reached at worldmusic@thewholenote.com