June is the month in which The WholeNote releases its "Green Pages" guide to summer music festivals – and there are at least two with events coming up that are obvious picks for world music lovers.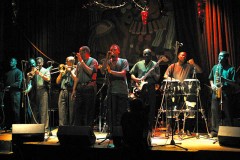 The 11th annual Muhtadi International Drumming Festival takes place June 5 and 6. The festival launch event is June 3 at the Wychwood Barns (7 – 10pm), and a parade on June 5 leaves Ramsden Park at 10am ending up at Queen's Park, where performances continue to 8pm, as well as noon to 8 on June 6. The festival will showcase around 30 different groups or performers, representing drumming traditions from around the globe, with a focus this year on "Women in Rhythm." For more details, visit www.muhtadidrumfest.com.
The other major host of world music events over the summer is of course Harbourfront Centre, which launches its World Routes series of mini festivals on July 1, running every weekend through September 6. For the 2010 series, Harbourfront explores  a "global to local, and local to global" theme in its programming. Canada Day events include "Gypsy Melody," Roma music from Slovakia at 1pm, and vocalist Cheryl L'Hirondelle presenting contemporary songs expressing the Cree world view at 6:30 (Redpath Stage). "Hot Spot" runs July 2 – 4; highlights include The Toronto International Flamenco Festival, featuring dancers, singers and musicians, and L'Orchestre Septentrional, an 18-piece big band from Haiti, on July 3. Visit www.harbourfrontcentre.com/worldroutes2010 for more details.
Harbourfront also launches its annual Summer Music in the Garden series of free Thursday and Sunday concerts at the Toronto Music Garden. On July 1, there's a concert featuring traditional Mohawk songs sung by the Ahkwesasne Women Singers, and the world premiere of a new piece by Barbara Croall, performed by the composer and clarinetist Peter Stoll. For full schedule, visit www.harbourfrontcentre.com/torontomusicgarden.
Toronto's Luminato Festival has a few free noteworthy events: June 12, "Rock the Casbah" and "An African Prom" runs from 1 – 11pm at Queen's Park, and features performances by Montreal banjo maestro Karim Saada, the Maryem Tollar Ensemble, Algerian-born rocker Rachid Taha, Nigeria's Tony Allen, Mali's Bassekou Kouyate and American banjo virtuoso Béla Fleck. Kouyate, a master of the ngoni, the banjo's African ancestor, was a contributor to Fleck's film and recording project Throw Down Your Heart, which you can catch the same day at the Isabel Bader Theatre. Luminato also presents a World Music Celebration on June 20, the closing day of the festival, at Queen's Park, noon – 6.
Another festival offering a taste of music outside the Western "classical" tradition is Music at Sharon, which presents Ensemble Polaris on June 13. They're known to play a host of unusual folk instruments, performing music from Scandinavia, the Baltics, Scotland and Canada.
And there's still plenty happening on the usual concert curcuit. The Canadian Opera Company continues its noon-hour concert series at the Richard Bradshaw Amphitheatre, with Nagata Shachu, Toronto's Japanese Taiko ensemble that performs both traditional and newly composed works, June 3. The Toronto Children's Chorus presents "Around the World in 80 Minutes" on June 5, featuring music from Africa, Asia, Australia, New Zealand, South America, and Europe, including a new klezmer work by Martin Van de Ven, clarinetist with guest performers Beyond the Pale klezmer ensemble.

In association with Roy Thomson Hall, Small World Music presents Persian vocalist Mohammad Reza Shajarian, with the Shahnaz Ensemble, June 6. One of the most well known performers of Iranian classical music, Shajarian has had a career spanning over 40 years, both at home and internationally. He'll be accompanied by an ensemble of 15 instrumentalists, directed by Iranian composer and tar player Magid Derakhshani. Small World also presents Italian singer/songwriter Carmen Consoli at the Mod Club on June 20. See www.smallworldmusic.com.
As well, the Toronto Chinese Music School presents a concert of classical and contemporary Chinese music, June 25 at the P.C. Ho Theatre in north Toronto. Instruments featured include the huqin, erhu, gaohu and pipa. And last but not least, Toronto's Shevchenko Musical Ensemble presents a feast of Ukrainian and other folk, classical and contemporary music, featuring the Shevchenko Choir, the Toronto Mandolin Orchestra, vocal and instrumental soloists and the Desna Ukrainian Dance Company, June 27 at the Isabel Bader Theatre.
Enjoy the warm weather (and the music) – and see you in July!

Karen Ages can be reached at worldmusic@thewholenote.com