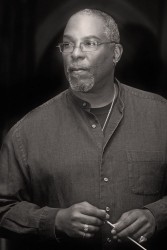 May is "Canary" month – the month in which The WholeNote publishes its annual Choral Directory – so I thought it fitting to first mention what some of the choirs are doing with world music. Echo Women's Choir (directed by Becca Whitla and Alan Gasser) celebrates spring, freedom and the outdoors with "Throw the Window Open," May 16 at Church of the Holy Trinity. Among others works, the programme will include songs from South Africa and the Republic of Georgia sung in the original languages, as well as Holly Near's Hay una mujer, which commemorates women who were "disappeared" during the Chilean junta of the 1970s. Toronto's Afrocentric choir, the Nathaniel Dett Chorale, performs May 26 and 29 at the Glenn Gould Studio. "And Still We Sing...Steel Singin," features the new steel pan ensemble Legacy Groove Pan. The programme will showcase Trinidadian Calypso rhythms, West Indian folk music, works by David Rudder, and more.

The Toronto Jewish Folk Choir presents its 84th spring concert at Walter Hall, May 30. The concert which celebrates the memory of Emil Gartner, the choir's longest serving conductor, will feature his daughter, Toronto Symphony cellist Esther Gartner, in Srul Glick's Yiddish Suite No. 1, composed to poems by Yiddish-Canadian poets. She'll also premiere a new work by Raymond Luedeke, commissioned for this concert, as well as perform in Prokofiev's Overture on Hebrew Themes with a chamber ensemble. The programme also features classical works, as well as songs in Hebrew and Judeo-Spanish.

As much a world-music concert as an early music one, "Lutefest" closes the Toronto Consort's season with performances on May 7 and 8. I won't go into detail here as it's the topic of our cover story, but I couldn't leave it out entirely. The programme features three instruments that are essentially cousins: the Middle Eastern oud, played by Bassam Bishara; the western lute (whose name is derived from the French "l'oud"), played by the Toronto Consort's Terry McKenna; and the Chinese pipa, played by Wen Zhao. Do read the cover story for more!

Presented by Small World Music, the Gundecha Brothers present an evening of Indian Dhrupad music. Dhrupad is a slow, meditative, deeply spiritual ancient vocal music tradition, and Umakant and Ramakant Gundecha are, like the Dagar brothers before them, two of India's leading artists in this style of music, performing both at home and internationally. You can hear them at The Yoga Sanctuary (2 College St.) on May 7.

Toronto's Lula Lounge is a well known hotbed of musical activity, and this month they present "Lulaworld 2010," a festival of world music running May 5 to 30. This concert series presents both Canadian and international artists, representing a truly global array of musical identities, with a special focus this year on Latin America. The festival opens with Latin jazz ensemble Bomba with bassist Fito Garcia and vocalist Marlin Ramazzini. There are too many artists to list here, so please visit Lula's website at www.lulalounge.ca.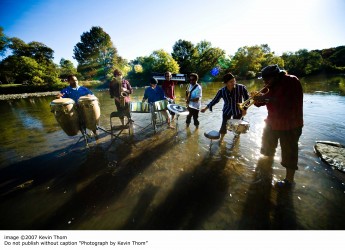 Here are some highlights of "Lulaworld 2010." Afrolatino Dance Company and Roberto Linares Brown present a Cuban Cabaret, "I am Cuba," with show-girls, a Cuban orchestra and dance lesssons, May 8. Kinobe and Soul Beat Africa perform Ugandan roots music and original compostions, May 13. Colombia Mon Amor with Orquesta Fantasia present Colombian music, featuring a salsa ensemble with dance lessons by Bailaboogaloo, May 15. Son Jarocho with Cafe con Pan and Yohualichan offer an evening of Mexican music in honour of the bicentennial of Mexican independence, May 16. (This is preceded the afternoon before with a film screening of Los Soneros del Tesechoacan, followed by a dance and music workshop.) Mondo Uke features world music for the ukulele, with a bossa nova workshop for uke players followed by a concert of global ukulele music, May 17. Viva Celia presents a tribute to Celia Cruz, "Queen of Salsa," featuring vocalists Patricia Cano, Alberto Alberto and Luis Mario Ochoa, May 22. And there's a whole lot more!

Caribbean/Latin Jazz ensemble CaneFire launches its second CD, Pandemonium, May 19 at the Glenn Gould Studio. This Toronto group has been around for the past five years, and has won praise in Trinidad and Tobago after appearing in festivals there. I've had a listen to some of the album, and can testify that this is top-notch, polished performing of instrumental and vocal jazz, with the virtuoso steel-pan playing of Mark Mosca as one of the many highlights. Headed by pianist and composer Jeremy Ledbetter, the band features well-known guest musicians David Rudder and Hermeto Pascoal, as well as Alexis Baró (trumpet), Braxton Hicks (saxophones), Yoser Rodriguez (bass), Alberto Suárez (percussion) and Chendy León (drums). This promises to be a lively evening!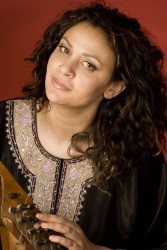 Opening May 19 and running to the 23rd, Seventh Stage Theatre presents 9 Parts of Desire by Heather Raffo. The play presents a portrait of nine Iraqi women, "a timely meditation on the ancient, the modern and the feminine in a country overshadowed by war." The production features an all-star cast including someone who neeeds no introduction here, Arabic singer Maryem Hassan Tollar, who wrote the music for the production as well as acting in it.

Here's some news about world renowed mrdangam player and and professor of south Indian music at York University Trichy Sankaran: "I wanted to let you know that my father is releasing a book, The Art of Konnakkol (Solkattu – Spoken rythms of south India)," writes his daughter Suba, of Autorickshaw fame. "It's a groundbreaking work and educational manual, including accompanying CD". Both father and daughter, members of Autorickshaw and other special guests celebrate with a free concert at the Music Gallery, May 27. The book will be available at a reduced price, this time only!

And heading to the traditions of North India, the Toronto Tabla Ensemble performs at Harbourfront's Enwave Theatre, May 28 and 29. They join forces with two dance companies, Chhandam and Lavish. For more info, visit www.tablaensemble.com.

Coming up in June is another Small World Music presentation, in partnership with Roy Thomson Hall, Persian vocalist Mohammad Reza Shajarian performs with Shahnaz Ensemble, June 6. One of the most well known artists of Iranian classical music, Shajarian has had a career spanning over 40 years, both at home and internationally. He'll be accompanied by an ensemble of 15 instrumentalists.
Karen Ages can be reached at worldmusic@thewholenote.com