This month opens with the lively sounds of Klezmer music. April 1, the University of Toronto Klezmer Ensemble presents "Klezmer Trajectories: Old World Jewish Fusion meets New World Surprises!", as part of the noon-hour free concert series at the Canadian Opera Company's Richard Bradshaw Amphitheatre. These concerts are always well attended, so it's advisable to arrive early to get a good seat. There will be more Klezmer later in the month – Off Centre Music Salon presents "Klezmer...on the Roof!", April 11 at the Glenn Gould Studio, featuring mezzo Annamaria Popescu, accordion virtuoso Joseph Macerollo and the Flying Bulgar Klezmer Band.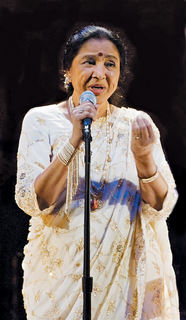 Roy Thomson Hall presents a concert of Indian vocal music, April 3. Born in 1933, the legendary Asha Bhosle is best known as a singer for numerous Bollywood films, and is said to have recorded over 12,000 songs in her 65-year career. In addition to film music, she sings ghazals (poetic songs), bhajans (Hindu devotional songs) and folk songs, as well as traditional Indian classical music. More vocal music follows on April 6, this time from Senegal. Baaba Maal mixes the tradition of griot songs with rock, reggae and Afro-Cuban music. He'll be performing with his nine-member band at the Royal Conservatory's Koerner Hall.
Dubbed "Queen of the Toronto Cajun scene," vocalist and fiddler Soozi Schlanger has been branching out on her own lately. Known primarily as the driving force in the band Swamperella (where, in addition to singing and fiddling, I've also witnessed her play a mean washboard!), this Canadian powerhouse of art and music first learned Cajun music at Ashokan, a fiddle camp in upstate New York. Out of that experience Swamperella was born, and the band has performed extensively, their dedication to authenticity garnering comments such as, "Now where all in Looziana y'all from?" Recently, she's been going solo with "Soozimusic," developing a repertoire of her own songs. Along with musicians Emilyn Stam and Victor Bateman, she'll be performing at Slacks (562 Church St.) on April 4, the Tranzac Club on April 25 and the Moonshine Cafe in Oakville on May 2. You can check her out at www.myspace.com/soozischlanger.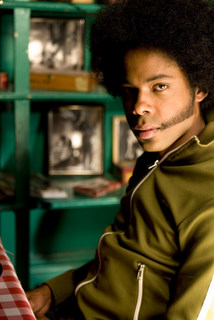 Recently back from performing at the Olympic Games, Juno award-winning Cuban musician Alex Cuba has a busy touring schedule this month. In Ontario, he'll be performing at London's Aeolian Hall on April 6, the Brock Centre for the Arts in St. Catharines on April 7, Mississauga's Living Arts Centre on April 9, the Mod Club in Toronto on April 10 and the Neat School Stage in Burnstown (an hour northwest of Ottawa) on the 11th. After several performances in Quebec later in the month, he'll be heading to Europe in May. His newest CD will be released on June 8.
On April 24, the Music Gallery presents two artists visiting from Berlin: Amelia Cuni and Werner Durand in "Ancient Trends & New Traditions in Indo-European Music." Cuni is a vocalist trained in the traditions of Indian classical music, while Durand is a multi instrumentalist who also explores digital sound. Together they blend the old and the new, ranging from traditional music to microtonality. The concert is preceded on April 23 by an artist talk featuring Amelia Cuni, who shares experiences of her 30-year journey between European and Indian cultures. Visit www.musicgallery.org for more details.
Also on April 24, Music on the Donway presents "Journey to Andalusia," a blend of Jewish, jazz, Indian and Arabic music featuring Toronto's own Jaffa Road, headed by lead vocalist Aviva Chernick. Jaffa Road will also perform at Hugh's Room on April 25, where they'll be joined by Iraqi-Israeli oud/violin master Yair Dalal. This is one of Toronto's most exciting up-and-coming fusion bands – not to be misssed!
Karen Ages can be reached at worldmusic@thewholenote.com.