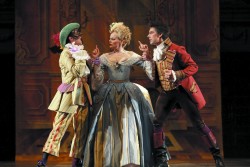 This October offers opera lovers a wide range of choices. The COC is presenting a new production of Donizetti's L'Elisir d'amore from October 11 to November 4. Opera Atelier is reviving its much-loved production of The Marriage of Figaro with American Douglas Williams making his OA debut in the title role from October 26 to November 4. And Toronto Masque Theatre begins its final season with a pairing of Purcell's Dido and Aeneas (1687) and James Rolfe's Aeneas and Dido (2007) on October 20 and 21. Besides these, there are two 20th-century works that have never before been staged in Toronto. One is Richard Strauss' Arabella, running at the COC for seven performances from October 5 to 28. The other is Musik für das Ende by Québécois composer Claude Vivier, given ten performances by Soundstreams from October 27 to November 4.
Arabella
Arabella (1933) was Strauss' sixth and final collaboration with his favourite librettist, Hugo von Hofmannsthal. Strauss asked Hofmannsthal for a "second Rosenkavalier" and Hofmannsthal was happy to oblige. Unfortunately, Hofmannsthal died in 1929 before he could revise the final two acts of the opera. Strauss, as a tribute to his friend, set the remaining libretto as it was.
The opera is a comedy set in Vienna in the 1860s, about a once-wealthy family who hopes an auspicious marriage for Arabella will restore the family fortunes. Erin Wall sings the title role and Jane Archibald the role of her younger sister Zdenka, a girl brought up as a boy to save money. Tomasz Konieczny is Mandryka, the wealthy man Arabella's father hopes she will marry. And Michael Brandenburg is Matteo, the poor soldier who also loves Arabella but is secretly loved by Zdenka. Patrick Lange conducts.
I spoke with Tim Albery, who directed Arabella for Santa Fé Opera in 2012 in the same production we will see in Toronto.
Albery's view toward directing a comedy like Arabella is that "there might be a tradition of playing it quite broad and that everyone should be aware of being in a comedy, but if that is a traditional approach, it's not a very helpful one. I feel that the way to make a piece like this work is to play it as seriously as you can and if people laugh then it is because of the situation itself and not our intent to make it into a comedy."
Albery finds an enjoyable paradox in Arabella: "Arabella is more concerned to reveal something of the human heart within a plot that, at one look, might seem inconsequential but at another strangely has a lot to say about how we want to live our lives; what love is and how what you think love is can change. In the case of Arabella, we see how one person can love parties and playing Beatrice-and-Benedick with men, and yet can meet someone who makes her realize that that's utterly not what she wants at all. I find all of that within the neatness of the plot quite enticing because it's a process we all go through in our lives. Over the course of our lives we often discover through meeting other people or being thrown into different circumstances that the life to live isn't the one we thought ours would be."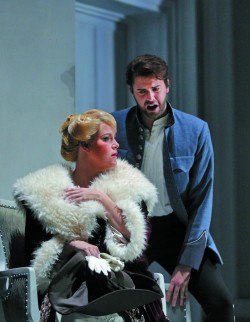 Some see a dark side to Arabella, what with a family basically prostituting one daughter to raise money, and raising the other against her will as a boy. Albery agrees that there is such darkness, "but that to emphasize it is contrary to what the music is doing. And besides that, the libretto makes quite clear that both Arabella and Zdenka are bright, intelligent women who are totally aware of what their parents have done to them." What he finds most interesting is that "the relationship between Arabella and Mandryka is really quite modern in the sense that they commit themselves to each other as equal partners."
Some critics have felt that while it was noble of Strauss to honour Hofmannsthal by setting the unrevised last two acts as they were, this has led to Arabella being marked as "flawed." Albery says that "there's no doubt, especially in the third act, that we go over ground we've already gone over and we have conversations between characters we've already heard before. So there is a tradition of many cuts in the third act to remove sections that Hofmannsthal would likely have removed himself. It's the kind of editing that Strauss didn't like to do but which people of the future have done on his behalf. If it is not absolutely clear who knows what when, those are the kinds of decisions we have to make in the rehearsal room and as long as we know exactly what is happening so will the audience."
Has Albery's view of the opera changed since his production in 2012? Albery says, "What changes there are come from the different interactions of the performers, because different performers bring different things to the piece and I try really hard in my role to respond to what they offer."
Vivier
The other major work of music theatre this month in no way fits the traditional operatic mould. It is Musik für das Ende written in 1971 by Claude Vivier (1948-83), now regarded as one of Canada's greatest composers. The work Vivier described as a "grande cérémonie funèbre" was originally written for 20 performers divided into three groups, two of which are visible with one offstage. All the singers play instruments and are given specific physical tasks to perform. These instructions written into the score demonstrate that Vivier intended the work to be staged.
The piece was first performed in concert in 2012; Soundstreams will have the honour of presenting the world premiere staging of the work. Vivier, a devout Catholic, writes in his preamble to the score that the work was the product of his meditation that we are all surrounded by human beings destined to die: "I experienced the increasingly strange ceremony of beings disappearing forever and becoming 'an infinite moment' in eternal silence. This became ... a Ceremony of the End, infused with the hope that humanity would understand the real meaning of its earthly experience and ultimately purify itself."
Chris Abraham has been chosen as the director and he explained to me in an interview the makeup of the evening, of which Musik für das Ende is both the overall title and one of the three segments.
"The evening begins with a 20-minute-long play by Zachary Russell, which is a fictional imagining of a night with Vivier (played by Alex Ivanovici) in Paris shortly after a violent encounter with a male prostitute who assaulted him. We meet Vivier just in the process of finishing what would be his final work, Do You Believe in the Immortality of the Soul? Vivier is trying to write the text for the piece which, as it turns out, prefigures his own death." (On March 8, 1983, Vivier was murdered in Paris by a male prostitute.)
"That play is followed by a staged performance of Immortality, an eight-minute piece for tenor and soprano and 12 singers intended as the final section in an immense opéra fleuve that Vivier imagined as his magnum opus. And then we finish with Musik für das Ende.
"The reason why we approached Musik this way is that we wanted to open a door into the piece for the public who don't know his work. We wanted to investigate the biographical mythology around his music. We wanted to demonstrate the continuity of his thought across his works. And we wanted to theatricalize what would otherwise be presented most likely in program notes, [so as to] …provide some kind of toolbox for the listener to enter into a deeper relationship with the music. Musik für das Ende has a narrative within it but it is also extremely experiential and intuitive, so we wanted to create a context where both registers would be part of the listening and viewing experience.
"Musik für das Ende has a number of textual sources – the Catholic Good Friday liturgy along with mantras, some which come from Eastern traditions and some which are invented. There are also passages that require individual performers to express fragments of text about their own lives.
"We have very freely interpreted the notations Vivier has made in the score about staging. Since individuality is central to understanding the piece, we have made some changes to allow the audience to engage with the ten celebrants as individuals first before the celebrants become a group.
"…The staging is ever evolving and what guides it are the rules that are set down in the score. The score requires the passing of melodic lines from one singer to another so that the positioning of bodies onstage in relation to each other dictates itself. I have been closely observing the group's movements, so my staging is really a kind of attempt to preserve those organic features of what happens to the group when they try to perform the score from memory."
As someone who is primarily a theatre director, Abraham says, "It has been interesting to think of the task-based nature of music performance. The effort of the singers actually constitutes the dramatic spine of the piece and my role is to create a dramatic environment that allows the audience to come as close as they can to that effort and those tasks."
As Abraham notes, "Much as Vivier was obsessed with death, he was also obsessed with reunion with an eternal beyond this world, and music for him was a kind of tool that he worked with to try to understand that eternal presence."