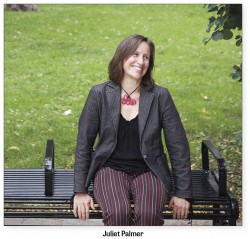 This March offers a feast for opera lovers who fancy a taste of something other than the standard opera fare. There are several opera rarities and two world premieres on offer and they are so scheduled that an intrepid operagoer can see them all.
The month begins with the world premiere of Odditorium from Soundstreams running March 2 to 5, a theatrical presentation of excerpts from R. Murray Schafer's 12-opera Patria cycle. Director Chris Abraham has taken four sections of the cycle to create a 75-minute theatre piece for two singers (Carla Huhtanen and Andrea Ludwig) and two dancers in which Ariadne, one of the cycle's reappearing characters, goes deep into a labyrinth where she encounters sideshows, lovers, buskers and Tantric experts. Schafer's music has been re-scored for harp, accordion and percussion. Since the company devoted to presenting Patria last produced part of the cycle in 2013, Odditorium will provide audiences with a rare chance to become acquainted with Schafer's magnum opus.
Krása's Brundibár: Overlapping with Odditorium, running from March 3 to 5, is the first-ever performance by the Canadian Children's Opera Company of Brundibár by Czech composer Hans Krása (1899-1944). Brundibár is an important children's opera since it was written by a Jewish composer in Nazi-occupied Czechoslovakia and first premiered in a children's orphanage in Prague in 1942. By the time of the performance, Krása had been transported to the concentration camp in Terezin (then known as Theresienstadt). By the next year almost all the chorus and staff had also been transported to Terezin. Terezin was set up as a model camp for propaganda purposes and the inmates were allowed to pursue the arts. From 1943 to 1944 Krása and his casts performed the opera 55 times. (According to new CCOC artistic director Dean Burry, the cast had to be constantly replaced as children were sent on to Auschwitz for extermination.)
One would not know the gruesome circumstances surrounding the opera from the work itself, though. It concerns a brother and a sister who try to earn money for milk for their ailing mother by singing in the town square. Brundibár, an evil organ-grinder with a moustache, chases them away, but with the help of three animals and the children of the town, the children chase him away.
I spoke with Burry, who was involved in the first production of the opera in Toronto in 1996. He said, "Since the opera is only about 35-minutes long, the CCOC received permission to use the film The Lady in Number 6 (2013) to frame the live performance. The film is about Alice Herz-Somers, who played the piano for Terezin performances and whose son was in the opera. We will also be using songs from the cantata For the Children (1996) by Canadian composer Robert Evans (1933-2005) that uses poetry written by the children of Terezin." The CCOC's production will mark the 75th anniversary of the work's first performance in Prague. That the opera should have been performed in a concentration camp, Burry says is "a testament to the power of art."
One question is how aware the young performers are of the historical context of the opera. As CCOC's managing director Ken Hall wrote me, "As for the understanding of the kids, we have taken some pains to educate them on the circumstances of the opera. They have met John Freund, a Terezin survivor who attended the opera in the camp and had a lecture session with children's novelist and holocaust educator Kathy Kacer. Some of children will be taking the production on tour this summer where they will actually visit the Terezin memorial."
Concerning what it is like to work with children, director Joel Ivany wrote me, "What I enjoy about working with these younger performers is the expectation that they have for this experience. They know they are working with opera professionals and they're trying their best to think about stagecraft, musicality, character and focus. Also, to see the sheer joy they get when you give them a prop to use is a great reminder of why we do this."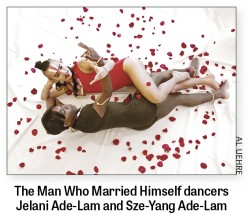 The Masqued Man: The second world premiere of the month, running March 10 and 11, is Toronto Masque Theatre's The Man Who Married Himself by composer Juliet Palmer to a libretto by Anna Chatterton with choreography by Hari Krishnan. The story derives from an Indian folktale about a man who, unwilling to marry a woman, creates a lover from his own left side. He is enchanted by her perfect beauty until he finds that this new woman longs for freedom and desires someone else.
Chatterton describes the background of her libretto: "While writing the libretto for The Man Who Married Himself, I was inspired by the work of contemporary Indian poet, scholar and translator A.K. Ramanujan. His renowned collection A Flowering Tree (1997) includes the original folktale which underpins our contemporary masque. Ramanujan's work as a translator led me to the mid-17th-century Telugu poet Kshetrayya, whose erotic devotional songs [or padams] were written for, and in the voice of, the dancing courtesans who performed for both gods and kings. For me, these padams bring to life the sensual and intimate world of the original folktale The Man Who Married His Own Left Side."
Palmer mentions that she began writing the opera while in India: "My earliest work on the piece was while I was in residence at the Kattaikkuttu Sangam in Kanchipuram, Tamil Nadu. This is a training school for girls and boys in the traditional vernacular music theatre form of Kattaikkuttu. I worked collaboratively with students exploring the original folk tale through vocal and movement-based improvisation…Members of the creative team (Anna, Hari and myself) express ourselves through our own creative voices, grounded in our respective traditions. The dramatic combination of song and dance is common to many Indian forms of music drama, but unlike the role of movement in Western opera, dance is an equal partner in the work."
The opera will feature countertenor Scott Belluz, jazz vocalist Alex Samaras, improvisational Carnatic singer Susha and dancers Jelani Ade-Lam and Sze-Yang Ade-Lam. The piece is directed by Marie-Nathalie Lacoursière. Larry Beckwith conducts a six-member period instrument ensemble. The percussionist's set-up will include hurdy-gurdy, tom-tom, cymbal, rattle, woodblocks, triangle, cowbell and hand drum. Following TMT's motto of presenting "performing arts in fusion," The Man Who Married Himself will thus combine song, music and dance as well as East and West.
Two 18th-century rarities: Also noteworthy this month are two 18th-century rarities being presented by Toronto opera schools. On March 15 and 17 the Glenn Gould School presents La cecchina (1760) by Niccolò Piccinni (1728-1800). It is a perfectly delightful comic opera that anticipates Mozart's The Marriage of Figaro (1786) by focusing not on the deeds of historical or mythological characters but on the lives of ordinary people of the composer's own time. Cecchina is conducted by Les Dala and directed by Marilyn Gronsdal, a frequent assistant director with the COC.
At the same time, March 16 to 19, University of Toronto Opera presents the seldom-performed Handel opera Imeneo (1740), a piece for only five soloists. The production is directed by Tim Albery, who directed the COC's fantastic Götterdämmerung. This opera is on a much more intimate scale. As Albery describes it: "At an estate by the sea five young people struggle with increasing desperation to unravel a tangled, intractable web of love, gratitude, loyalty and friendship." This will be the Toronto premiere of Imeneo and, according to U of T Opera Administrator Catherine Tait, likely "the Canadian premiere of the original (1740) version in which the title role is sung by a bass." The work will be conducted by renowned countertenor and early music specialist Daniel Taylor.
Christopher Hoile is a Toronto-based writer on opera and theatre. He can be contacted at opera@thewholenote.com.