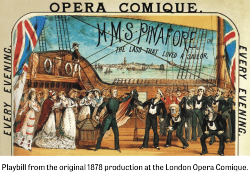 Summers in Southern Ontario used to be known for their dearth of opera. Not anymore. While festivals such as Glimmerglass beckon across the border, there is so much operatic activity of interest in Ontario and Quebec that opera lovers need not venture out of Canada.
June
Stratford: Opening on May 31 and running until October 21, the Stratford Festival makes one of its occasional forays into operetta with a new production of Gilbert and Sullivan's H.M.S. Pinafore. The 1878 work, G&S's first big success, features the favourite Gilbertian plot device of babies switched at birth and its attendant satire of the British class system. Steve Ross is Captain Corcoran, Mark Uhre is Ralph Rackstraw, who loves above his station in pining for Josephine, sung by Jennifer Rider-Shaw, the captain's daughter. Affairs on board are scrutinized by Sir Joseph Porter, First Lord of the Admiralty, sung by Laurie Murdoch, while Lisa Horner, well-known from Mirvish musicals, is Little Buttercup. Lezlie Wade, who directed Obeah Opera in 2015 in Toronto, is the stage director and Franklin Brasz is the music director.
TOT: Those with a taste for more operetta should check out the Galope Offenbachienne on June 4 by Toronto Operetta Theatre. There will be excerpts from La Vie parisienne, Les Contes d'Hoffmann, La Belle Hélène, La Grande-Duchesse de Gérolstein and Orphée aux enfers. Michael Rose at the piano will accompany Holly Chaplin, Meagan Larios, Michael McLean and Janaka Welihinda, and Virginia Reh will direct.
Opera by Request: As for those with a taste for opera that has operetta very much in mind, they will be pleased to see that Opera by Request, for its 10th anniversary gala, is presenting a semi-staged version of Richard Strauss's waltz-inflected Der Rosenkavalier (1911) on June 9 and 10. Unlike most previous OBR operas, the opera will be accompanied by a chamber ensemble under the baton of William Shookhoff. Shookhoff states that Rosenkavalier will mark the debut of a new production model for OBR. Katharine Dain sings the role of the Marschallin, Barbara King is her lover Octavian, Uwe Dambruch is the Marschallin's cousin Baron Ochs and Danielle Dudycha is the young Sophie, his fiancée who falls in love with Octavian.
TSO: On June 14 and 15, audiences can get a feel for how much changed in continental music between 1911 and 1933, when the Toronto Symphony Orchestra under Peter Oundjian presents the "sung ballet" The Seven Deadly Sins by Kurt Weill, written to a libretto by Bertolt Brecht after both had fled Nazi Germany. The story concerns two sisters, Anna I, a dancer, and Anna II, a singer, who are really two sides of the same person. The Annas' actions are the subject of commentary by a male quartet called The Family. Anna I's simple project is to have her own little house, but in trying to achieve this she commits each one of the seven deadly sins. Jennifer Nichols dances Anna I, Wallis Giunta sings Anna II, and the quartet is made up of tenors Isaiah Bell and Owen McCausland, baritone Geoffrey Sirrett and bass-baritone Stephen Hegedus. The much-in-demand Joel Ivany directs the semi-staged production, which also includes filmed segments. The evening program is completed with Samuel Barber's Adagio for Strings (1938), and Bela Bartók's Music for Strings, Percussion and Celesta (1937), and a short new work by Andrew Balfour.
Riel at NAC: On June 15 and 17, anyone who missed the Canadian Opera Company's production of Louis Riel by Harry Somers and Mavor Moore will have another chance to see it at the National Arts Centre in Ottawa. It is the same production that played in Toronto directed by Peter Hinton and starring Russell Braun in the title role. The major difference will be that in Ottawa's Alexander Shelley and the NAC Orchestra will replace Johannes Debus and the COC Orchestra.
Charlotte: Back in Toronto as part of Luminato on June 16 through 18 are performances of a work-in-progress called CHARLOTTE: A Tri-Coloured Play with Music. Czech composer Aleš Brezina has set a libretto by Canadian actor Alon Nashman about the life and artwork of French artist Charlotte Salomon (1917-1943), who produced over 1000 paintings between 1941 and 1942 while in hiding from the Nazis. Before she was deported to Auschwitz at age 26, she gave her book Leben? oder Theater?: Ein Singspiel to a local physician for safekeeping. The goal of CHARLOTTE is to put this modern singspiel on the stage as Salomon might have envisioned it. A cast of eight actors and singers, including Nashman, is directed by Pamela Howard and an ensemble of four is conducted by Peter Tiefenbach.
Opera 5: June closes with a major treat for rarity hunters in the form of Suffragette, presented June 22 through 25 by Opera 5. The evening is comprised of two one-act operas by British composer and women's rights campaigner, Dame Ethel Smyth (1858-1944), the first female composer to be awarded a damehood. Her full-length opera The Wreckers (1906) is often considered one of the most important English operas ever written. Opera 5 will perform fully staged productions of Smyth's Fête Galante (1923) and The Boatswain's Mate (1916) accompanied by the composer's own reductions for chamber orchestra. The first is a story about commedia dell'arte characters that ends unhappily. The second depicts a battle of the sexes and features Smyth's own feminist March of the Women. Both works are directed by Jessica Derventzis and conducted by Evan Mitchell.
July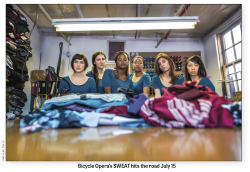 Bicycle Opera: In July and August, the intrepid Bicycle Opera tours to towns all through Ontario. In the past the company has toured collections of very short operas or opera excerpts. This year, it is touring the Canadian premiere of a single one-act piece titled Sweat, by composer Juliet Palmer and librettist Anna Chatterton. If these names seem familiar it is because the same duo wrote The Man Who Married Himself for Toronto Masque Theatre, which had its premiere earlier this year. Sweat is an a cappella opera for a five-member chorus and four soloists about the ethical problems of the global garment industry and is performed in English, Cantonese, Ukrainian, Spanish and Hungarian. The four soloists are Stephanie Tritchew as the Union Organizer, Catherine Daniel as an Overseer, Larissa Koniuk as a Neighbour and Keith Lam as the Factory Owner. The director is Banuta Rubess and Geoffrey Sirett conducts. The tour starts in Hamilton on July 15, travels to six other municipalities in Ontario including Ottawa and ends with a run in Toronto from August 3 to 6.
Brott's Carmen: While many still lament the disappearance of Opera Hamilton, opera in Hamilton has not completely died. In recent years the Brott Music Festival has presented a fully staged opera as part of its offerings from June 21 to August 17. This summer's opera will be Bizet's Carmen, presented for one night only on July 13 at Mohawk College. Beste Kalender sings the title role, Justin Stolz is Don José, Lauren Margison is Micaëla and Johnathon Kirby is Escamillo. Patrick Hansen directs and Boris Brott conducts the Brott Festival Orchestra.
The Elora Festival also occasionally features opera. This year, the opera is Henry Purcell's Dido and Aeneas, performed in concert by the Elora Singers and Festival Orchestra for one night only on July 27 on a double bill with Pergolesi's Stabat Mater, starring countertenor Daniel Taylor.
SOLT: Straddling the end of July and beginning of August are the three productions of the Summer Opera Lyric Theatre in Toronto, fully staged with piano accompaniment. Two of the offerings are standard repertoire. On July 29, August 1, 3 and 6 is Bizet's Carmen and on July 29, August 2 and 4 is Mozart's The Marriage of Figaro. What stands out in this sesquicentennial year is a double bill of two Canadian operas – Night Blooming Cereus (1953-58) by John Beckwith and A Northern Lights Dream (2017) by Michael Rose. Beckwith's opera, to a libretto by James Reaney, was commissioned by the CBC and first broadcast in 1959, with its first stage performance in 1960. The opera concerns the healing of a family rift that coincides with the mystical blooming of a rare plant that flowers once every 100 years. Rose's opera will be a world premiere. It is set inside Helen's Prêt-à-Porter and Bridal Shop on a hot midsummer day near the hamlet of Shakespeare, Ontario. A client's refusal to pay a bill brings the shop close to ruin, until Helen calls on Robin to solve the problem and ordinary Ontarians start to meld with characters from Shakespeare's A Midsummer Night's Dream.
August:
Stratford Summer Music: In August, opera can be found in unexpected places. For the past two years Stratford Summer Music has presented a staged opera with dinner at the Revival House (formerly known as The Church). This year, the opera will be Donizetti's Don Pasquale (1843). Alexander Dobson sings the title role of an elderly bachelor who plans to disinherit his nephew by taking a wife and producing an heir. Irina Medvedeva sings Norina, the wily woman Don Pasquale wants to marry, and Jonathan MacArthur is the nephew Ernesto who is in love with Norina. Amanda Smith directs and designs the piece and Peter Tiefenbach is the music director. The opera runs August 18 through 20.
Highlands Opera: In Haliburton, the Highlands Opera Studio is presenting two operas. On August 27, 29, 30 and 31 it presents a fully staged production of Mozart's Così fan tutte, with one cast on the 27th and 30th and another on the 29th and 31st. On August 19, HOS presents the first public semi-staged workshop performance of a brand new Canadian opera, Wiikondiwin (Feast/Feasting), a co-commission with L'Atelier Lyrique de l'Opéra de Montréal, by Odawa composer Barbara Croall. Soprano Adanya Dunn and baritone Samuel Chan join with First Nations actors/singers/musicians Rod Nettagog, Bradley Nettagog and Croall herself in the performance. Woodland creatures are living happily until they realize that human influence is destroying their habitat. Led by a wolf, they hold a feast to discuss how to return the Earth to its healthy state. This December, Wiikondiwin will return in a fully staged form to both Haliburton and Montreal.
Opera Muskoka: A second summer opera company in cottage country is Opera Muskoka, now in its eighth year. On August 22 it presents a concert performance of Puccini's La Bohème in Italian with English surtitles at the Rene M. Caisse Theatre in Bracebridge. Tenor Daevyd Pepper is the organizer and will perform Rodolfo in the opera.
Those willing to travel as far as Montreal will find a major treat in store. On August 6, the Festival de Lanaudière in Joliette will give audiences a chance to hear the Metropolitan Opera's new music director designate, Quebec's own Yannick Nézet-Séguin, conduct his favourite opera for the first time – Wagner's Parsifal. The singers for this concert performance include tenor Christian Elsner, mezzo Mihoko Fujimura, baritones Peter Rose, Boaz Daniel and Brett Polegato and bass-baritone Thomas Goerz. Nézet-Séguin conducts Montreal's Orchestre Métropolitain – certainly a pilgrimage worth making.
Christopher Hoile is a Toronto-based writer on opera and theatre. He can be contacted at opera@thewholenote.com.