Based on the schedules that have already been announced, the 2017/18 opera season in Toronto will see old productions of well-known operas balanced by world premieres and new productions of both rarities and familiar works. In a new development, more than one non-musical theatre company will produce a new opera as part of its regular season.
The Canadian Opera Company opens with its first-ever production of Richard Strauss' Arabella (1933), Strauss's sixth and final collaboration with famed librettist Hugo von Hofmannsthal. The opera is a comedy set in Vienna in the 1860s about a once-wealthy family who hope an auspicious marriage for Arabella will restore the family fortunes. Erin Wall will sing the title role and Jane Archibald will sing the role of her younger sister Zdenka, a girl brought up as a boy to save money. Tomasz Konieczny is Mandryka, the wealthy man Arabella's father hopes she will marry. Michael Brandenburg sings Matteo, the poor soldier who also loves Arabella but is secretly loved by Zdenka. Tim Albery, famed for his COC Götterdämmerung, will direct and Patrick Lange will conduct the seven performances running from October 5 to 28.
Alternating with Arabella is a new production of Donizetti's beloved opera buffa The Elixir of Love (1832), an opera the company has not staged since 1999. Former COC Ensemble member Andrew Haji sings Nemorino, a peasant in love with the wealthy Adina. Simone Osborne sings Adina. Gordon Bintner is Belcore the pompous sergeant, also in love with Adina. And Andrew Shore sings Dulcamera, the quack doctor who sells Nemorino a fake love potion to win Adina's love. James Robinson directs and Yves Abel conducts the eight performances running from October 11 to November 4.
The winter season sees the revival of Christopher Alden's 2011 production of Verdi's Rigoletto, alternating with a new production of Mozart's The Abduction from the Seraglio. Rigoletto runs for ten performances from January 20 to February 23 and Abduction for seven performances from February 7 to 24. Roland Wood sings the title role of the tragic court jester, Anna Christy is his daughter, Stephen Costello sings the evil Duke of Mantua for the first six performances and Joshua Guerrero takes over for the final four. Stephen Lord, who conducted Norma last year, will wield the baton.
The COC has not staged Abduction since 1980, leaving that task to Opera Atelier which has mounted the opera for two runs since then. The COC's new Abduction will be directed by Lebanese-Canadian playwright and director Wajdi Mouawad, famed for his play Scorched (Incendies), and conducted by Johannes Debus. Mauro Peter plays the noble Belmonte and Owen MacCausland is his servant Pedrillo, who rescue their respective beloveds Konstanze (Jane Archibald) and her servant Blonde (Claire de Sévigné) from the clutches of the Turkish Pasha Selim (Peter Lohmeyer).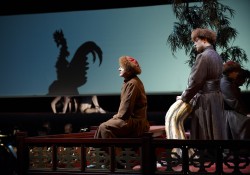 The COC spring season sees the return of Robert Lepage's sensational production of The Nightingale and Other Short Fables from 2010, which has since gone on to fame elsewhere. The program includes Stravinsky's short operas The Nightingale (1914) and Renard (1916) along with Russian folksongs, the production united by the use of various Asian forms of puppetry. The orchestra is onstage and the pit is filled with water for the Vietnamese water puppets. Jane Archibald, artist in residence with the COC this season, sings the Nightingale, Owen Mccausland is the Fisherman, Christian Van Horn is the Emperor and Meredith Arwady sings the role of Death. The production runs for nine performances from April 13 to May 19 and is conducted by Johannes Debus.
Alternating with Nightingale is the highly anticipated Anna Bolena by Donizetti, starring Sondra Radvanovsky in the title role. With this opera Radvanovsky, who recently became a Canadian citizen, completes Donizetti's so-called Three Queens Trilogy, although Donizetti never intended them as such. Anticipation is especially high among longtime operagoers since the last time the COC presented the opera back in 1984 it starred Dame Joan Sutherland in the title role with Richard Bonynge conducting. Joining Radvanovsky are Eric Owens as Henry VIII, Keri Alkema as Jane Seymour and Bruce Sledge as Lord Percy. Stephen Lawless will direct this third part of his unified production originally created for Dallas Opera. Corrado Rovaris will conduct.
Opera Atelier's season features two revivals – Mozart's The Marriage of Figaro running October 26 to November 4 and Monteverdi's The Return of Ulysses running April 19-28. In the first, American Douglas Williams makes his OA debut in the title role with Mireille Asselin as Susanna, Stephen Hegedus as the Count, Peggy Kriha Dye as the Countess and Mireille Lebel as Cherubino. In the second, Krešimir Špicer returns to sing the title role joined by Mireille Lebel as Penelope, Carla Huhtanen as Fortuna, Christopher Enns as Telemaco, Stephen Hegedus as Neptune and Meghan Lindsay as Minerva. Both productions will be directed as usual by Marshall Pynkoski with David Fallis conducting the Tafelmusik Baroque Orchestra.
Tapestry Opera has an exciting season beginning with a brand new opera playing weekends in September with free admission. That opera is Bandits in the Valley by Benton Roark to a libretto by Julie Tepperman. Set in 1860s Toronto, it follows a group of thieves through Todmorden Mills who are aided by a travelling Gilbert and Sullivan troupe. The work features Keith Klassen, Jennifer Taverner, Jacques Arsenault, Alex Dobson, Sara Schabas and Stephanie Tritchew.
The season continues with the return of "Tapestry Briefs: Winter Shorts," showcasing four new short operas from November 30 to December 3. As part of the "Tap:Ex" series of experimental works, Tapestry presents Forbidden from February 8 to 11, a collaboration between Iranian-Canadian composer Afarin Mansouri and spoken-word artist Donna Michelle St. Bernard in an exploration of what is forbidden and why it is tempting.
Toronto Operetta Theatre has three fully-staged revivals on offer. First, to celebrate Canada's sesquicentennial, TOT revives The Widow (1882) by Calixa Lavallée (1842-91), composer of Canada's national anthem, with Julie Nesrallah in the title role. Running from December 28, 2017 to January 7, 2018 is Leonard Bernstein's Candide (1956), last staged by TOT in 2007. Tonatiuh Abrego sings the title role with Vania Chan as his beloved Cunegonde. The final offering is Offenbach's La Belle Hélène (1864), a parody of the events leading to the Trojan War running April 25 to 29, starring Beste Kalender, Adam Fisher and Stuart Graham.
Toronto Masque: For fans of Toronto Masque Theatre this will be a bittersweet season since artistic director Larry Beckwith has decided that it will be the company's last. The first of the TMT's three mainstage shows will be a revival of Purcell's Dido and Aeneas (1687) paired with Canadian James Rolfe's piece Aeneas and Dido (2007). Playing on October 20 and 21, the operas star Krisztina Szabó, Alexander Dobson, Andrea Ludwig and Jacqueline Woodley.
From February 8 to 10, TMT presents a staged version of J.S. Bach's Peasant Cantata (1742), followed by "All the Diamonds," a cabaret of torch songs, lieder and madrigals featuring Patricia O'Callaghan and Giles Tomkins. TMT's final show, "The Last Chaconne: A Celebration," plays only on May 12 when a star-studded collection of singers and musicians celebrate the achievements of the company.
Tarragon and Canadian Stage: Theatre companies in Toronto have ventured into the realm of opera before, but it is unusual to have two such companies do so in the same year. This season the Tarragon Theatre presents the opera Mr. Shi and His Lover by Toronto's Njo Kong Kie to a libretto by Wong Teng Chi from November 7 to December 17. The opera, based on the story behind the play and film M. Butterfly, had its world premiere in Macau in 2013 and its acclaimed Toronto premiere last year at SummerWorks. It is performed in Mandarin with English surtitles and stars Jordan Cheng and Derek Kwan. The composer conducts an ensemble of piano, marimba and Chinese percussion.
Canadian Stage, which previously presented the Canadian premiere of Philippe Boesmans' opera Julie in 2015, this season presents the world premiere of The Overcoat by James Rolfe to a libretto by Morris Panych, based on the 1842 story of the same name by Nikolai Gogol. Panych and Wendy Gorling had previously created a wildly successful version of The Overcoat as an extended wordless physical theatre piece. This new Overcoat will thus represent a complete re-imagining of how to present Gogol's story. The Canadian Stage production, running March 29 to April 14, is a co-production with Tapestry Opera and Vancouver Opera and is one of the dozen or so must-sees of what is already shaping up to be a very attractive opera season.
Christopher Hoile is a Toronto-based writer on opera and theatre. He can be contacted at opera@thewholenote.com.