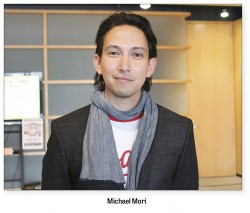 The focus of Toronto opera enthusiasts' attention in April, self included, was the COC's revival of the much heard of but seldom seen Canadian opera from 1967, Louis Riel, now running to May 13. The focus this month is on Tapestry Opera's presentation of the world premiere of a new full-length Canadian opera, Oksana G., on May 24.
Since Oksana G. will be the largest production Tapestry has presented since Chan Ka Nin's Iron Road in 2001, I spoke with Tapestry Opera artistic director Michael Mori in April about how the work came to be and how it was decided to expand it beyond chamber opera scale.
Mori said that composer Aaron Gervais and librettist Colleen Murphy met at a Tapestry LibLab in 2006: "In the LibLab, over the course of two weeks, four writers and four composers get to work with every one of their counterparts on a short 'seed' scene, in a kind of speed-dating fashion where the pressure and intensity of it are meant to encourage ideas that are free from the fetters of self-doubt. Sometimes the collaborations are just an experiment, but sometimes we strike on the kernel that shows the dynamic between the two creators that could be very exciting for something bigger."
At the time, the subject of human trafficking was in the air. As Mori says, "Aaron and Colleen were talking about something that was more of an issue in 2006 than now, although it's coming back with the war in Ukraine. With the fall of the Soviet Union came poverty in certain areas and with that came crime including human trafficking. This would be the world within which they wanted to explore the character of Oksana." That collaboration led up to its performance as one of the "Tapestry Briefs" in 2006 where it had the title, The Enslavement and Liberation of Oksana G.
At that point Wayne Strongman, former A.D. of Tapestry, "felt it had the potential to develop into a fully grown opera. Even since the beginning Wayne and the creators had been thinking that this was one that needed a bit more time, a bit more breadth and scale, so that it wouldn't be a two- or three-person piece in a chamber setting but would have both an epic-ness to the music and to the libretto, so the scalability of the staging would have to encompass that."
Mori continues: "In those first years the Canadian Opera Creation Fund, an initiative of the Canada Council, was instrumental in first helping develop the work, as would later the COC and the Banff Centre. I came in 2012, a year before the first workshop of the second act. One of the reasons for the length of time between the Brief and and the workshop was that director Tom Diamond and Colleen felt that the characters should not sing everything in English but in the original languages the characters would be using. Colleen worked with a number of translators on giving this an element of realistic naturalism so that Ukrainian characters sing in Ukrainian among themselves and in Russian when communicating with a Russian or Italian with an Italian. Of course, this means the opera will be presented with surtitles."
Canadian coloratura soprano Ambur Braid had originally been scheduled to sing the title role, but she had to pull out when an opportunity arose for her in Europe. Nevertheless, Mori is more than pleased with the replacement he found in Ukrainian-Canadian soprano Natalya Gennadi, who recently received her master's degree in Operatic Performance from the University of Toronto. As Mori explains, "One reason why it is exciting to have Natalya Gennadi sing the role of Oksana is that she grew up in Ukraine at the time depicted in the opera. She has direct experience of poverty there, of hunger, of sharing shoes and of people in friends' families who disappeared and reappeared five years later, and of some who never came back. So she will be able to sing with authority because it is her mother tongue and also because she has the greatest insight of any of us into what was happening at that time."
Producing opera on a larger scale fits in with Mori's overall plans for Tapestry's future: "Oksana G. is a bigger project than we have done in about 15 years. Wayne and I wanted it to be special but we are a fiercely nimble company. I also wanted it to be within our ability to be flexible and to continue producing. One of the things I have tried to prioritize since I have become artistic director is that I want to present bigger shows in Toronto every year. So in the last four years we've had Shelter, M'dea Undone, The Devil Inside, Rocking Horse Winner and now Oksana. It was important to me also that this wouldn't be so big that we would have to take a couple years off."
Mori deliberately chose the Imperial Oil Opera Theatre on Front Street for the production because it is a non-traditional opera venue: "We want to embrace what it means to be an opera company in the 21st century in Toronto. So in creating our own theatre inside the space on Front Street, it's going to have a much more industrial feel that won't seem like you're walking into one of those theatres that suggests a very prescriptive theatre experience."
Mori emphasizes that "Oksana is a full-force opera. There will be over 40 people on stage, some as villagers, some as other trafficked women, and this lends to the breadth of her journey from a small town in Ukraine to a refugee shelter in Italy. The score was originally orchestrated for about 36 people, but since the space we're using doesn't have a pit, such forces would overwhelm the singers. Therefore, Aaron has reduced the orchestration to about 16. The future of the work will depend entirely on the openness of other producers in Canada and the States to this piece. This is not an opera about human trafficking but it is an opera that is framed by the challenge that that presents in the same way that Tosca [running at the COC until May 20] is framed by the politics of its time. It's a story about survival and heroism and challenging the demons that you face and overcoming this idea that women in opera shouldn't always be portrayed as victims."
The key to the opera's impact will be the empathy that we feel for Oksana: "One of the most important things is that the victims in human trafficking are dehumanized and we tend to dismiss the fact that they could be your sister, your friend; it could be anyone from any background. Just following Oksana's story, her challenge to redemption, we take a human journey. We haven't been given a lesson in anything but what we will always remember is that there are humans out there that this is happening to, and we do have an opportunity to know more, to help. It is an emotional journey that can help us to transcend that block that our culture has with looking at uncomfortable topics."
To sum up, Mori is very excited about his cast and creatives and what they will do: "The team we have is really something. You never know how these things will go but I often find that if you put the right people in the room together, magic will happen."
Oksana G. plays at the Imperial Oil Opera Theatre May 24, 26, 28 and 30. Natalya Gennadi sings Oksana. Tenor Keith Klassen is Konstantin, the man who trafficks her to the West. Tenor Adam Fisher sings Father Alexander who runs the refugee camp where Oksana finds herself. And mezzo-soprano Krisztina Szabó is Sofiya, Oksana's mother. Tom Diamond, associated with the work since the beginning, is the stage director and the increasingly in-demand Jordan de Souza conducts.
Christopher Hoile is a Toronto-based writer on opera and theatre. He can be contacted at opera@thewholenote.com.