The Canadian Opera Company's production of Norma may end on November 5 and that of Ariodante on November 4, but November still holds much of interest for opera lovers with operatic rarities, new opera and experiments in narratives with music.
Salon Cinderella at GGS: Of the two principal rarities on offer, the rarer is likely Cendrillon from 1904 by composer Pauline Viardot (1821-1910). Born to a Spanish family in Paris, Viardot was the younger sister of the famous opera diva Maria Malibran. While Malibran lived (until 1836), Viardot gained fame as a pianist and counted Chopin as a friend and piano duettist. After Malibran's death she astounded Paris with her mezzo-soprano voice and composers like Gounod, Saint-Saëns and Meyerbeer wrote leading roles with her in mind. In Germany she sang the first public performance of Brahms' Alto Rhapsody.
As if these were not accomplishments enough, Viardot was also a composer. She wrote over 50 lieder and five salon operas, the last two, including Cendrillon, to her own libretti. Cendrillon is written for seven voices and piano and had its premiere in Viardot's own influential Paris salon. Though inspired by the famous tale of Charles Perrault, Viardot made her own changes. The setting is 1904; she changes the evil stepmother into a foolish stepfather and the fairy godmother appears as a guest at the ball Cinderella attends. Cendrillon will be the Glenn Gould School's fall opera and will be performed on November 18 and 19 at Mazzoleni Concert Hall. Peter Tiefenbach is the music director and Against the Grain Theatre's Joel Ivany is the stage director.
In a conversation in October, Ivany said that the goal of his production is "to recreate the salon atmosphere of Cendrillon's original performance." Ivany's specific inspiration is the Hôtel de Rambouillet, site of the Marquise de Rambouillet's renowned salon. Thus, the piano will be on stage as it would have been and the singers have been assigned identities as Viardot's guests who will then sing their roles in her opera.
Voicebox Bellini: Anyone inspired by Bellini's Norma at the COC will be pleased to hear that another Bellini is on offer in November. This is I Capuleti e i Montecchi from 1830, Bellini's setting of the story Romeo and Juliet based on Italian sources and not on Shakespeare's play. The opera was a huge success all over Europe into the 1860s when its popularity began to wane and Gounod's Roméo et Juliette (1867), based on Shakespeare, began to gain ground. The story begins quite differently since Romeo and Juliet are set to marry as part of a peace plan between the two families, a plan that Capulet rejects preferring her to marry Tybalt. Musically, the main peculiarity of Bellini's version is that Romeo is a trouser role for mezzo-soprano.
The work's popularity has been rising since the middle of the last century and it is now Bellini's third-most produced opera after Norma and I puritani (1835). Voicebox: Opera in Concert will present the opera on November 20 with Caitlin Wood, Tonatiuh Abrego and Anita Krause with Raisa Nakhmanovich as music director and pianist.
New work of note: the Toronto premiere of Naomi's Road by Canadian composer Ramona Luengen to a libretto by Ann Hodges is worthy of attention. The 2005 opera for four singers and piano is based on the 1986 novel of the same name by Joy Kogawa. It follows a nine-year-old Japanese-Canadian girl Naomi and her brother, whose lives are overturned during World War II when they are sent to internment camps in the BC interior and Alberta. It runs from November 16 to 20 at St. David's Anglican Church, the home of the last Japanese-Canadian Anglican parish in Toronto. (For more about Naomi's Road see the interview with Michael Hidetoshi Mori, artistic director of Tapestry Opera, by Sara Constant elsewhere in this issue.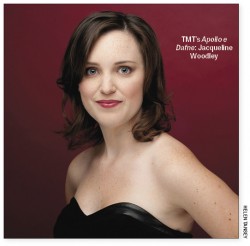 Toronto Masque Theatre's experimental double bill: From November 17 to 19, Toronto Masque Theatre presents an unusual double bill of works that strictly speaking are neither operas nor masques. The first piece is a staging of Handel's secular cantata Apollo e Dafne from 1710. Though cantatas were not intended for staging, Toronto has seen successful examples in the past such as the COC Ensemble's production of Johann Sebastian Bach's Coffee Cantata in 2003 and Volcano's production of Handel's Clori, Tirsi e Fileno in 2012. Apollo e Dafne is Handel's most elaborate secular cantata and many scholars state that it prefigures Handel's later work in opera.
Its story concerns the mischievous Cupid who shoots two arrows. One, tipped with gold, wounds Apollo and causes him to fall in love with the nymph Dafne. The other, tipped with lead, wounds Dafne and causes her to loathe Apollo. To escape Apollo's advances Dafne transforms herself into a laurel tree.
The TMT production features soprano Jacqueline Woodley and baritone Geoffrey Sirett in the title roles along with Montreal dancer Stéphanie Brochard. Larry Beckwith leads a period-instrument ensemble from the violin and Marie-Nathalie Lacoursière directs and choreographs the piece.
The second half of the double bill is the unusual work Enoch Arden by Richard Strauss, a piece written in 1897, the year after Also Sprach Zarathustra. It is a melodrama in the original sense of the word, that is spoken word accompanied by music, in this case with piano accompaniment. The text is the poem of the same name by Alfred, Lord Tennyson from 1864. The story concerns a shipwrecked sailor who returns home after a ten-year absence to discover that his wife has married his childhood rival. Franck Cox-O'Connell will be the actor and Angela Park the pianist.
As a side note, there is a Canadian connection to the history of this piece since the first ever recording in 1962 featured Glenn Gould as the pianist with Claude Rains as the actor. Writing about the double bill, TMT Artistic Director Larry Beckwith says, "I have always enjoyed programming double bills that juxtapose two vastly different pieces that somehow share a mood or sensibility." Of Enoch Arden, which he has seen twice before, as a partner for Apollo e Dafne, he states, "The story is so melodramatic, but Tennyson's language and imagery draws one in, along with Strauss' sentimental and evocative music. I have such fond feelings for both pieces and somehow feel they will work brilliantly side by side."
Genres fused in Ayre: A third production in November also breaks contemporary notions of genre. This is the song cycle Ayre (2004) by Argentinian composer Osvaldo Golijov (born 1960) presented by Against the Grain Theatre from November 10 to 12 at the Ismaili Centre. The title in medieval Spanish means "air" in both the sense of "song" and the air we breathe. The song cycle is a juxtaposition of Arabic, Hebrew, Sardinian and Sephardic folk melodies and texts. The soloist will be Miriam Khalil accompanied by an 11-member ensemble with stage direction by AtG founder and artistic director Joel Ivany and lighting by Jason Hand.
Golijov, Ivany and Khalil all met at Banff this past summer and Golijov sat in on rehearsals of the piece. Though not an opera, critics have repeatedly called the work "dramatic." Ivany says this is the first time anyone has "taken the work a step further" by staging it. He says, "Miriam will have memorized the entire piece and will thus be free to use movement and gesture to illuminate the texts and to tie them together visually." Ivany is excited that Golijov plans to attend the first two of the performances in Toronto. A special preview of Ayre will be offered on November 10 at noon as part of the free concert series in the Richard Bradshaw Amphitheatre, presented by the Canadian Opera Company at the Four Seasons Centre for the Performing Arts.
Christopher Hoile is a Toronto-based writer on opera and theatre. He can be contacted at opera@thewholenote.com.