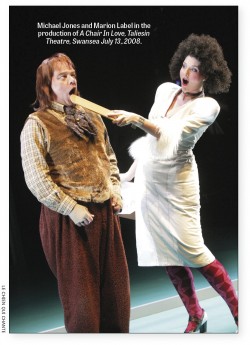 Thanks to the burgeoning interest in opera rarities and especially in new opera, opera performances in the summer months in Ontario are no longer the exception but the rule. Ontario does not as yet have a summer opera festival like the Glimmerglass Festival in Cooperstown, New York, but so much operatic activity is occurring that Ontario residents need not feel deprived.
June got off to an unusual start with the innovative Against the Grain Theatre's presentation of two fully-staged song cycles on June 2 to 5 under the title "Death & Desire." The two are Franz Schubert's Die schöne Müllerin (1824) sung by Stephen Hegedus and Olivier Messiaen's Harawi (1945) sung by Krisztina Szabó, most recently seen as The Woman in the COC production of Schoenberg's Erwartung. AtG's double bill, performed at the Neubacher Shor Contemporary Gallery, is directed by the company's artistic director Joel Ivany, designed by Michael Gianfrancesco and lit by Jason Hand. Christopher Mokrzewski is the piano accompanist.
In an email, Ivany wrote: "During my time at the University of Toronto while obtaining my diploma in Opera Directing, I was able to act as production manager for the Aldeburgh Connection. Seeing such beautiful concerts put on by Bruce Ubukata and Stephen Ralls exposed me to a wealth of vocal music outside of opera. Many of these works received some 'light' staging during performance and I was always intrigued and challenged myself eventually to explore them further by using the tools that I was skilled in."
By staging the Schubert and Messiaen cycles, Ivany is thus extending the implicit idea of song cycles as parlour operas. The 20 songs of Schubert's cycle follow a clear narrative. A journeyman miller falls in love with the miller's daughter, but when he sees that she favours another, he despairs and drowns himself. Messiaen's 12-song cycle in French and Quechua is more abstract, although the title refers to a genre of Peruvian musical narrative that often ends in the death of young lovers. As Ivany says: "In discussion with Topher [Mokrzewski], we both decided that these two song cycles would complement each other quite well and indeed presented two very unique characters. Our core of the project is the Schubert, which naturally is more narrative driven and then we've interspersed it with the Messiaen to give voice to the female character, die schöne müllerin … What this has caused is more of a dialogue between these two characters and a jarring, but equally fitting auditory experience – something new."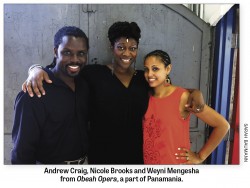 Luminato: In past years the Luminato Festival has included opera. This year it nominally does not, although it should be noted that R. Murray Schafer's massive oratorio-cum-pageant Apocalypsis running from June 26 to 28 lists among its creative team the famed Samoan stage director Lemi Ponifasio. The piece already demands such a degree of theatricality that it may be difficult to distinguish from opera.
The text for Part One is based on the Biblical Psalm 148, the Book of Revelation and on contemporary poetry. The text for Part Two is an adaptation of one of the Dialogues (1584-85) of Italian philosopher Giordano Bruno (1548-1600), who was burned for his heresies which included his belief that there were other suns surrounded by other planets that could support life. Part One of the work requires six choruses, four instrumental groups, five singers and three sound poets, plus dancers and mime artists. Part Two uses 12 choirs placed in a circle around the audience. Among the 1,000 performers will be performance artist Laurie Anderson (on video), actor Brent Carver and throat singer Tanya Tagaq.
Semi-Staged Chair: On a much more intimate scale, Opera by Request presents a semi-staged performance of the absurdist opera A Chair in Love (2005) by Welsh-Canadian composer John Metcalf to an English libretto by Quebecois playwright Larry Tremblay. The story concerns an avant-garde filmmaker who falls in love with a chair, thereby making his dog jealous. The performance will take place on July 17 at Arraymusic with Michael Robert-Broder as the filmmaker, Abigail Freeman as the Chair, Gregory Finney as the Dog and Kim Sartor as the Doctor. William Shookhoff is the pianist and music director.
Lyrical Summer: In late July and early August, Summer Opera Lyric Theatre has regularly been a favourite refuge for operagoers in Toronto. This year, two of the three offerings are rarities from the German Romantic period. On July 31 and August 2, 5 and 8, SOLT presents a major rarity in the form of Der Vampyr (1821) by Heinrich Marschner (1795-1861), a composer who was a major influence on Wagner, who conducted the work in 1833. After the rise of Wagner's operas, Marschner's fell into obscurity. Now Der Vampyr is recognized as the link between Carl Maria von Weber's Der Freischütz (1821) and Wagner's Der fliegende Holländer (1843).
Additionally, the present-day preoccupation with vampires in popular culture has helped to focus more interest on Marschner's opera, which is based on a story by Lord Byron's doctor, John Polidori (1795-1821). Polidori wrote his tale "The Vampyre" in 1814, when he along with Byron, Percy Bysshe Shelley and his wife Mary Shelley all decided to have a competition to see who could write the best horror story. Mary Shelley "won" since the work she wrote was her novel Frankenstein, first published in 1818. Polidori's story, however, is famous in a different way as the first published modern vampire story, anticipating by decades Sheridan Le Fanu's Carmilla (1872) and Bram Stoker's Dracula (1897). Maria Hwa Yeong Jung will be the pianist and music director.
As a contrast, on August 1, 5, 7 and 9, SOLT presents the comic German Romantic opera Martha (1847) by Friedrich von Flotow (1812-83). The work was such an international hit in its first 100 years that its two most famous arias are best known in versions not in the original German. The instantly recognizable tenor aria "Ach! so fromm" is best known in Italian translation as "M'apparì" and the main soprano aria, the folksong-inspired "Letzte Rose," is best known as "The Last Rose of Summer." Natasha Fransblow will be the pianist and music director.
The third opera, presented August 1, 4, 6 and 8, is Richard Strauss' Ariadne auf Naxos (1912), an opera that famously stages a comic and a tragic plot simultaneously. Narmina Afandiyeva will be the pianist and music director.
Panamania, the cultural sidebar to the Pan American Games in Toronto in July and August, will include a new production of Nicole Brooks' opera, Obeah Opera (2012), running August 4 to 8. The opera, presented by Nightwood Theatre and Culchahworks Arts Collective, is sung entirely a cappella by an all-female cast and focusses on the young Caribbean slave Tituba, the first to be accused of witchcraft in Arthur Miller's play The Crucible (1953) about the Salem Witchcraft Trials. Tituba has merely been practising her native healing craft, known as obeah, that the Puritans in their hysteria interpreted as witchcraft. Andrew Craig conducts and Kim Weild directs.
Stratford to Haliburton: In Stratford, Stratford Summer Music will present a dinner-opera production of Mozart's The Magic Flute on August 14 to 16 at the Revival House (formerly The Church Restaurant). Peter Tiefenbach is the music director and Brent Krysa is the adaptor and stage director, with sets and costumes in the style of Belgian surrealist René Magritte.
In Haliburton the Highlands Opera Studio, whose artistic director is tenor Richard Margison, will present two operas. One is a fully-staged production of Mozart's The Marriage of Figaro on August 30 and September 1, 2 and 3. The other will be the Ontario premiere of the Canadian opera The Vinedressers (2001) by B.C. composer Tobin Stokes on August 19 and 21. The story, based on a First Nations myth, takes place on the first winery on Pelee Island. Margison is the stage director and Andrea Grant the pianist. Stokes' best-known opera is perhaps Pauline (2014), written to a libretto by Margaret Atwood about the life of B.C. First Nations poet and performer Pauline Johnson (1861-1913).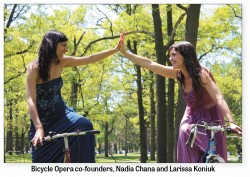 Bicycle Opera: This summer marks the fourth anniversary of the innovative Bicycle Opera Project, which aims to bring contemporary Canadian opera to communities across Ontario that might otherwise not have the opportunity to hear it. According to its website: "The project focuses on operatic repertoire that deals with contemporary issues relevant to all audiences." The singers and musicians travel from place to place by bicycle along with two trailers full of props, costumes and instruments. In so doing they aim to demythologize old ideas of what opera is, where opera can take place and what opera singers are like.
Their Ontario itinerary for this summer from August 14 to September 6 has not yet been announced but last year BOP made stops in Kingston, Prince Edward County, Belleville, Hamilton, Bayfield, London, Brantford, Waterloo and Guelph.
BOP's 2015 repertoire features short operas and opera excerpts. These include The Auction – Prologue by John Burge; What time is it now? by Anna Höstman; The Blind Woman by James Rolfe; The Yellow Wallpaper by Cecilia Livingston; "Dreaming Duet" from The Bells of Baddeck by Dean Burry and Submission, also by Burry; Our Lady of Esquimalt Road by Leila Lustig; and, back by popular demand, Bianchi: A Bicycle Opera by Tobin Stokes which has become something of a BOP classic.
The company includes Liza Balkan, stage director; Wesley Shen, music director; Geoffrey Sirett, baritone; Chris Enns, tenor; Stephanie Tritchew, mezzo; Larissa Koniuk, artistic director and soprano; and Sonja Rainey, projection artist.
Have an enjoyable summer!
Christopher Hoile is a Toronto-based writer on opera and theatre. He can be contacted at opera@thewholenote.com.