It's been a wonderful summer of musical theatre highlights: the TSO's brilliant "Modern Broadway" pops concert starring the electric Jeremy Jordan; the return of The Lion King to the Princess of Wales, where families could introduce their children to the joys of musicals via the still amazing puppetry of Julie Taymor; Nicole Brooks' wonderfully positive a cappella retelling of the Salem witch trials in Obeah Opera at Luminato; Jake Epstein's Boy Falls From The Sky at the Toronto Fringe; and Reprint: three brand new short musicals inspired by articles In The Globe and Mail archives. And now the new fall season is ready to begin.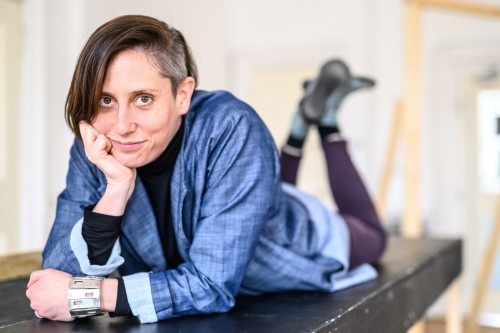 Erin Shields' Nuanced Piaf/Dietrich Book
September brings an exciting new production to the CAA Theatre that draws on well-known musical material but gives it a new and thrilling twist. Piaf/Dietrich; A Legendary Affair, as the title indicates, is about two of the most legendary performers of the 20th century: France's petite passionate songbird Edith Piaf and Germany-by-way-of-Hollywood's cool and aloof femme fatale Marlene Dietrich. There have been many shows written about Piaf, and not enough about Dietrich, but they haven't been seen together until now. It turns out that the two stars were friends (and perhaps more than friends) for the last few years of Piaf's life, meeting for the first time in the washroom of a New York theatre where Piaf had just given a less-than-successful concert in 1960. This rich possibility for a theatrical undertaking was discovered and developed by German playwrights Daniel Grosse Boymann and Thomas Kahry, beginning in 2009 as a reading of letters and writings from and about the two stars accompanied by matching songs. In 2014, a hugely successful full production (in German) called Spatz und Engel (The Sparrow and the Angel) opened in Vienna and played for six seasons while other productions followed throughout Europe.
For its debut in North America last year, it was felt that something more than a direct translation was needed, so award-winning playwright Erin Shields was asked to take on the task of creating the first English-language version, adapting the original by way of a literal translation from Sam Madwar. As soon as I saw Shields' name attached to this show, I knew I wanted to find out more about her involvement and how the show might have developed from its European version. I have known Erin since I invited her to take part years ago in the New Ideas Festival (of which I was then artistic director) and was impressed by her adaptation of classic fairy tales. Since then she has gone from strength to strength, becoming one of Canada's most highly regarded playwrights, from winning the Governor General's Award in 2011 for If We Were Birds, to skewering the sexism of the television industry with Beautiful Man at Factory Theatre, to her brilliant feminist updating of Milton's Paradise Lost for the Stratford Festival. There is also something wonderful about a Canadian woman adapting this material for an all-Canadian cast led by two of our top musical theatre performers: Louise Pitre (Piaf) and Jayne Lewis (Dietrich). Shields' adaptation made its debut at Montreal's Segal Centre last year as The Angel and the Sparrow (also starring Pitre) to great acclaim. I reached out to her to learn more about what the adaptation experience was like,
"This whole process has been a very different type of project from what I usually do," she told me. "I'm not the primary creator, I wasn't the person that had the primary impulse. Daniel and Thomas, did. They have devoted so much to creating this play that for me there is a joy in respecting their vision but also doing my best to make sure that their creation is able to meet a North American audience in a way that will be successful and speak to them."
Breaking that down into more detail, she explained that making the language more natural than the literal translation was one of her tasks, but on a deeper level there were two bigger cultural and dramaturgical issues to address. "The biggest thing the original playwrights realized," she told me, "was that Marlene Dietrich is extremely famous in Germany, so there were a lot of things taken for granted in the script about who she is. In North America, although we know Dietrich from her movies, we don't know much more about her. We have to teach people who she is, whereas with Edith Piaf we have a bit more of a sense of her life, particularly in Montreal. Equally important", Shields continued, "the show is about female friendship and because it was written by two guys there were some missing elements." She made it her goal to deepen the depiction of the friendship between the two legendary figures, yet to not shy away from the conflict that arose from their completely opposite backgrounds and public personas. This led, again, to making sure the audience would understand how different the two are. "Piaf's track has always been very clear," Shields says. "She has a real Hollywood storybook tragic arc to her life. She has a compulsive artistic drive: she sings and brings people to tears, and then she gets addicted to all this stuff to maintain her self and keep performing, and ends up dying young. Marlene's story is very different. It doesn't have the same trajectory as Piaf's; they are working in opposite ways. While Piaf is tearing herself apart, Dietrich is trying to maintain a very composed, manicured, beautiful, iconic version of herself while she rails against age and becoming less important in the world. I am trying to bring out her story more, and to make sure that the audience sees how important Piaf and Dietrich are to each other as foils, how they provoke each other, but also ultimately how they love and support each other in a way that no one else can, partly because they both lived this life of fame which is so alien to most of us."
Of course, this isn't only a play, but a musical, and the show includes 20 songs including La Vie En Rose, Non, Je Ne Regrette Rien, Falling in Love Again and Lili Marlene, all performed by the stars and all integrated into the telling of the story.
While Shields has had experience with musicals before – she performed in shows in high school and recently took part as a book writer in The Musical Stage Company's Reframed – she had never written or adapted the book for a full scale musical. The rehearsal process in Montreal with the expert cast and creative team was full of revelations. "The director Gordon Greenberg (who also directs the Toronto production) really has an intuition for musical theatre. He is on his feet all the time and the show lives in his body as he is directing, so he would have thoughts, suggestions or provocations all the time on the fly – searching for clarity in the storytelling. Watching him and music director Jonathan Monroe and the actors navigate and negotiate the elements of the show, I learned that the text isn't always the most important thing in terms of character or story. In some ways, spoken scenes have to be slightly more perfunctory; each still has to have an action and the actors have to 'do things to one another', but at the same time the function of some scenes is simply to get us from one song to another, and the songs should function as story moments themselves. For example, working with a performer like Louise Pitre whose whole body becomes overwhelmed with emotion when she is singing – grounded in that same visceral quality that Edith Piaf has – made me realize the effect her singing would have on an audience and that I could cut bits out of the script and rely a bit more, instead, on the music for the emotional journey of the play. The emotional heart of a musical really is the music."
This is a particularly interesting journey for Shields to have experienced. "As a playwright I would say I am more of an auditory creator than a visual creator which is why I always love when I start working with a director, because directors are all visual. I always hear the play in my head, the voices and rhythms of the characters, the totality of the play whether that incorporates music or not."
Something else always important to Shields as she crafts her plays is (often dark) humour, and while she hopes that Piaf/Dietrich will make "questions bubble up in the audience about fame and the cost of sacrificing oneself for art', she also insists that the show is "funny, too. There is a lot to enjoy and have fun with."
When I asked if she might consider writing the book for a new musical now that she has adapted the book for this one, she said, "Absolutely!" and already has several projects on the go, giving us even more to look forward to. Piaf/Dietrich plays at the CAA Theatre from September 17 to December 8.
Two contrasting Canadian Premieres
Toward the end of September are two intriguing, contrasting Canadian premieres: The first, Girl From The North Country, written and directed by Conor Mcpherson (The Weir, Seascape), is a look back at small town America at the height of the Depression, as seen through the eyes of this Irish playwright; "of the people" and infused with the passionate and political songs of American icon Bob Dylan. Described as a "powerful new show full of hope and heartbreak," Girl is coming to Toronto for a strictly limited run from September 28 to November 24 at the Royal Alexandra Theatre after acclaimed sold-out runs at both the Old Vic in London's West End and at the Public Theatre in New York. For fans of both McPherson and/or Dylan this should be fascinating to see. (mirvish.com)
The second, a call to the present and cry to the future, is Resonance, a new creation by (Seoul-born, but Canadian resident) choreographer and director Hanna Kiel. Inspired by the peaceful protests in 2016 that led to the ousting of South Korea's former corrupt president, Park Geun-Hye, Kiel is fusing an original rock music score by JUNO Award-winning Greg Harrison with passionate new choreography for 12 dancers to explore this evolution of social outcry into direct but peaceful action.
September 26 to 28, at the Saints Cyril and Methody Macedonian-Bulgarian Eastern Orthodox Church in Toronto (brownpapertickets.com).
MUSIC THEATRE QUICK PICKS
SEP 7, 2PM AND 8PM ONLY: Miz/Saigon, Broadway Concert Series Inc. Toronto Centre for the Arts (ticketmaster.ca). A rare chance to see some of our top Canadian musical theatre stars including George Masswohl (Come From Away) and Ma-Anne Dionisio (Next to Normal, Miss Saigon) singing hits from Les Mis and Miss Saigon.
SEP 16, 7:30PM: The PAL Kitchen Party. One show only. Stratford Festival Theatre (stratfordfestival.ca). Support the Stratford Performing Arts Lodge by attending this one-night-only concert, a mix of songs and stories with a Newfoundland theme, performed by members of the Stratford Festival Company (and some special guests including George Masswohl and Greg Hawco) directed and hosted by company member and "Newfoundland's own" Brad Hodder.
Jennifer Parr is a Toronto-based director, dramaturge, fight director, and acting coach, brought up from a young age on a rich mix of musicals, Shakespeare and new Canadian plays.