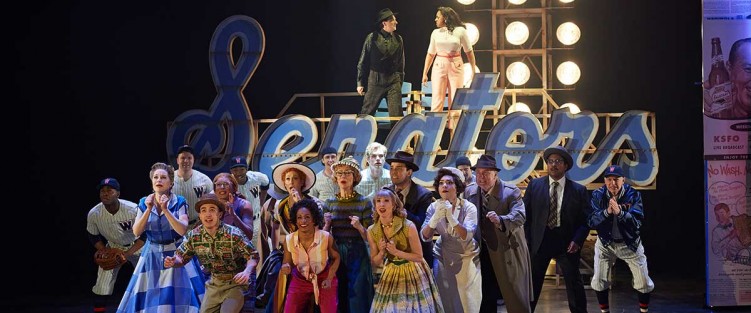 Spring
It is rare when a show exceeds my expectations and even more rare when many shows do. This spring, three shows blew me away with their – very different – strengths.
Damn Yankees: my first reaction after seeing the opening-night performance of Damn Yankees at the Shaw Festival was a desire to tell all the cynics, who don't see the value in remounting the slighter offerings of the Broadway musical canon, to make their way to Niagara-on-the-Lake and take in this show. Yes, this is a slight, rather oddball, musical that gives a Faustian twist to the American obsession with baseball by giving an older fan a deal with the devil to help his home team win. But in the expert hands of director Brian Hill, it is so much more.
Right from the word go the spirit and heart of this production is right on the money. It could have been cheesy and over the top, but it is not. Hill clearly understands the material inside and out and along with his expert creative team sets exactly the right tone and style so that we are taken along the deliciously comic journey, and at the same time gain an increasing recognition of the simple heartfelt values – love, honesty, loyalty – that lie at the heart of the story.
Personifying these qualities from the beginning is the young version of Joe – the transformed ball player – on opening night played by understudy Drew Plummer in a star-making performance of gorgeous singing and wonderful heartfelt acting. The repeated duet sung by Joe with his wife Meg becomes the beating heart of the simple values at the centre of the whole show. Kimberley Rampersad as the vamp sidekick-to-the-devil, Lola, is also wonderful. Her performance begins in the expected broad style but grows in depth and detail to become as moving as that of Joe, to the point where, in the delicious jazzy number near the end: Two Lost Souls, one almost wants them to be able to stay together. Allison Plamondon's choreography plays an important role in creating the light and shade of this world from her Fosse/Jerome Robbins/Fred Astaire moves for Two Lost Souls to the inspired goofiness of Who's Got the Pain performed by Lola and the entire baseball team.
Plummer and Mike Nadajewski, who plays Mr. Applegate (the devil) with great glee, can both also be seen in a concert performance of A Year With Frog and Toad, one of the many outdoor musical offerings at Shaw to take in along with your indoor performance. www.shawfest.com
Dixon Road, with book, lyrics and music all by Fatuma Adar, was commissioned by the Musical Stage Company in 2017 and the show had its opening on June 9 in the outdoor amphitheatre in High Park. As I wrote previously, my hopes for the show were high; my expectations were exceeded by the wonderful depth to the writing of both the book and music.
Telling the story of a Somali family who immigrate to Canada in 1991, as civil war begins to tear their homeland apart, Dixon Road deals with difficult issues and hard times; but infused throughout is a wonderful, rather wacky, sense of humour that leavens the darker material and makes the audience take these characters to their hearts. The music is also wonderfully infectious. Its mix of R&B, hip-hop, traditional Somali melodies and contemporary musical theatre idioms works. My only complaint is that the run was so short I couldn't go back and see it again.
2 Pianos 4 Hands: To finish my spring roundup, I have to add that Two Pianos Four Hands which just opened at the Royal Alexandra Theatre, starring its creators and original performers, Ted Dykstra and Richard Greenblatt, is as fresh and clever and laugh-out-loud funny as it was when it burst on the scene 25 years ago. It runs until July 17.
Musical Shakespeare
Who doesn't like music with their Shakespeare? Since the Bard first wrote his plays, more than 400 years ago, music has been an integral part of bringing those plays to life onstage. This summer in Ontario there are three productions that take very different approaches to interweaving music with Shakespeare's storylines.
Dream in High Park: In High Park at the end of a summer festival of musical concerts and events, the return of Shakespeare to the amphitheatre stage is being celebrated by a new production of one of the most song-filled of his plays, As You Like It. Directed by Anand Rajaram (well known as a clown-inspired performance artist and writer), and with sets and costumes designed by acclaimed outdoor performance company Shadowland Theatre, this promises to be a risk-taking, fun, physical theatre event. It will also be extremely musical, featuring new songs written for the show by Maryem Tollar, Lacey Hill, Serena Ryder and Kiran Ahluwalia; Belinda Corpuz is the show's composer and musical director. As You Like It runs from July 28 to September 4 and has a running time of only 90 minutes, perfect for families and younger theatre goers. www.canadianstage.com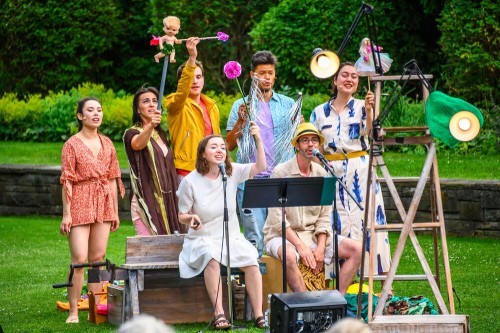 Driftwood Theatre: Driftwood Theatre Group, the indefatigable touring company, returns to the road July 14 to August 21, with their annual Bard's Bus Tour, this time presenting King Henry Five, a new adaptation/amalgamation of three Shakespeare plays (Henry IV Parts 1 & 2 and Henry V), tracing the journey of Prince Hal from wild party animal to responsible king. Set against the backdrop of a contemporary piano bar, this musical version of Henry's story includes seven original songs, with lyrics by Germaine Konji (2020 Musical Stage Company Banks Prize) and music by Kelsi James (who wrote the wonderful music for Driftwood's pre-pandemic A (Musical) Midsummer Night's Dream). What intrigues me, as well, about this new production is that it will be performed by a cast of only five performers, including Hume Baugh and Richard Alan Campbell, and directed by Driftwood's artistic director, D Jeremy Smith. For more information and where to find performances please see: www.driftwoodtheatre.com/see/bardbustour/
& Juliet: the new musical & Juliet,which has taken London's West End by storm is arriving to make its North American debut (and the beginning of the journey to Broadway) with a run at the Princess of Wales Theatre in downtown Toronto, June 22 to August 14. This, of course, is not a play written by Shakespeare but is inspired by his Romeo and Juliet and by the question, "What if Juliet didn't die, but went on to find a new life for herself and a second chance at love, instead?" The brainchild of Emmy-winning, Toronto-born book writer, David West Read (best known for Schitt's Creek), the story of & Juliet is interwoven with 30 iconic pop standards, all from the catalogue of five-time Grammy Award-winning songwriter/producer Max Martin and his collaborators.
The creators promise to whisk us off on a fabulous multi-generational journey as Juliet takes the chance of remaking her life while singing a playlist of pop anthems such as Since U Been Gone, . . .Baby One More Time and Can't Stop The Feeling. The book and the use of the songs within the plot have been praised to the rafters by the UK press, and the show sounds like a fun, up-tempo extravaganza of alternate-Shakespeare. www.mirvish.com
Summer Music
We don't usually think of the summer as a time of new creation except in the context of fringe festivals. The landscape, however, is changing. There is, of course, the excitement of the return to live performance and the urge to share new ideas and new creations with live audiences, and to get feedback in real time. Perhaps, too, it is a sign of Canada's growing identity as a launching pad for the creation and development of new musicals. Here are two of the world premieres launching in Ontario this summer: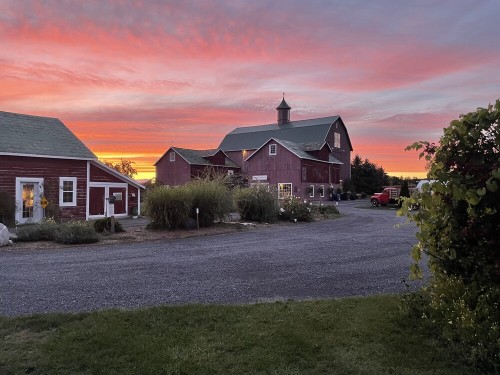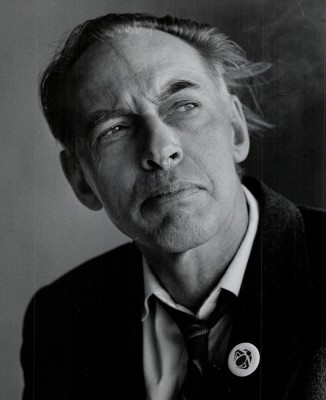 Festival Players: The Shape Of Home: Songs in Search of Al Purdy
Up (or is it down?) in Prince Edward County, the Festival Players, led by their artistic director (since 2018), Graham Abbey, and their managing director, Vikki Anderson, have a dream to create a nationally recognized performance hub and cultural destination in PEC. In pursuit of this dream, and as a cornerstone to their ambitious 2022 season, is the commissioning and creation of a new theatrical song cycle: The Shape of Home: Songs in Search of Al Purdy. Just as the specificity of Fatuma Adar's new musical Dixon Road makes it universally accessible, The Shape of Home also is rooted in a specific time and place – Prince Edward County during the life of "unofficial Canadian poet laureate" Al Purdy, and the demanding questions he explored in his poetry.
A fabulous team of music theatre performers and innovators, led by performer/curator Hailey Gillis and director/performer Frank Cox-O'Connell, including Radha Javanfar, Beau Dixon, Andrew Penner and Marni Jackson. Prompted by Purdy's question, "What the hell do we do with this brief little life of ours?" they have taken Purdy's unconventional poems and turned them into songs. The world premiere of this first iteration of the theatrical song cycle will feature 20 original songs that the company describe as not just a tribute to an iconoclastic poet but a "musical call to action; an adamant prompt to live fully, to love deeply, to challenge actively and to seek beauty everywhere". July 14-31, Festival Players Pavilion. www.festivalplayers.ca
Eclipse Theatre Company: 'Til Then: Eclipse Theatre Company is asking some of the same questions with the world premiere of their original Canadian song cycle: 'Til Then, at the unconventional Berkeley Church event space on Toronto's Queen Street East. The questions are equally universal but focused on a more recent past, specifically the last two and a half years of living through a pandemic, and how that has changed us – what questions it has made us ask ourselves.
Eclipse artistic director, Andrew Seok commissioned 18 new songs from 24 different writers: a wonderful cross section of Canadian talent from Susan Aglukark to Richard Ouzounian, from Leslie Arden to Britta Johnson to Chantal Kreviazuk and more. Seok then took the songs that arrived and out of them built three stories, writing the dialogue, and working with choreographer Nickeshia Garrick to tie the events and stories together. A cast of five including Garrick with Jeff Madden, Elena Juatco, Sera-Lys McArthur and Kimberly-Ann Truong, perform the cycle directed by Seok, who describes the show as "a celebration of Canadian musical theatre as well as a reflection of our times." July 17-20. www.eclipsetheatre.ca
Oh, and check out the musical offerings at this year's Toronto Fringe Festival to see what other new musicals are taking their first steps this summer. www.fringetoronto.com
Jennifer Parr is a Toronto-based director, dramaturge, fight director and acting coach, brought up from a young age on a rich mix of musicals, Shakespeare and new Canadian plays.