In last month's Bandstand column I focused on a few new ensembles which had graced the local scene over the past two or three years, and mentioned some new ones scheduled to begin this fall. It seemed appropriate then to see how some of these proposed new startups were doing. Two in particular, with very different aims, attracted my attention. Resa's Pieces Strings was billed as a beginners string orchestra. The New Horizons Seniors Band sponsored by Long and McQuade was to be a beginners band for people 50-plus who wanted to take up music for the first time or get back to it after a prolonged absence. How better to have my questions answered than to attend their inaugural sessions?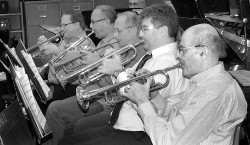 First up was the rehearsal of the string group Resa's Pieces Strings (RPS). This is the brain child of Resa Kochberg, founder and conductor of the very successful Resa's Pieces Band. The strings group included a wide spectrum of ages from high-school students to white-haired seniors. All had enough experience to know how to hold their instruments and play basic scales. For those neophytes in the group who were less than familiar with some of the adjustments required by their instruments, a technician from George Heinl Co. was on hand to assist.
After a few opening remarks outlining the aims and objectives for the months ahead, and getting the instruments tuned, director Ric Giorgi started the group right off playing simple melodies interspersed with exercises on such matters as bowing techniques. By the time the break came along, this new ensemble was playing simple melodies in harmony with better tuning that might nave been expected. At the break, this new group was invited across the hall, where Resa's Pieces Band had been practising. There they were welcomed into the fold with the cutting and sharing of a cake for their "birthday."
The RPS will be following the same philosophy that Resa Kochberg has established from day one in leading Resa's Pieces Concert Band. It is "to provide an opportunity for people to return to playing instruments that they have not touched for years." Doing your best, but also having fun is what is expected, and everyone grows musically together with each "piece" completing the whole! As of that evening, 24 people had signed up and about 18 got to the first rehearsal.
Were there any shortcomings noted? Yes. As I anticipated, viola players are in short supply. In fact, one acquaintance of mine has been suggesting to me that I might be an ideal candidate to fill a coveted spot in the viola section. Here's your chance, wannabe string players: get a viola and join the fun on Monday evenings. Even if your leanings are towards some other string instrument, check it out at their website www.resaspieces.org, or email strings@resaspieces.org.
Two days later, at 9:30am, I joined a group attending a get acquainted session at Long and McQuade's downtown Toronto store to learn about their New Horizons Seniors Band. After a brief introduction by director Dan Kapp, the goals of this group were outlined. This is a band for retirees who either have not played for years, or have sung or played other instruments and would now like to play in an organized group. The majority of these people did not own instruments, and were curious about which instrument might be right for them. Over the next two hours most tried one or more instruments and decided. One woman initially considered trombone, learned how to hold it, blew a few notes and then decided to try an oboe. Her first attempt startled us. It was not the sound of a wounded duck that emanated. Rather, it was quite a pleasant musical tone. I immediately suggested that she and the oboe were meant for each other. Whether she will stick with oboe or sample other instruments before her final decision remains to be seen.
As with the string orchestra, there are initial shortages. Low brass wannabes were in short supply. It seems that, amongst grandmothers and grandfathers, flutes, clarinets or trumpets have more appeal that tubas and euphoniums.
The goal for this group has already been established, and it's ambitious. The CBC's Glenn Gould Studio has already been booked for their spring concert. If you are available Wednesday mornings and would like to try your hand at making this kind of music, experience is not necessary. Group instruction is part of the package. Contact them at www.newhorizonsbloor.ca or call 416-588-7886.
Both groups stressed that playing in such ensembles was also very much a social activity. Members were encouraged to get to know their fellow members and consider forming trios and quartets to practise together outside of regular rehearsal times and hone their skills with the challenges of playing these more intimate forms.
As for other new groups for more experienced players, we have just received word that the new Richmond Hill Concert Band had its first rehearsal as this goes to press. They reported about 30 interested members already with a good distribution of instruments. Their rehearsals are on Thursdays at 7:30pm at Roselawn Public School, 422 Carrville Rd., Richmond Hill.
The Canadian Band Association (Ontario) is celebrating its 9th Annual Community Band Weekend from October 15 through 17. These annual weekends provide an opportunity for musicians from bands across Ontario to join together for music-making with friends, both old and new, under the leadership of expert conductors. As part of their 15th anniversary celebration, Etobicoke Community Concert Band will be acting as hosts this year. Check-in starts at 7:30pm Friday and is followed by a social gathering. Saturday will be devoted to rehearsals under the batons of no fewer than six conductors.
The massed band will perform the concert on Sunday afternoon. The rehearsal and concert take place at Etobicoke Collegiate Institute, 86 Montgomery Rd., Etobicoke. The nearest major intersection is Dundas and Islington, and the school is a manageable walk from both Royal York and Islington subway stations. For full details contact Bill Harris, Acting President, Canadian Band Association (Ontario) at president@cba-ontario.ca, or 416-693-3980.
Definition Department
This month's lesser known musical term is fermoota: a note of dubious value held for indefinite length. We invite submissions from readers. Let's hear your daffynitions.
Coming Events
• October 17, 8:00pm: The Cathedral Bluffs Symphony Orchestra.
Norman Reintamm and Friends Recital. St. Timothy's Anglican          Church, 4125 Sheppard Ave. E.
• October 18, 7:30pm: Orillia Wind Ensemble. Joint Effort. Orillia               Opera House, 20 Mississaga St. W., Orillia.
• October 23, 8:00pm: Greater Toronto Philharmonic Orchestra.
Autumn Classics. Calvin Presbyterian Church, 26 Delisle Ave.
• October 23, 8:00pm: City of Brampton Concert Band. Rose Theatre             in Brampton.
Down the Road
• November 13, 8:00pm: Cathedral Bluffs Symphony Orchestra.
Subscription Concert No.1. P.C. Ho Theatre, 5183 Sheppard Ave. E.
Jack MacQuarrie plays several brass instruments, and has performed in many community ensembles. He can be contacted at: bandstand@thewholenote.com.