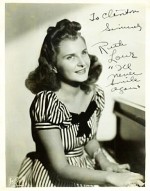 There were a few musical events in my life in recent weeks that furnished a couple of topics for my column this month. The first has to do with joint performances of choirs and bands.
In last December's Bandstand column I talked about choirs performing with concert bands and how that form of joint venture was very popular over the Christmas holiday season. At that time we lamented the dearth of music written specifically for such a combination. Subsequently, I received a few letters on the subject, but little evidence to contradict what I had written. I still found little evidence of any conscious effort on the part of bands, choirs, arrangers or composers to rectify that situation. What a pleasant surprise it was then when, a few weeks ago, I was treated to no fewer than three such works on a single programme.
The event was a joint concert in late March by the Oriana Singers of Cobourg and the Concert Band of Cobourg. With the assistance of a grant from the Trillium Foundation of Ontario these organizations were able commission two special very diverse arrangements. The first arrangement, entitled A Ruth Lowe Celebration, was a medley of tunes by that Canadian composer, including "I'll Never Smile Again" and "Put Your Dreams Away." I'm accustomed to hearing choirs perform with bands, but there's always the sense that separate groups are sharing the platform. Rather, in this concert, there was the sense of hearing a unified single ensemble, and listeners were treated to a smooth blend of voice, woodwind and brass rarely heard.
Their rendition of Freddy Mercury's Bohemian Rhapsody was very different. It bore no resemblance to the arrangement often performed by concert bands, and certainly did not indicate that its roots were in a rock band some years ago. The third joint venture was an original work on a sacred theme. "Benedictus" by Steven M. Baric exploited the unique tonality of these combined forces in a way rarely heard.
In a future issue I hope to be able to get some insight into the process involved with the Trillium Foundation for such purposes. I also hope to get information on how other groups might obtain copies and performance rights for these works, which deserve to be heard more widely.
In our concert listings in last month's issue there was an announcement of a joint venture on May 1 by the Orillia Wind Ensemble and the Cellar Singers. I hope to attend their version of the "Last Night of the Proms," in my quest for more of that combination.
The second topic has to do with how the role of women in bands has changed over the years. When I first started playing in a "boys' band" some years ago, I was unaware of how girls were routinely excluded. That's probably because there were girls in our band. Solo cornet and first trombone positions were both held by girls. On reflection though, perhaps they had received some preferential treatment; they were daughters of the bandmaster.
Some time ago I wrote about the controversy sparked at the University of Toronto in 1947 when a young woman applied to join the band. The student council held a formal debate to determine whether or not the musician in question should be permitted to join the band. I'm happy to report that the woman is still playing regularly in a community band some 63 years later.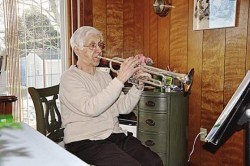 My interest in this subject was kindled again when a friend sent me an email with an article about a trumpet soloist in a community band in Massachusetts. As a child in elementary school, Edith Pliskin always wanted to play an instrument and thought of taking up the violin, she said, "but my brother, Jimmy, suggested the trumpet because few women play that instrument." When she attended the University of Massachusetts in Amherst, the university did not permit women to play in the band. "At that time it was for men only." Sound familiar? Well Edith now has her day. Her next performance will be with a wind ensemble at the University of Massachusetts, Dartmouth, on May 4. As usual, she will probably play at least one solo. Oh, I guess I forgot to mention that Edith celebrated her 90th birthday a while back.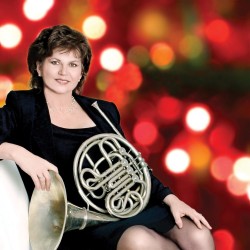 If that isn't sufficient evidence of how the role of women in bands has changed, consider this. The next International Women's Brass Conference will be held June 16-20, 2010, in Toronto at Humber College. This annual conference was founded in 1993 by Susan Slaughter, principal trumpet of the St. Louis Symphony Orchestra who is retiring at the end of this season after 40 years of leading the brass section of that orchestra. In her honour, the conference has announced the 2010 Susan Slaughter International Brass Competitions. These competitions for women performers of all brass instruments will be held prior to the conference from June 13 to 16. The conference will be hosted by well known Toronto hornist Joan Watson and Denny Christianson, head of music at Humber College.
Most portions of the conference will take place at the Humber College Lakeshore Campus with concerts at the Assembly Hall a short distance to the East. The Grand Finale Concert of the conference, appropriately named "Brass Belles," will take place at The Jane Mallett Theatre. It promises to be a spectacular pairing of some amazing IWBC Guest Artists and Toronto's own Hannaford Street Silver Band. Look for more details in the June issue of The WholeNote. In the meantime visit their website, www.iwbctoronto2010.com.
Another item I was going to talk about was migrating back to orchestral playing after years of playing in concert bands. However, I've run out of space – more on that in a future issue. Let's hear your stories.
Definition Department
This month's lesser known musical term is CACOPHANY: "a composition incorporating many people with chest colds."We invite submissions from readers.
Coming Events
• May 1, 7:15pm: Milton Concert Band presents "A Perfect Score – Music from Movies and Television." St. Paul's United Church.
• May 1, 7:30pm: Orillia Wind Ensemble presents "Last Night
of the Proms." Rule Britannia, and other classics. Roy Menagh, director, with the Cellar Singers. Orillia Opera House, 20 Mississaga St. W., Orillia.
• May 2 and 9, 3:00pm: Wellington Winds presents "The Sun Never Sets on the British Empire." Works by Vaughan Williams, Elgar, Grainger, Cable, Benjamin and others. Daniel Warren, conductor; Michael Purves-Smith, oboe. First United Church, 16 William St., Waterloo.
• May 7, 8:00pm: Etobicoke Community Concert Band, John Edward Liddle, conductor present "Glorious and Free," a programme of marches, anthems and songs. A musical tribute to our Canadian military featuring Kathy Thompson, guest vocalist. Silverthorn Collegiate Auditorium, 291 Mill Road, Etobicoke.
• May 15, 2:00pm: Northdale Concert Band, with conductor Stephen Chenette, pays tribute to legendary Canadian composer and trumpet player Johnny Cowell. The concert will feature some of Cowell's most famous solos as performed by well-known trumpet player John Edward Liddle plus a special guest appearance by Johnny Cowell himself. Scarborough Civic Centre, 150 Borough Drive. Admission free.
• May 15, 7:30pm: Festival Wind Orchestra offers "Spring into Summer," Keith Reid, conductor. Jarvis Collegiate Institute.
Down the Road
• June 20, 3:00pm: Hannaford Street Silver Band presents "Brass Belles" with brass band showpieces by international composers, performed by an all-female cast of soloists and led by guest conductor Gillian MacKay, Jane Mallett Theatre, St. Lawrence Centre.
Jack MacQuarrie plays several brass instruments, and has performed in many community ensembles. He can be contacted at: bandstand@thewholenote.com.