Having spent some years in the Navy, it's become a tradition for me to attend the New Year's levee at one or more of the military messes in the Toronto area. At this year's event I spent some time chatting with a friend who had joined the service as a musician, but had, after a time, set her clarinet aside and gone on to pursue a very rewarding career elsewhere in the service. Perhaps her timing was opportune in having enlisted when many traditionally male only roles were opening up for women. Now, well ensconced in a position with considerable responsibility, might she return to music for recreation? Her answer is "not in the foreseeable future." Alas, she's had her clarinets made into table lamps. She had no New Year's resolution for 2010 to return to music making.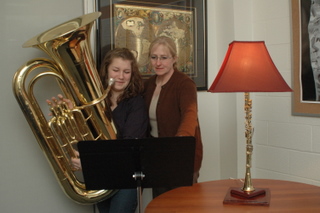 As I write this, the year is now two weeks old. Some people will already have abandoned their well-intentioned resolutions made in haste over a midnight toast. For most of us though, there's still time to resolve to pursue some course for personal betterment in the months ahead. While no statistics on the subject have crossed our desk, it's generally agreed that a very high percentage of those who study instrumental music in high school do not continue with their instrument after graduation. For most, it is not a conscious decision to stop playing. They still enjoy music as listeners, but the time pressures of further education, marriage, family and career responsibilities have consumed most of their waking hours. That is barrier number one.

Frequently there is the additional barrier of the lack of an instrument. Most students who participate in school music programs learn on and use school instruments. This barrier is easily overcome by renting an instrument, until the return to playing is a firm decision. Renting also provides time to research the market, and determine the type of instrument best suited to one's needs.

If you've decided that such a New Year's resolution is for you, where do you start? What are your goals? There are many questions to be answered. The first ones are: What instrument do I want to play and what type of music appeals to me most? For many, the choice of instrument will be to get back to the once familiar. For others it will be to answer a long-time urge to try a different challenge.

Having chosen the instrument, then there is some research to locate possible groups that perform your kind of music. Do they accept novices? Joining a group which consistently performs above your ability level would be frustrating and slow your personal progress. When and where do they rehearse? You want to be in a situation where you will look forward to your weekly music venture rather than worrying about how to fit it in. Once you've made contact, attend a few rehearsals to determine whether you and the group are compatible. Most community bands are open and welcoming, but there is a wide spectrum. On the one hand there are groups with a fixed instrumentation where all members are required to audition. At the other end there a few true "beginners bands."

Over the past few weeks we had the opportunity to visit and sit in with one such group. Starting from scratch a year ago September, a small group in Newmarket organized The Stepping Stone Band. After a bit of a shaky start, the band is now prospering under the direction of a local music teacher. With a regular membership of about 25, they are honing their reading skills with a broad range of music, from basic instructional type music to works from the standard band repertoire.

Some members are getting back after a prolonged absence, while others are rank beginners. On more than one music stand there are fingering charts. One member loved to play his alto saxophone at home, but had never learned to read music. Now that is rapidly changing. Since the band's inception, some members have gone on to a more advanced band in addition to their regular Monday evening rehearsals. They are sharing their common interest in a friendly non-threatening group. The New Year looks good for them. For information on this group contact Joe at joemariconda@gmail.com.

Harking back to my opening remarks, within a few days of hearing of the sad fate of my friend's clarinets, I learned of an innovative project at a local school. The problem was not an unusual one. Like most schools, Uxbridge Secondary School wanted more serviceable instruments than their budget would permit. Tucked away in various corners were several unused instruments, but they were deemed to be beyond economical repair.

The solution: turn those old instruments into cash. Students in technology classes took the old clarinets and flutes and made table lamps with a musical motif and offered them for sale in the community. The result: winners all around. The school receives money for some new instruments, the old instruments go on to a new life and some homes in town have lamps which are topics of conversation and useful. The photo accompanying this column shows music student Caitlin Jodoin and music teacher Deb Thompson checking over some music by the light of one of the lamps. When not playing in the school band, Caitlin is a regular member of the Hannaford Youth Band.

Definition Department

This month's lesser known musical term is "APPOLOGGIATURA": A composition that you regret playing." We invite submissions from readers.

Coming Events

The Etobicoke Community Concert Band presents "That's Entertainment" featuring jazz pianist Chris Don- nelly. Etobicoke Collegiate Auditorium, 86 Montgomery Road.
The City of Brampton Concert Band will close its 125th Anniversary Concert Series with "2010: A Space Odyssey" at the Rose Theatre.
The Hannaford Street Silver Band presents "Trum- pet Spectacular" with trumpet soloist Allen Vizzutti.

Jack MacQuarrie plays several brass instruments, and has performed in many community ensembles. He can be contacted at: bandstand@thewholenote.com.