Here we are on the cusp of the month of February, eager to know what's in store for us in the year's shortest month. There is always February 2 to look forward to, namely Groundhog Day, for prognostications about what to expect weather-wise in the coming weeks. However while our trusty Canadian groundhogs, Wiarton Willie and Nova Scotia's Shubenacadie Sam are renowned for their weather forecasting, they have never told us anything about upcoming community musical events. Where can we turn for such information? Right here, one might hope to say, if we were hearing, with some regularity, from community musical ensembles regarding their coming events. Alas, such communication is rare. We have heard very little so far this year from the band world. Send your listings in, folks, and I will let readers know about them.
Novel Seasonal Celebration
It is quite common for bands to have an end-of-season party before the Christmas break. Such parties provide the opportunity for band members and their families to mix and meet. Spouses or partners get to meet band members other than their mates, and band members get to chat with other band members that they may see from a distance every week, but really don't know. How often do tuba players chat with clarinet players, after all? This year the Newmarket Citizens Band took a different approach. They decided on a 45-minute open rehearsal where family and friends sat and listened. After that, all in attendance mingled and partook of several tables of tasty goodies arrayed on tables at one end of the band's rehearsal room. Two birds with one stone, you might say.
Bugles Again
Just when you thought that we might have a break from the topic of bugles, I received a significant email message from Henry Meredith. As you may recall, Dr. Hank, as he is often known, was for many years music director of the Plumbing Factory Brass Band (PFBB). Although Henry is no longer leading the PFBB, and the band is in hiatus, he has plenty to keep him busy in connection with his massive and remarkable collection of musical instruments, and hoping for a museum to give this collection a proper home.
His most recent message was, in a way, thanking me for bringing up "bugles again," but it was also a significant commentary on the evolution of bugles in various parts of the world.,He knows more than a little on the subject; during a visit to his home in October of 2017, I saw some 300 or so bugles of all kinds in his collection!
The main "take away" from his suggestions is that, notwithstanding the ongoing initiative I have been documenting over the past months to adapt trumpet mouthpieces to bugles, the real solution is that "trumpeters should learn to play mouthpieces that fit the instruments, not just their faces!" He mentions that on this past Remembrance Day, he played both vintage bugles and modern trumpets in several different keys with several different mouthpieces for seven different horns, all within a 75-minute period! However, very few trumpeters have such talents, and resort to playing bugle calls on their trumpets rather than risk a poor performance on an unfamiliar instrument.
As Dr. Hank points out, a proper bugle gets its unique mellow sound because it has a true conical bore, as opposed to the straight bore of a trumpet. A flugelhorn gets its mellow tone because its bore is primarily conical, but with a compromise straight section. To be able to play a full chromatic scale the horn must have valves, and there is no way to have valves in a conical section of the instrument. Similarly, the new bugles, which I have been advocating for, are a compromise. Most of the bore is conical, but there is also a short straight section to accommodate the trumpet mouthpiece. Having heard one of these instruments, in my opinion, the tone is excellent. In summary, most people would never notice the compromise.
Still on the subject of bugles, I recently received a message from Bernie Lynch of the Orangeville Community Band who refers to himself as "an old bugler." It's good to hear from people who still believe that there is a place in the band world for a real bugle. He recounts a bit about his personal band involvement, from Orono around 1946, to Weston in 1950, and Chinguacousy in 2012. "Never a very good performer but always a good participant," is how he describes himself. We need more good participants. Let us hear from more of you out in the community music world.

Topical Repertoire
Periodically I feel compelled to return to the always important topic of a band's repertoire, who gets to choose it, and making it appropriate for the occasion. That led me to thinking about what a band's repertoire might be when they wished to focus on a particular current event or commemorate a significant past event, and a couple of U.S. works came to mind, arising from some non-musical searches for information I was undertaking.
As many readers may know, when the U.S. president arrives for any significant event, he is "serenaded" in to the tune of Hail to the Chief. This has been the tradition for over 200 years. However, there was a time when that was called into question. Chester Alan Arthur, who served as the 21st president of the United States from 1881 to 1885, questioned the suitability of that presidential salutation, and towards the end of his term engaged John Philip Sousa in a conversation about it, during which Sousa revealed that it was actually an old Scottish boating song. Arthur then instructed Sousa to replace it with a more suitable composition, and in 1888, Sousa composed two possible replacements. The first of these, the Presidential Polonaise, was adopted, and used for state affairs at the White House for several years before being abandoned. The other composition, the march Semper Fidelis, was never used for such occasions, but did become the official march of the "The President's Own" U.S. Marine Band. Now, for important state functions, the president's arrival, once again, is always heralded with Hail to the Chief.
My recent search for music written for important state occasions coincided with some non-musical searches I was making for current political information south of the border. In other words, I was also looking online for information about current impeachment proceedings. That led me to details of the very first U.S. presidential impeachment – that of President Andrew Johnson. I discovered that composer Charles D. Blake had written a musical composition to commemorate this historically important event. The result was the Impeachment Polka, originally written as a work for solo piano. I have, however, never heard of any arrangement of this epic composition for any instrumental group. Surely it is time for someone to write a full concert band arrangement of the Impeachment Polka. After all, bands should be encouraged to include arrangements of ceremonial works originally written for other instrumentation, especially when they are, for whatever reason, topical.
For those who might be interested, both the Presidential Polonaise, and the Impeachment Polka may be heard over the internet. While the Presidential Polonaise, is performed by a full band, the Impeachment Polka performance is solo piano as originally written. Budding arrangers take note. You can also find the full piano score online! So how about it? The WholeNote can't commission an arrangement, but we will be sure to talk about it, if you write one!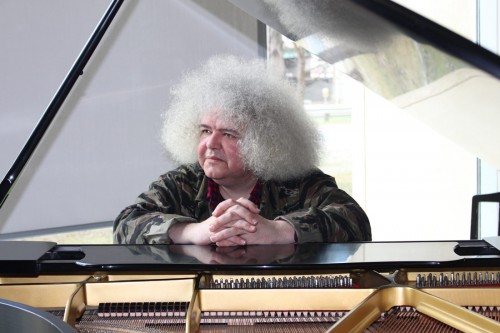 Coming Events
Normally I would mention all of the coming events which have come to my attention in chronological order. However, there is one event that stands out and warrants special mention. This is a benefit concert that The Encore Symphonic Concert Band is performing on February 28 at 7:30 to provide some assistance for Richard Herriott who was recently the victim of a serious fire. He was living above a restaurant in downtown Toronto where a fire occurred that wiped out everything he owned including manuscripts, clothes and instruments. He lost everything!
Herriot is described as a very accomplished pianist and composer. Originally from Newfoundland, he has performed with, and his compositions have been performed by, Orchestra Toronto in the last few years. He is also one of the regular rehearsal pianists for the National Ballet. He is a virtuoso performer, and as well as his substantial classical repertoire, he performs many of his own compositions and is a superb improviser.
This Encore concert is to be a part of a GoFundMe campaign to help Richard get back on his feet. This campaign, to which the Encore band members have already contributed, has raised some $20,000 for him so far. In the meantime, a friend has provided him with temporary accommodation. At the concert, Richard will be the featured soloist with the band, in a performance of Gershwin's Rhapsody in Blue. The Wilmar Heights Event Centre, 963 Pharmacy Ave. has generously donated the venue and the Encore band has donated its time and talent. The entire proceeds from the concert will go to assist Richard.
BANDSTAND QUICK PICKS
FEB 6, 7:30PM: The University of Toronto Faculty of Music presents "Wind Ensemble Concerts: Sharing." Björk: Overture to Dancer in the Dark; Kulesha: Streets of Fire (double trombone concerto); Maslanka: A Child's Garden of Dreams. Vanessa Fralick and Gordon Wolfe, trombones; Gillian MacKay, conductor. Guests: Central Band of the Canadian Armed Forces; Captain John Fullerton conductor. MacMillan Theatre, Edward Johnson Building, 80 Queen's Park.
FEB 12, 12:30PM: Don Wright Faculty of Music, Western University Symphonic Band. Paul Davenport Theatre, Talbot College, Western University, 1151 Richmond St. N., London.
FEB 13, 7:30PM: University of Toronto Faculty of Music. U of T Jazz Orchestra. Walter Hall, Edward Johnson Building, University of Toronto, 80 Queen's Park.
FEB 21, 7PM: Music at St. Andrew's. "Going Back to New Orleans: Mardi Gras 2020." Patrick Tevlin, trumpet; Jordan Klapman, piano; The Happy Pals. St. Andrew's Presbyterian Church, 73 Simcoe St.
FEB 23, 3PM: The Guelph Concert Band. presents "Fantasy and Fables." Soundtrack highlights from The Avengers, Halo, Lord of the Rings: The Fellowship of the Ring, Harry Potter and the Sorcerer's Stone and Game of Thrones. St. John's-Kilmarnock School Jazz Ensemble; Chris Cigolea, conductor. River Run Centre, 35 Woolwich St., Guelph.
FEB 23, 3PM: The Intrada Brass of Oakville presents "Ladies and Gentlemen: A Night of Stage and Screen." St. Paul's United Church, 454 Rebecca St., Oakville.
Jack MacQuarrie plays several brass instruments and has performed in many community ensembles. He can be contacted at bandstand@thewholenote.com.