Last night, as I drove home after a rehearsal, I heard on the radio to expect a once-in-a-lifetime event at precisely 11:15pm – the most spectacular meteor shower in over 30 years. As I looked out of the window, though, I was barely able to see the road in front of me, through the dense fog. Now, sitting at the computer, staring at the screen, I am dealing with a dearth of information, unusual at this time of year, about happenings in the band world. Usually at this time of year, I would expect to receive quite a quantity of information on Christmas concerts, festive-season events or holiday shows. A temporary blip perhaps, or maybe just a sign of the busy times we live in. Since I can't write about what I haven't been sent, though, it gives me permission to write about what I like.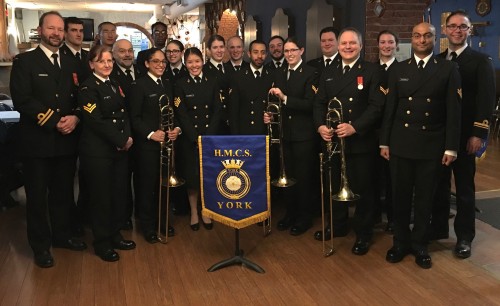 Speaking of signs of the times
At a recent concert of the combined bands of HMCS York from Toronto and HMCS Star from Hamiton, I was stunned to see Lieutenant Commander Jack t'Mannetje sitting in the audience rather than on stage conducting. I then learned that Jack, who has been the Director of the York Band for many years, has been promoted. He is now executive officer of HMCS York, Navy lingo for second-in-command. It's rare to see a military band conductor promoted to a position of command. Congratulations, Jack. As for the duties of band director, that falls to longtime band member, chief petty officer Maggie Birtch. Again, congratulations to Maggie.
At this time of year it is quite common for community bands to hold a seasonal party for band members and partners, or friends. After having such a party for years, the Newmarket Citizens Band is taking a different approach. They will be holding a "Band Festival Social" at their last rehearsal of the year on Tuesday, December 17, beginning with a 45-minute rehearsal of selections suggested by all band members. After that, the rest of the evening will be a time to mingle, get to know fellow bandmates and guests, and celebrate the end to another successful band year. If I were to have a say in what gets rehearsed, I would be requesting the march On the Square. As mentioned in a previous column, that march is one of my most pervasive ear worms. I have heard it on recordings over the years, but never heard it, or played it in a live performance. It's time.
Bugles again
As my regular readers know, over the past few years I have lamented, in this column, on the demise of the ceremonial bugle. Whether the basic bare copper model with the brass trim on the bell, or a more grandiose silver-plated version, the sound was the same. Since it is possible to play all bugle music on a standard trumpet, many bands abandoned the need to own bugles, usually for convenience. The warm, mellow, soothing tone of the bugle was almost universally replaced by the more strident crisp tone of the trumpet.
Then, this past summer, during the funeral service for Fred Barnard of Uxbridge, who, as a member of The Queen's Own Rifles regiment, landed on Juno Beach in Normandy on D-Day in 1944, during the customary playing of The Last Post from the rear of the chapel, I was stunned to hear a real bugle, not a trumpet, being played, in full uniform, by the bugler from The Queen's Own Rifles Band, flawlessly and with beautiful tone.
As mentioned in previous columns, the key to this unexpected development was that this bugle was modified to take a standard trumpet mouthpiece, one of the problems with the traditional copper bugle being that the mouthpiece has a very different shank from a trumpet. With most trumpet players reluctant to play bugle calls on an unfamiliar mouthpiece, this new instrument allows any trumpet player to just use their regular trumpet mouthpiece. As an additional benefit, it also has a tuning slide so that it may be tuned with a band or orchestra. It's a win-win situation. Best of all, the instrument is made to order, locally, and I was able to track down the craftsman who makes them, who, in a recent telephone conversation confirmed that all of the components to make them to order are now on hand.
Since Fred Barnard had been a longtime member of Branch 170 of The Royal Canadian Legion in Uxbridge, I raised the idea at a recent legion meeting that it might be fitting for his branch of the Legion to acquire such a bugle in Fred's honour. Within minutes the concept was approved, and before the end of that meeting, one member made a substantial financial donation towards such a purchase. A bugle-purchase fund was established. On Remembrance Day many more donors came forward, and the bugle will soon be a reality. I also mentioned this new bugle to Jack t'Mannetje of HMCS York, and have learned that they too will be getting one!
Both of these organizations intend to have these as commemorative instruments with appropriate engraving. For the one in Uxbridge, the engraving will be to honour Fred Barnard. In the case of HMCS York, it will probably commemorate some significant Canadian Naval action such as the Battle of The Atlantic. Now, these two bands have one final decision to make: will these bugles be given a lacquer finish, or be silver plated?
Flutes
In last month's issue I mentioned a joint concert of Toronto-based Flute Street choir and Les flûtistes de Montréal. After that concert I chatted with Flute Street's founder, Nancy Nourse, about the many different sizes of flute and suggested that I would love to get a photo of all of the different sizes with some descriptions of the unique characteristics of each. I am looking forward to that opportunity. I also learned that the monster instrument that I referred to as the giant "sub contrabass flute" has now been renamed the "double contrabass flute."
On my local scene
Living in the small hamlet of Goodwood, we are regularly treated to interesting musical performances in nearby Uxbridge. Last month I mentioned a concert with The Fanfarones performing a new work, Canoe Dancing, by local composer Stu Beaudoin. This past month we were treated to a performance of Tchaikovsky's little-known Manfred Symphony, played by the local Orpheus Symphonietta under the direction of the same Stu Beaudoin. I was stunned to see the wind section of this small orchestra. There they were: four trumpets, four French horns, three trombones, four flutes and four clarinets, plus two oboes and two bassoons. After the performance I was chatting with Ralston Evans, one of the trombonists who I had played with some years ago. I had not seen him for some time, since he had moved to another town some distance away. However, I was sure that he was playing a new trombone that I had not seen him play before. When I asked him about this new instrument, his reply stunned me. "It's the one that I bought from you years ago." Great memory!
New instrument
Recently, I learned about a new instrument which has nothing to do with standard concert bands, but fascinated me. The instrument, developed by composer and instrument-builder Benton Roark, is a glass marimba called the lumiphone. When I heard of this instrument I went to YouTube, and there it was being played by a true virtuoso of that instrument. I would strongly recommend a visit to that site.
Just missed
Almost every month we receive notices of concerts which are scheduled in the last days of a month. They will take place after the due date for this column, when the copy is headed for the printer, but before the issue of The Wholenote is printed. One such event will be a concert on Saturday, November 30 at 2pm in Victoria College Chapel, University of Toronto. Peter Margolian and Friends will have presented a chamber music concert featuring a wide range of small chamber groups. The one number on the program which particularly interested me was the Sonata for Trombone and Piano by composer Halsey Stevens. As I write, I hope to attend this performance. A few months ago, I received a copy of this work from Peter to see if I might be interested in playing it. As I skimmed over the trombone part, frequently skipping from bass clef to tenor clef and treble clef, I decided that I should not attempt it. I showed the music to a number of friends who are quite proficient on the trombone. They all declined any opportunity to attempt this work. In the announcement which I received from Peter, I see that Ian Cowie will be the trombonist. I am looking forward to hearing him perform it.
Coming events
In addition to its regular monthly noon-hour concert, which occurs on the first Thursday of every month, the Encore Symphonic Concert Band will present its annual Christmas concert on Saturday, December 7 at 7pm, in its regular rehearsal/concert venue, Wilmar Heights Event Centre, 963 Pharmacy Ave. Featured soloists will include special guest vocalist Sharon Smith, along with various band members (including band director John Liddle) in an upbeat program of holiday favourites. Everyone is invited for a photo op with Santa at intermission, when refreshments will also be served.
Quick Picks
Finally, from our listings, in chronological order, "bare bones" information about a few upcoming concerts that, while not necessarily part of my official beat, caught my eye for one reason or another. Please consult The WholeNote listings sections for details.
DEC 1, 7PM: Barrie Concert Band. Christmas at the Beach. Lighthouse Community Church, Wasaga Beach.
DEC 1, 3PM: Guelph Concert Band. Holiday Traditions. E.L. Fox Auditorium, John F. Ross Collegiate Institute, Guelph.
DEC 1, 3PM: York University Department of Music. York University Wind Symphony. Tribute Communities Recital Hall, Accolade East, YU, Toronto.
DEC 4, 12:30PM: Don Wright Faculty of Music. Western University Symphonic Band. Paul Davenport Theatre, Talbot College, Western University, London.
DEC 7, 2PM: Barrie Concert Band. A Christmas Chocolate Box. Collier Street United Church, Barrie.
DEC 8, 1:30PM: Borealis Big Band. A Little Taste of Christmas. Newmarket Old Town Hall, Newmarket.
DEC 12, 7PM: Blythwood Winds. Be Our Guest: Batman, Dragons and Disney. Burdock Music Hall, Toronto.
DEC 13, 8PM: Aurora Community Band. Hooked on Classics. Trinity Anglican Church (Aurora).
DEC 14, 7:30PM: The Salvation Army. Christmas with the Salvation Army. Roy Thomson Hall, Toronto.
JAN 25, 7:30PM: Flute Street. Goin' Places. Heliconian Hall, Toronto.
JAN 26, 2PM: St. Anne's Music and Drama Society. Gilbert & Sullivan's Patience. St. Anne's Parish Hall, Toronto.
FEB 6, 7:30PM: University of Toronto Faculty of Music. Wind Ensemble Concerts: Sharing. MacMillan Theatre, Edward Johnson Building, Toronto.
FEB 7, 7:30PM: University of Toronto Faculty of Music. Wind Symphony Concerts. MacMillan Theatre, Edward Johnson Building, Toronto.
Jack MacQuarrie plays several brass instruments and has performed in many community ensembles. He can be contacted at bandstand@thewholenote.com.